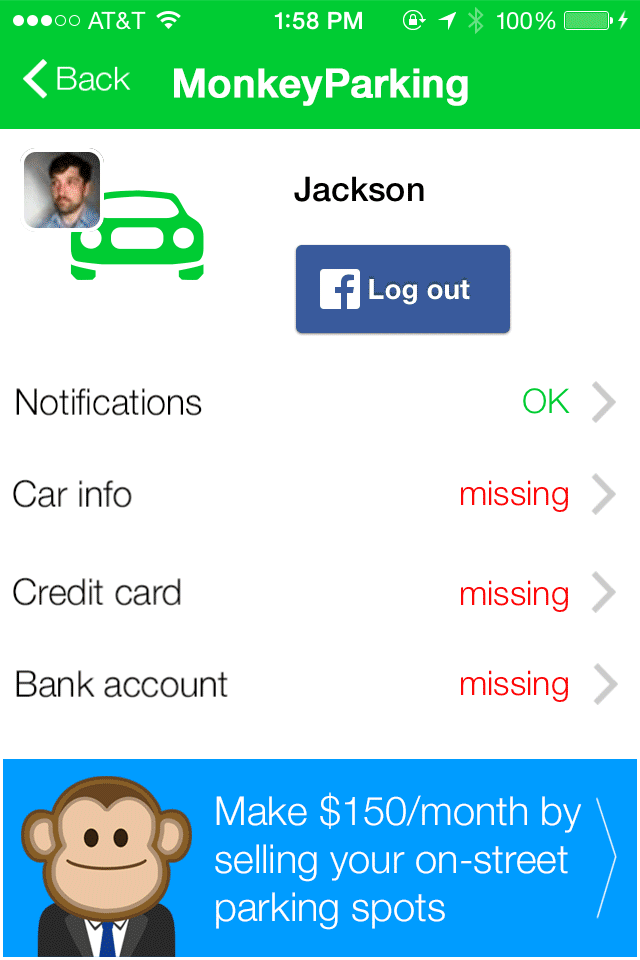 Even while San Francisco Mayor Ed Lee chooses to roll back millions in revenue from parking meters on Sundays, a startup is arbitraging the difference between the city's woefully underpriced public parking and peak demand by allowing users to auction off access to the land underneath their car.  As far as Uptown Almanac can tell, the MonkeyParking app is, actually, a thing.
https://twitter.com/midendian/statuses/460610054173900800
Here's how it works:
You wake up somewhere on the outskirts of the Bay Area where you're staying with a friend because your place is rented out through Airbnb. Or, you know, you've life-hacked your way toward prosperity by just living in your car. The point is, get your shitheap to San Francisco, where self-important people with money will pay almost any price for convenience.

Drive around for a while until you find some parking in a busy, popular neighborhood. In the Mission, for instance. Preferably before noon.

Now give MonkeyParking your location and wait.  A customer can offer a starting bid of $5 for someone willing to leave their spot. If no one else nearby is running the same racket, watch a while as the bid goes up. Maybe chuckle while you imagine your mark circling the popular shopping district full of pedestrians while they fumble with their smartphone.

Go ahead and accept the bid when it hits $10, $15, even $20 — there doesn't seem to be any limit!  MonkeyParking will tell the other driver where to find you.  And collect a percentage of the transaction.

Now you can circle around the block looking for another spot to squat.  Maybe pick up some Lyft passengers while you're at it!

Profit.
Now if this sounds like the last time you tried to park near Union Square and someone flagged you to an empty space and then asked you for a tip, but for the cloud, you wouldn't be entirely off the mark. Of course, that person is the kind of social undesirable like the infamous "squeegeemen" of New York City that quality-of-life mayors stretching back to Rudy Giuliani love to harass. But app-ify it, and suddenly Mayor Lee is recommending an investment in your startup to venture capitalist Ron Conway, thereby telling him how to do his job for a change.
@StartupLJackson let's make a deal: you provide an angel investor and we provide an awesome on-street parking spot http://t.co/zVNUPtndXM

— MonkeyParking (@MonkeyParking) April 14, 2014
It's hard to believe that MonkeyParking isn't a joke about startups, but after looking at two years of online activity, the company and founder's pages on AngelList, conference listings, downloading the app and trading messages with the company's Twitter account, we're losing hope it's all an elaborate hoax by Italian anarchists with a wicked sense of humor. Instead, it seems to be just more crazy kids with a Silicon Valley dream who don't play by the rules and believe that they're making the world a better place. 
@HalpernAlex we just provide info about spots that are going to become free. no intentions to do something bad: we aim at reducing traffic!

— MonkeyParking (@MonkeyParking) May 2, 2014
The thing is, a ridiculously large portion of the 49 square miles in San Francisco is set aside for parking cars.  And what the city owns, it hardly charges enough for.  The SFPark program introduced in 2010 has used a different method to achieve goals similar to those stated by MonkeyParking, which is to assure parking availability even during busy times: By increasing the cost of the most popular spots. But that money goes straight to the SFMTA, which perpetually needs it for things like paying the Police Department millions for "security services"—as it should, because that land and the infrastructure improvements on it are public property.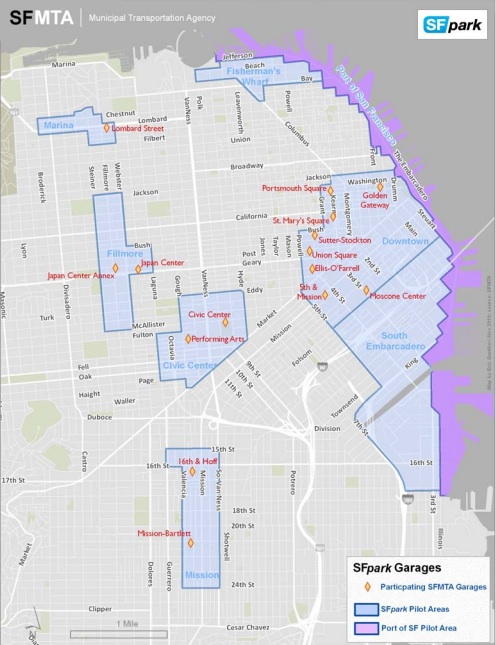 To be fair, you have to admire the hustlers who'd try to sell you a public parking spot, if only because of how ridiculous the marks who get suckered must be.  And while Sunday Meters was proven to work to reduce wait times and increase parking availability and turnover, Mayor Lee took an opportunity to explain why he gutted it to complain about parking tickets and Muni passengers.  The SFPark program is currently still in effect, though in an "evaluation" phase, which means that it's turned off the sensors under the spots, cut off most of the data available to developers and even taken its own app from Apple's App Store.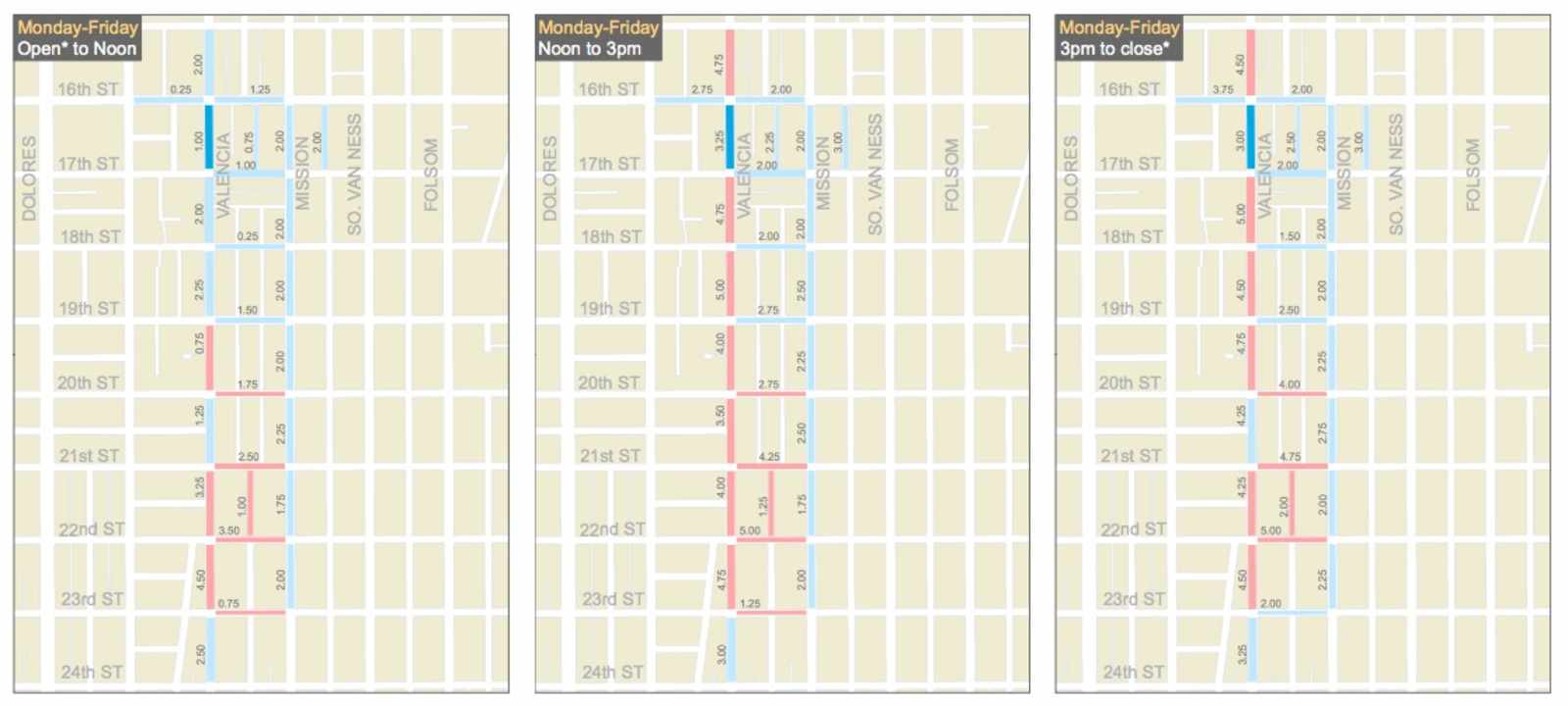 One can only imagine what will happen if it needs Mayor Lee's approval to move forward.  It turns out that the "Sharing Economy" group that his office took credit for putting together in an effort to persuade City Treasurer Jose Cisneros not to go after Airbnb and Uber for taxes never actually met.  Meanwhile, any Cocoa developer from around the world can show up and start literally auctioning public land off to the highest bidder—land that Mayor Lee is happy to just keep giving away for free.