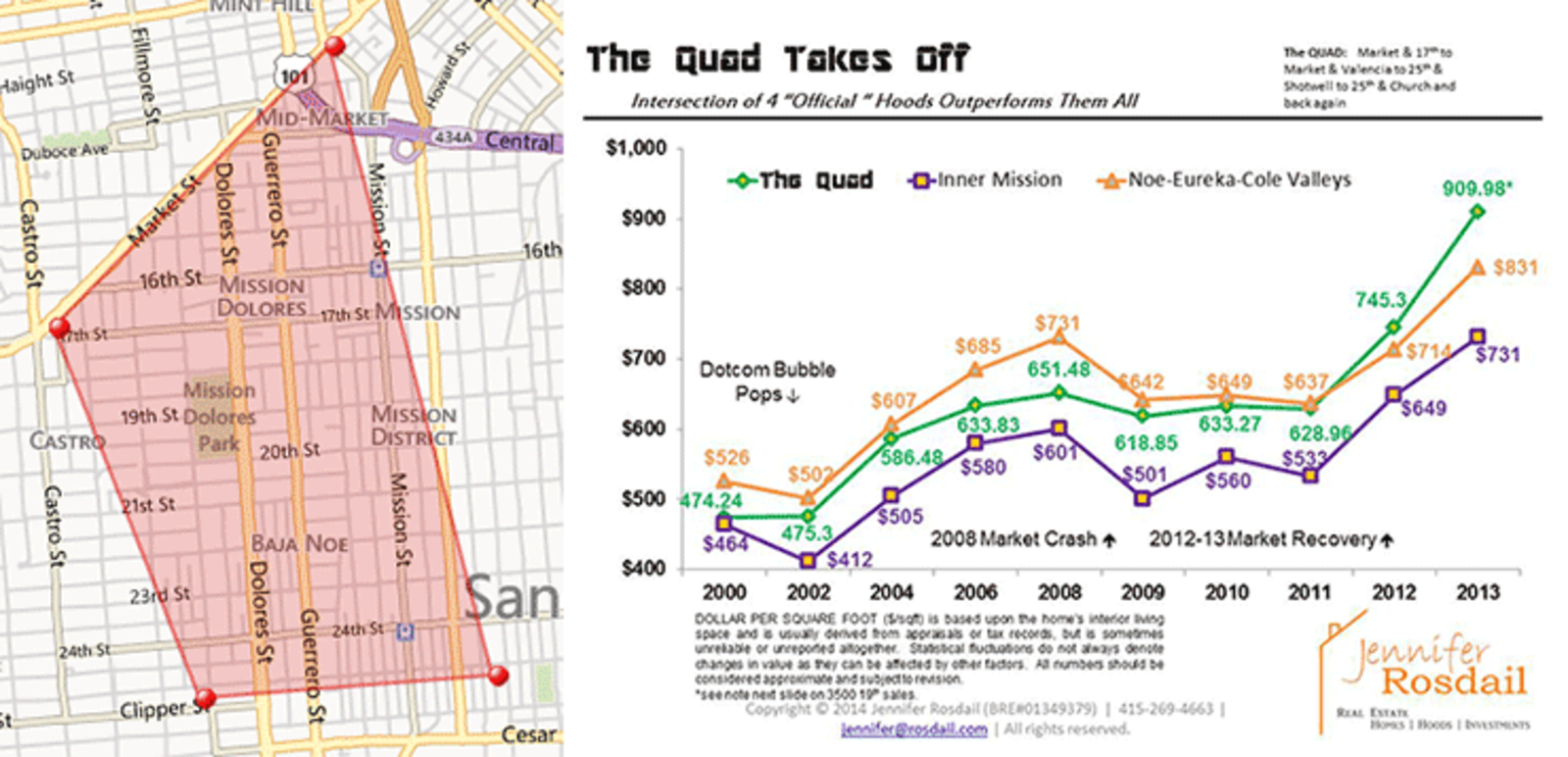 Bordering the Castro, Noe Valley, the Inner Mission and even Mid-Market, realtor Jennifer Rosdail has defined a hot new neighborhood — The Quad! What makes The Quad unique?  Housing costs are rising there even faster than the aforementioned Noe Valley and Inner Mission! How do you know if you're cut out to be a "Quadster?"
Quadsters are young – under 40 anyway.  They like to hang in the sun with their friends.  They work very hard  - mostly in high tech – and make a lot of money.  They value time greatly and want to be in a place where they can get to work quickly, meet up with their friends easily, and walk or bike instead of sitting in traffic.  They take the Google Bus, the Apple Bus, or another of the reputedly less well equip shuttles like the eBay Bus.  They also like to eat really good food, but don't often have time to cook it.  And since they work on "campuses," and are the millennial version of the Cow Hollow "Triangle" dwellers of the 70s and 80s, the name "The Quad" seems a good fit.
So basically The Quad is Frat Mason for Ivy Leaguers? Would explain the upturned nose directed at eBay employees. Also, did anyone ask the Sureños if they were cool with this? "A bit of an edge does not detract too much – it may in fact be desirable," writes Rosdail. After all, from your $6,000 two bedroom, two bath apartment over the new Whole Foods at Market and Dolores it's only a few blocks to 16th and Mission to cop some black tar (while you still can), currently running around $80 a gram. Qué sabroso!
For more on The Quad, Rosdail prepared presentation slides complete with recent sales figures.