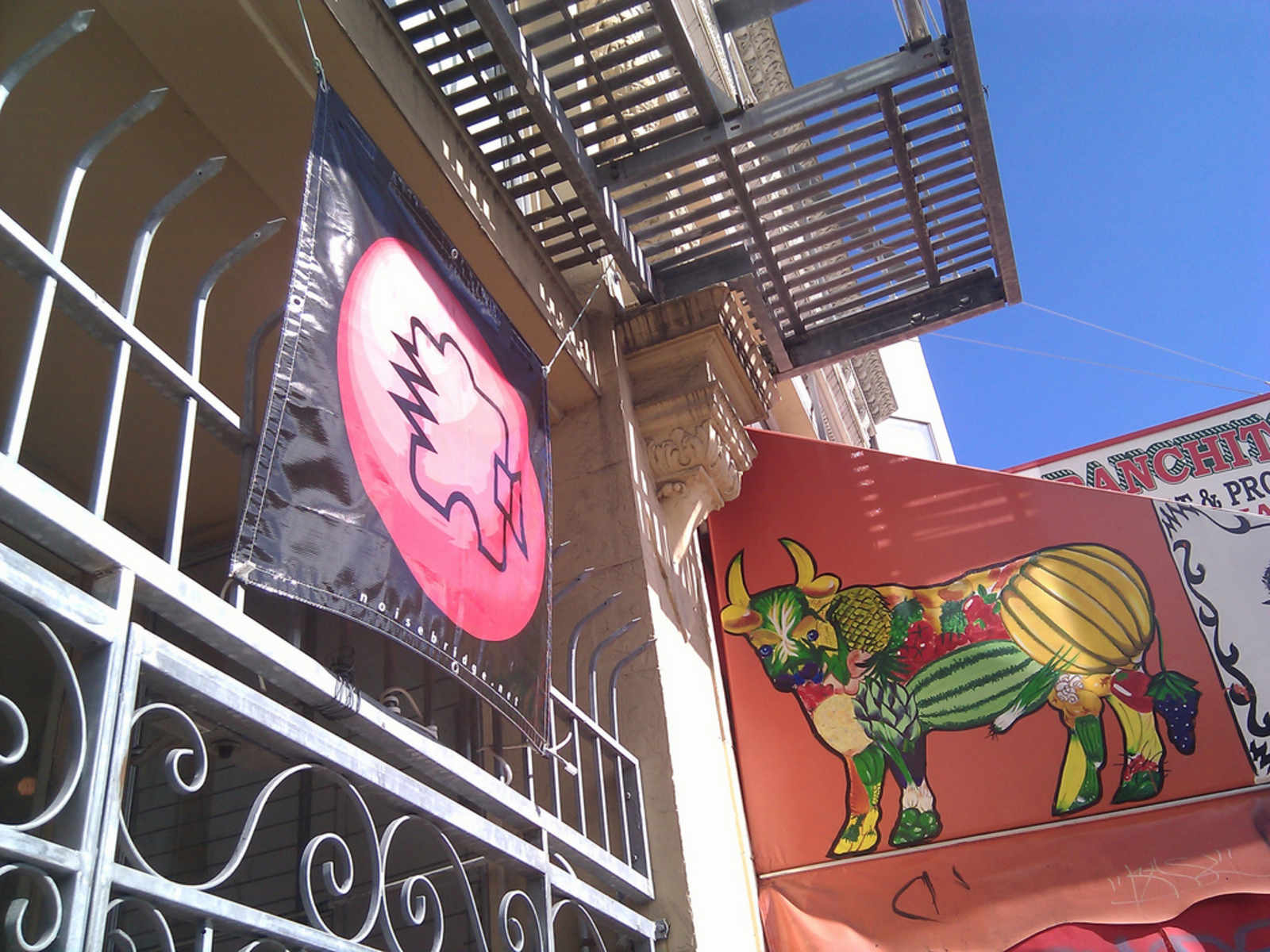 Since Noisebridge opened its doors in 2008, it quickly became not just a place to build robots or meddle with security systems, but a DIY community center in its own right.  Today it plays host to everything from LitQuake events to vegan cooking lessons, thanks in large part to its anarchist structure and open access policy.
But Noisebridge's one rule—"Be excellent to one another"—is the kind of toothless techno-libertarian feel-good sloganeering that does little to protect the community.  As Noisebridge member Hannah Grimm details, harassment is common and never criticized:
I've been spending time at Noisebridge for the last year, and in that time, I've been harassed by multiple people on many different occasions, almost always with members present.  Never once has a member intervened or spoken up on my behalf: not when Weev called me a cunt or made anti-semitic, anti-mormon, anti-woman, anti-gay jokes loudly in the space, not when someone loudly (and descriptively) told me about the "sluts" they double-penetrated the night before, not when an individual (upon seeing me about to leave the space on my Powerisers) declared "I love your stilts.  I'm going to make you my bride and then those will be mine" before slapping my ass as I was leaving just a few weeks ago.  The closest thing I have felt to supported in the space was when one individual decided to doocratically paint over the bathroom wall, which at the time was covered in images of maimed and broken crying women with enormous tits and waists so thin they would make Barbie jealous.  It has become abundantly clear to most women in the space that "Be Excellent" has failed us.
And it's not just Hannah.  Another member reports being "pinned down on a table" while another member "began unzipping [their] pants without any permission at all, refusing to stop even after [they] froze in fear asking what the fuck [he was] doing."
It would seem that these black hat brogrammers are not Being Excellent, but largely in part of Noisebridge's consensus-based decision making process (which allows any one member to block a decision), women have not been empowered to remove misogynists from the community:
…attempts to remove sexual predators from the space have been stymied by the presence of lone, oblivious members of the community who simply refuse to believe that someone they consider a friend might not be a friend to women in the space.  The situation at Noisebridge has gotten so bad (alongside other issues such as dirtiness and homeless people living in the space) that long-time members went so far as to put in a proposal that Noisebridge seek to terminate its lease, presumably to then rebirth itself at a new location with tighter access control.
Instead of shutting down, Noisebridge instituted a sexual harassment policy—albeit provisionally, to protect against member's fears of censorship and (the long discredited notion) that women level false accusations of rape.
It seems at the intersection of Occupy and technology, women's safety just isn't that important.
Noisebridge refused to comment, with a member saying it's not "possible" to get a response from a leaderless organization.