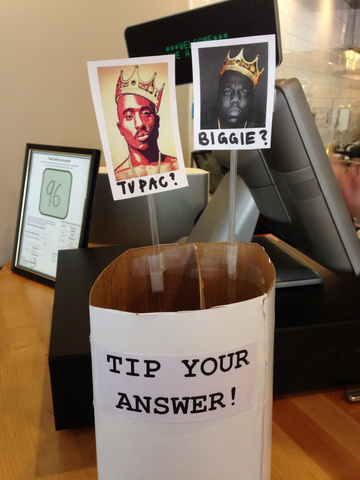 The Valencia location of Curry Up Now is requiring customers to answer one of history's greatest questions when tipping: Biggie or Tupac?
When answering such a question, one must begin by determining what criteria is being evaluated.  As both men were hip-hop artists, it would at first appear to be a meritorious evaluation of their output.  But perhaps a greater rivalry is at play here, as suggested by the relative placement of the two tip bins; Tupac is to the left of Mr. Smalls, which is indicative of their representation of West Coast vs. East Coast  hip-hop, respectively.
As a customer I was not inclined to take a stand in this battle as I appreciate both artist's work equally.  Working in my favor is the particular nature of the tip jar vs. the conceptual nature of duality; as duality in an of itself cannot be manifested in physical form, thus a binary answer cannot be enforced.
So I ripped my dollar in two and put half in each.