Look, we get it: Muni is pretty much a giant hollowed out piece of dogshit on wheels.  Its schedule is random, at best.  NextBus, a horror show.  It's crowded, smelly, sketchy, slow, socialist, impossible, insufferable, expensive, and people clip their toenails on it.  Being drunk is pretty much a prerequisite for boarding.  Also, it doesn't have wifi and leather seats.
No one seems to know how to fix it.  It takes San Francisco 16 years to construct a single high-speed line, while Mexico City reinvents their entire bus system in three.  Willie "Da Mayor" Brown can do little more than joke about his fantastic ineptitude in fixing Muni.  And Scott Wiener still hasn't responded to my pleas to criminalize pedicures on the 14 Mission.
What can be done?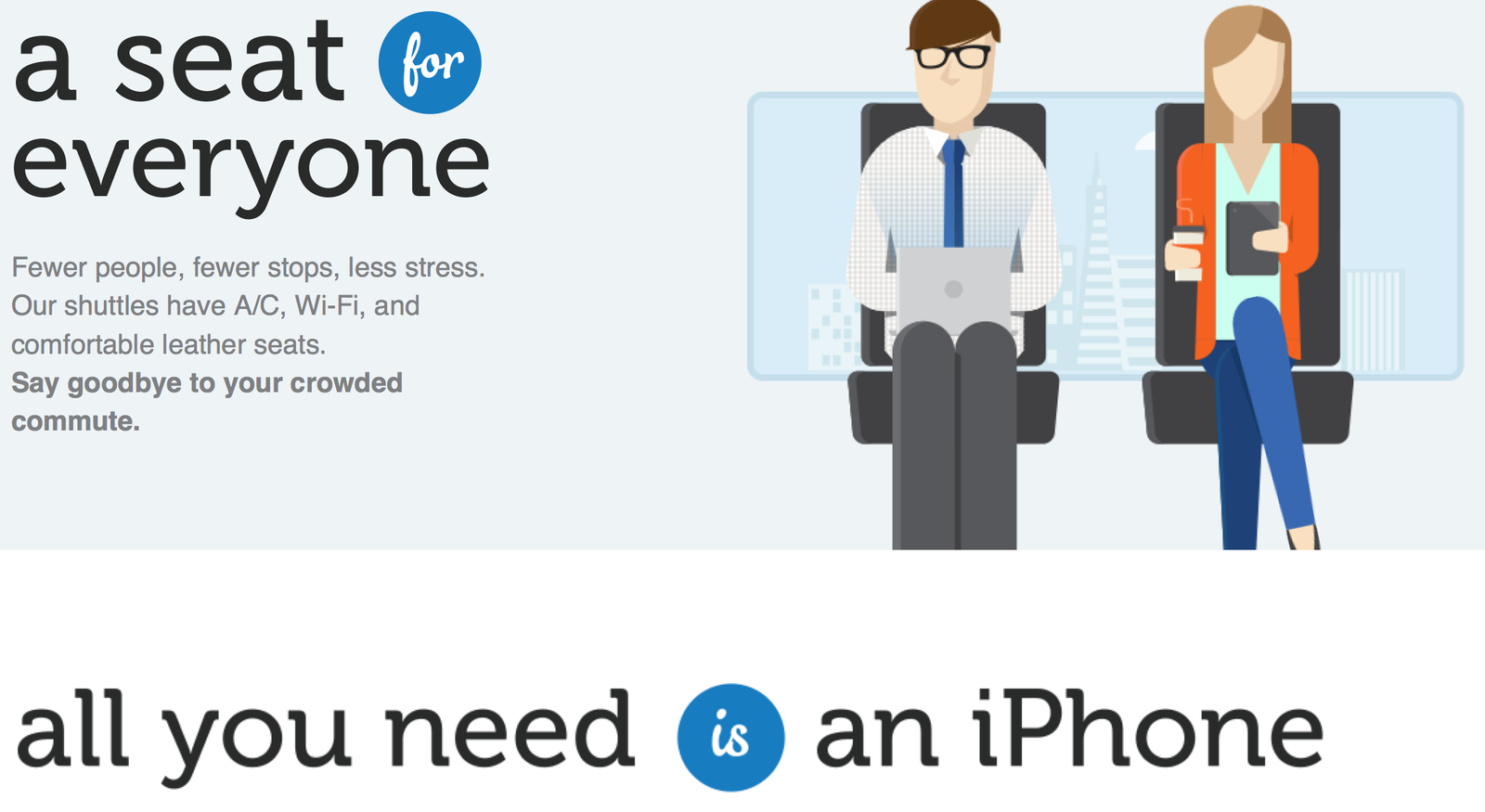 Meet Leap, the latest coddle libertarian startup that knows Muni's issues stems from our secret jealously of Google Buses:
Leap is a shuttle service for San Francisco commuters.

Leap is the best way to get to work. Our shuttles will take you downtown in the morning, and back home in the evening. Our first route, the Chestnut Express, services the Marina. We'll be adding more routes soon.
Promising "A Seat For Everyone," a ride on Nu Muni will cost you $6 each way—assuming you own an iPhone and live on a profitable route.  Numi also only runs weekdays from "7:00 AM to 10:00 AM and from 4:00 PM to 7:00 PM," because those are the times everyone needs to ride the bus. (Sorry granny on a fixed income.)
We reached out to Greg Dewar of the N-Judah Chronciles for some initial thoughts on this stunning disruption of public transit:
This is going to blow up for a few reasons:

1. Just because it's not a Muni bus doesn't mean it can't get stuck in the same traffic Muni does.

2. If this amplifies the already existing problem of private buses at Muni stops, you can better believe MTA will crack down on them.

3. Their base cost is very high if they aren't using public power (like Muni does and is the only one that can). [Ed: never mind increased pollution from not being electric.]


4. It can't replace Muni. It only makes sense for them to run on lines that produce the most riders. They're not going to have these things in West Portal. It'll be a downtown thing to a few neighborhoods at best and even then there are insurance issues and rights of way issues.

5. It'll get a shitload of free press, it'll start up, and it will fail because they can't serve the entire city AND beat Muni. At best I see this as a snooty bus "system" that will leave most people still stranded.
We love it.  Ayn Rand's libertarian fantasy world is finally taking root in San Francisco.  Paul Ryan for mayor anyone?
(Meanwhile:)
World's greatest muni driver now announcing we are stopped at a green light because of a commuter bus. #sfmuni #49

— The Tens (@thetens) May 29, 2013
[h/t Connie Hwong]