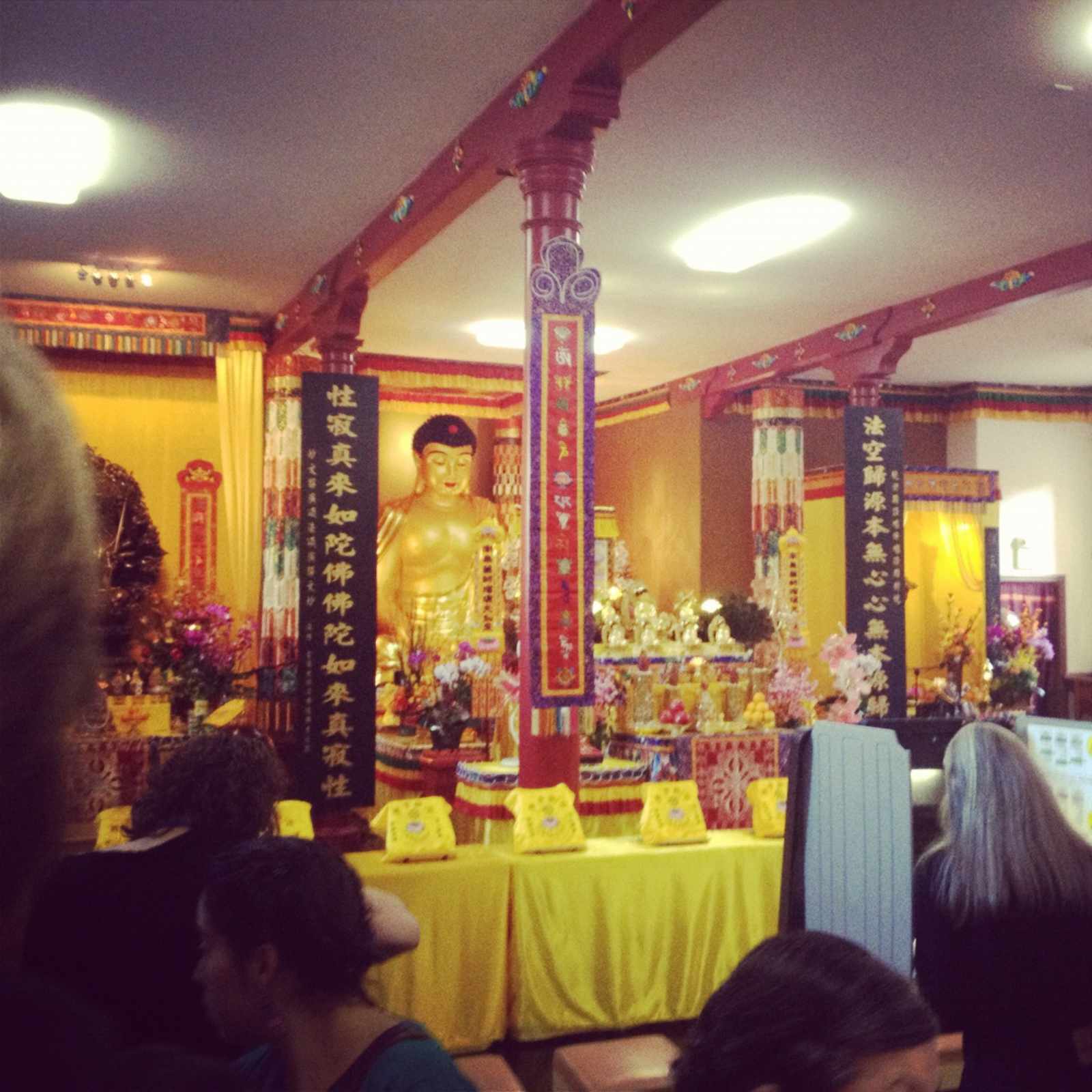 In what could be the greatest proof of San Francisco's status as a truly awesome and zen-like place to be a voter (unless you live in District 5—sorry guys), hundreds of D9 residents were given the divine privilege of voting in the middle of Hua Zang Si Buddhist temple at 22nd and Capp.  You know the place:
Have you been in there yet?  You really should.  And I mean it—even if your polling place is in a school or hair salon or somewhere bullshit like that.  Churches are generally frightening places full of hatred and bad crackers, but Hua Zang Si is nothing like that.  It even has a storied history that predates the earthquake and involves heroic efforts by the Buddhists to spare the building from being converted into condos:
The impressive building that houses Hua Zang Si was constructed shortly after 1900 as St. John's Evangelical Lutheran Church. Built in a Gothic Revival style, the church served the local German immigrant community who worked at the tanneries and breweries along Precita Creek. The building narrowly escaped the fires that followed the great earthquake of 1906.

By the close of the 20th century, the European immigrant families that remained in San Francisco had mostly moved to the west of the city and the neighborhood welcomed a growing Latino community instead. In 1992, the congregation that met in St. John's Church voted to move to a church around the corner, which would be named St. Mary and St. Martha Lutheran Church.

The old Lutheran church was deconsecrated and became a private residence. Plans were underway to turn it into condominiums when the United International World Buddhism Association purchased it and the adjoining parish residence for $2.5 million in 2002. The church building was left intact but given a dramatic makeover with red paint, Chinese-style doors, and a fully remodeled interior.
The basement, where we voted, is an impressive enough space.  However, the second floor still contains the Church's original organ pipes and stained glass windows and also houses a 21-foot tall Amitabha Buddha statue that was imported from Taiwan, which one of Temple's volunteers said was the largest Buddha statue in all of North America.  In other words? It's an impressive amalgamation of various religions and cultures.
They're open to the public from 9am-6pm daily and seem more than thrilled to show people around.