The San Francisco Citizen's Initiative for Technology & Innovation, or sf.citi, released their first viral video earlier today, which aims to explain what Twitter/Zynga/Salesforce/AT&T/Airbnb/Ed Lee/Ron Conway-backed organization will accomplish.  Let's give it a watch:
0:02 - "San Francisco is dope and all…"
0:05 - "…but people get parking tickets and bikers look like assholes in my rear-view mirror."
0:10 - Disenchanted high school vice principle reveals himself: "It'd be awesome if we used technology to cure aggro cyclists.  Let's give it a shot."
0:15 - *takes 15 second weed nap*
0:30 - Freakishly tall yeti emerges beside his texting teen sister: "SF is seven miles by seven miles, and that's adorable."
0:35 - Yeti fails to hail a cab, demands answers.
0:40 - Dude named Biz makes a bold suggestion: "How about we glue a giant iPhone to the side of every Muni shelter that tells you where every cab, train, bus, boat, plane, homeless person on PCP, human slingshot, poorly locked bicycle, and dressage pony in the city is and maybe helps you get a ride that probably isn't there?"
0:52 - VEGANS RUINED A DUDE's FRUIT STAND COMBINATION LIQUOR STORE. THROW MEAT AT THEM NOW.
1:01 - OH SHIT, DON'T WORRY BRO, TWITTER WILL THROW MEAT AT THEM FOR YOU.
1:08 - Victim with MacBook Pro is unable to afford $40 for a basic DSL service, has to check email from place where weird smelly people shoot heroin.  How can this be?
1:14 - Guy on a Wes Anderson film set: "We'd like to maybe idk someday put wifi hotspots in old telephone booths.  Someday!"
1:20 - Person speaking in tongues wants to know what the city can do about hipsters and foodies and gentrification and rising rents.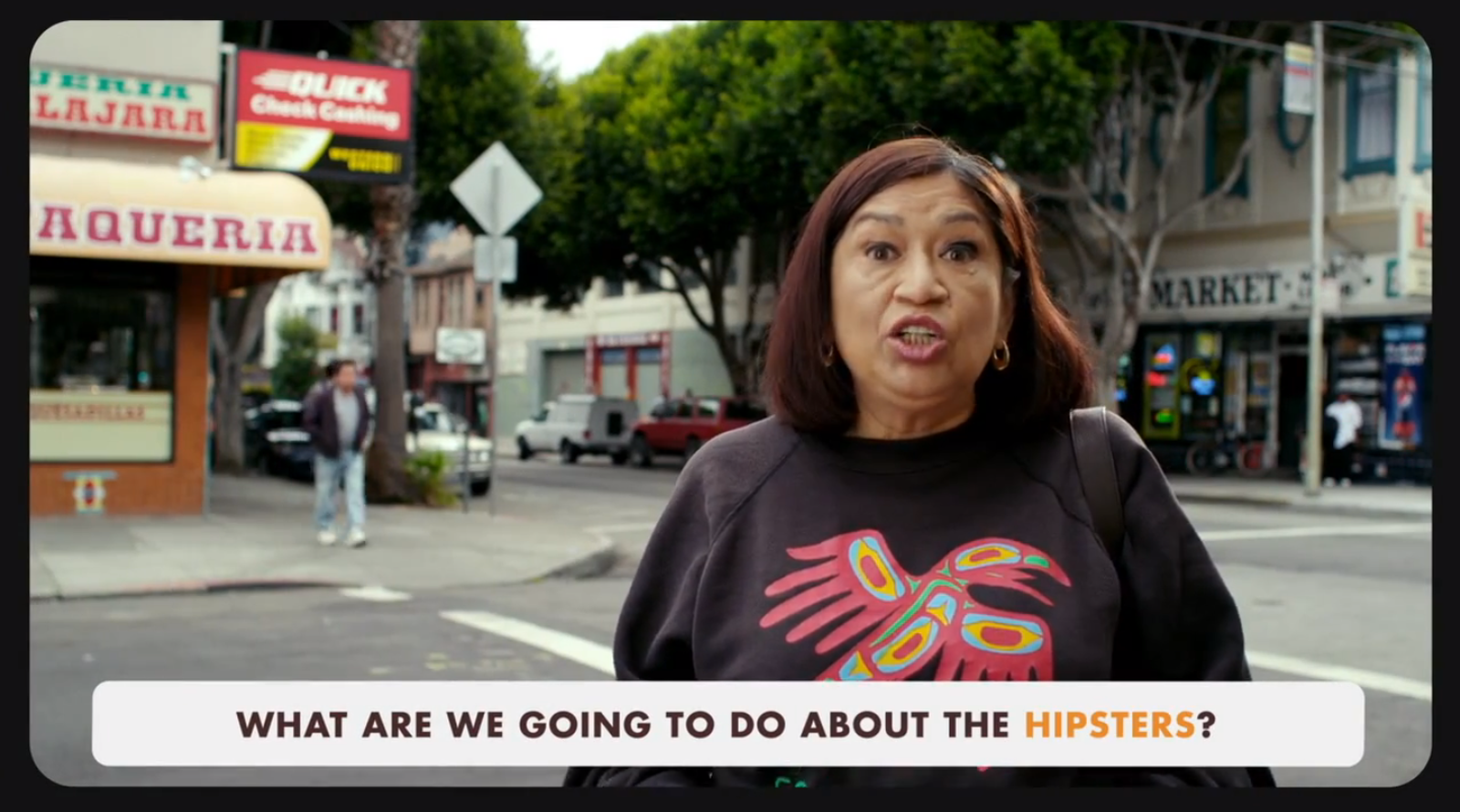 1:28 - Answer: "Uhhhhhh…. dunno."
1:40 - "Parking? There should be an app for that."
2:00 - The Yeti is back and now he wants to get in his teen sister's pants.  Unfortunately, she lives in the Sunset and—gosh darn it—there isn't a cab around, so they're off to find a dumpster to plow behind.
2:02 - Wait, this is an advertisement supporting Prop E?  The proposition that would change the city's tax policy?  It's an advertisement for Prop E even though the video's funder, Silicon Valley Mob Boss Ron Conway, said it wasn't a campaign ad?  How exactly does changing our tax code get us public wifi and the Yeti in his sister's pants in the privacy of his own mancave?
2:10 - Good thing they didn't promote that internal SFPD report filing app they created but the department can't use because they cannot afford the cell phone plans…
2:23 - *Asshole bikers evidentially still a problem*
Now, this isn't all to say that Prop E is bad (it isn't, and it's supported by pretty much every politician, NGO, and newspaper in town), nor that free public wifi would be bad for SF (it would plug up all those cellphone dead zones, reduce utility bills for businesses and residents, provide ever-necessary connectivity to low-income students and families).  However, this ad does more than exaggerate Prop E's benefits or make small fibs—it is straight up deceitful in claiming voting in favor of Prop E will do anything to improve ordinary San Franciscan's problems.  Prop E won't give you wifi or fix Muni; all it will do is improve the San Francisco business tax code, largely for the benefit of tech start-ups.
Also, why pick on vegans, cyclists, and Latino's with genuine problems?