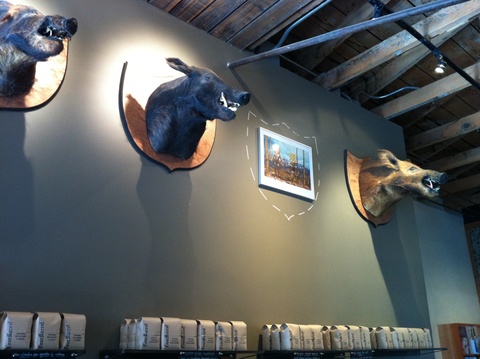 Ever since we brought you breaking coverage of the boar head theft at Four Barrel back in April, we've been carefully monitoring the situation for new developments.  After all, with only three boars, shouldn't the place change their name to Three Boar-el?  No?  What, that was a good pun.  Stop hitting me.
As of this week the cafe's gallery was refreshed with new work by Aaron Rodriguez.  With the new art, the dotted line where the boar head once stood is no longer empty — it's now filled with a whimsical collage.
This, folks, means there is hope. If an artist can use that space, who's to say their art itself cannot be an actual boar head mounted on a wooden shield?  The act of artistic re-boarment would not only restore Four Barrel's rightful fourth boar, but would also make the artist a hero to coffee nerds who make snarky comments about their shitty iPhone photos in local blogs.
Get on it, artists.  We're counting on you.