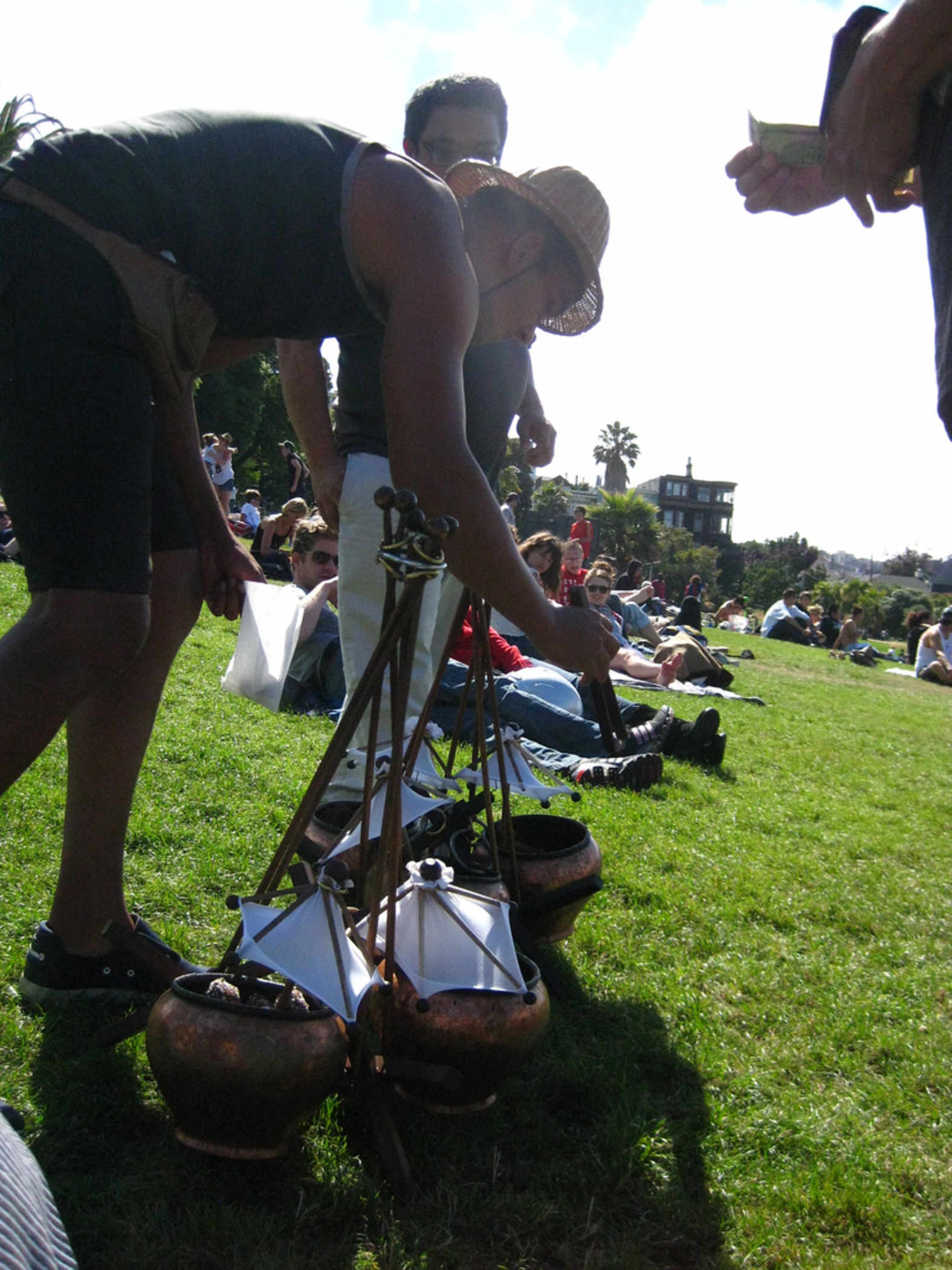 Just read this lovely Missed Connection to Dolores Park's Truffle Guy (emphasis added):
I think ur name is "DEVIN" and ur black.

U were selling homade truffles out of homade round metal boxes u hammered yourself with homade minitents to keep the sun off them so they don't get all melty for ur customers! Ur so cute cuz I think about u sitting at ur kitchen table making those minitents at night when ur not in the park and u have candles all around u or I think about u in ur garage making boxes drinkin a beer with a hammer. U were the one w/ shorts looked like maybe from france def bluish and a pink and white stripe half shirt and a brown leather bracelet with little beads on it u probably made it to huh!?? and u had brown dressy shoes with really strong legs. U also had a weird but cool hat on that looked like a city in another country is that where ur from?! It also looked like minitents. U said u dint make it but I bet u really did :). U were a gentlemen to me and my friend, cute nice eyes NICE BIG SMILE. U smell good too :).

I was the one who followed u around the hole park and helped u serve truffles to customers all day saturday. U told me not 2, but I actually wasnt being nice I wanted to be close to u for more time u smell goodddd! Then I gave u my # and address in san mateo. I was chilling up on that hill with my girl Sandy. I was the one named Dawna like I told u before.

Well I see ur not there again this Saturday cuz I was in my car by up on that hill and ur not there or I just couldnt see u :(. Im at the library writing this. I know classy. Neways, Im staying in the city in my car 2nite so hit me up if u want me 2 come over instead ;). Hit me up if u forgot my number or name or just wanna hook up. I will do it 4u :).

Dawna
Well, I'll make sure to be in the park Saturday to watch this crazyperson get maced.
[h/t SFist | Photo by Jennifer Lightfoot]