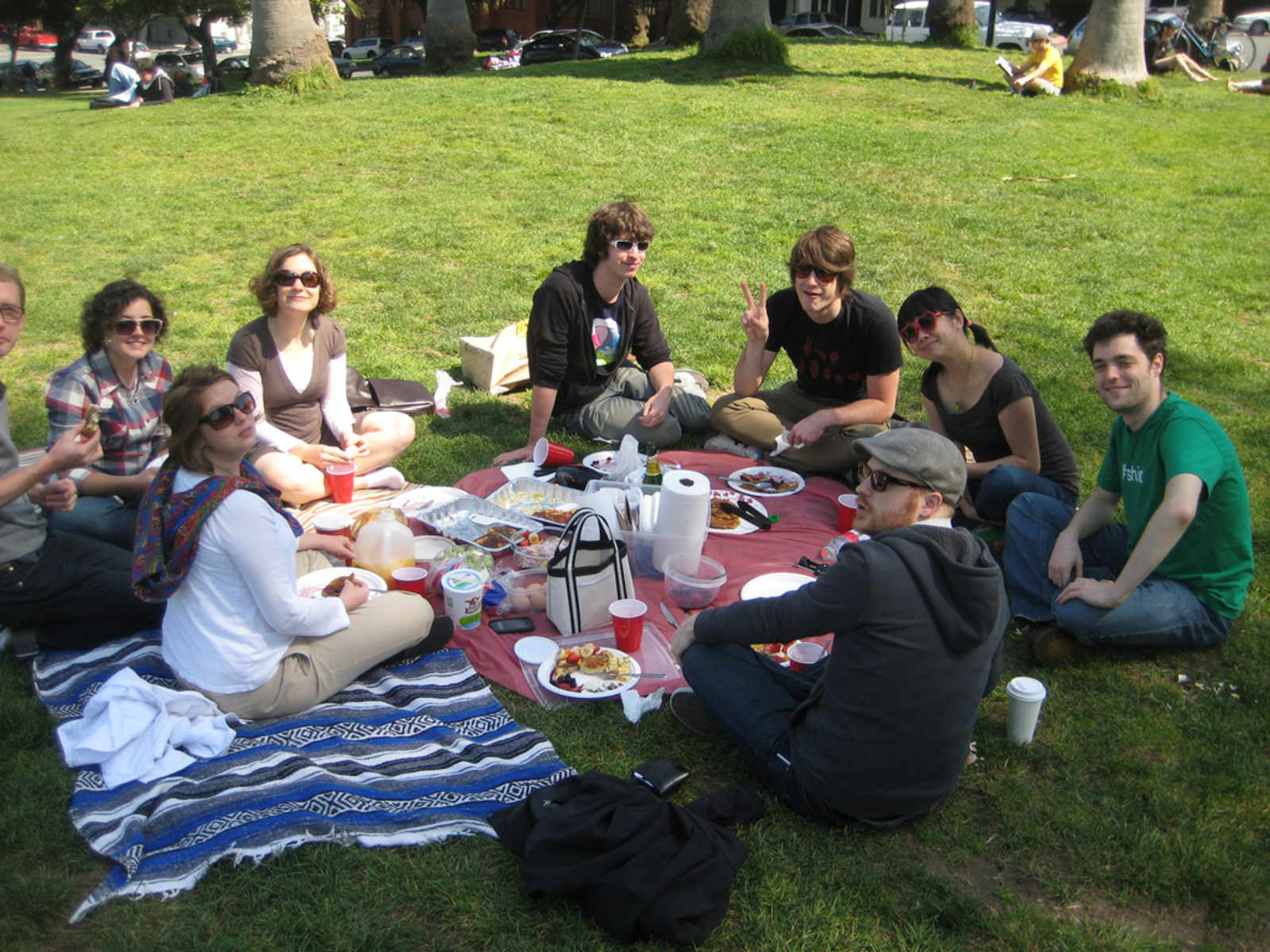 UPDATE: Much of the ambiguity surrounding what is a "picnic" that was discussed in this post has been cleared up by Rec. and Park.
Fresh for the 2011 park-going season, SF's Department of Recreation and Parks has decided to start charging a $100 "performance bond" to all Dolores Park picnickers.  While I struggled to get anyone on the phone to tell us more about this deposit, an employee for the Permits and Reservations office confirmed that the deposit is in fact "quite new" and is a "security deposit that will be refunded [after the picnic] if everyone behaves."
From Rec. & Parks' Dolores Park Picnic Application that was created this past September:
All picnics at Dolores Park will be required to provide a minimum of a $100 performance bond to ensure that all rules are followed. You may pay the bond either by charging it on your credit card or writing a personal check that we will return to you after the event if all rules are followed. The performance bond may be increased for certain events.
The application also explains the new push for picnic registration: "Due to over congestion at Dolores Park, the number and types of events have been limited. Applications for events at Dolores Park will be reviewed in total taking into account the overall impact on the neighborhood."
And, of course, if you actually want to have a picnic in the park, you have to fill out an exhausting form describing the event.  Among the information the City is now asking of picnickers is to provide is the contact information of two picnic organizers, to "describe any musical instruments that might be played during your event even if not amplified," and if you are "requesting permission to serve food or beverages" [emphasis added].
Now, beyond the fact the City is inquiring about my ukulele jam sessions and implying that they control my God-given right to both eat and distribute Humboldt Fog goat cheese gives me the chills, the fact they are now requiring people to pay a behavioral security deposit is totally fucked.  Is this some sort of collective punishment for protesting the privatization of the park?  Perhaps.  A way for the city to cash in on the park's popularity?  Likely.  Whatever their motivation, the undeniable reality is that this will have a chilling effect on lower-income neighbor's ability enjoy the park that over 1.3 million people a year visit.  Even though it is a security deposit, there are scores of people who just do not have a spare $100 lying around to let the city to hold onto for a month or more (they never specify how quickly the deposit must be returned).
Interestingly enough, the Department never once defines what a "picnic" is (all they define is that any gathering larger than 75 people is a "special event").  We know that if you wish to use one of the picnic tables, you must register.  But at what point is laying out a blanket with friends considered a picnic?  5 people?  10 people?  15 people?  The presence of something purchased at Bi-Rite?  Most importantly, do my BFF and I need a permit to open a box of Triscuits?
What remains to be seen is how this policy will effect the police presence in the Park, especially given the complete ambiguity of their definition of "picnic."  In past years, SFPD and park rangers would patrol the park but thankfully looked past BBQs, public drinking and unpermitted picnics.  However, now that the cash-strapped Parks department has the potential to earn money from park-goers breaking the rules, will they increase their policing?  We can only hope not.
Side note: none of the Park neighbors or activists that I spoke to had ever heard of this deposit.  A quick Google search indicates this deposit has never been discussed in any public City Hall meetings. 
Note: On 1/11/11 at 3:45pm, I edited out all the instances of the word "fee" and replaced them with deposit, because apparently some people are too stupid to read the entire post.