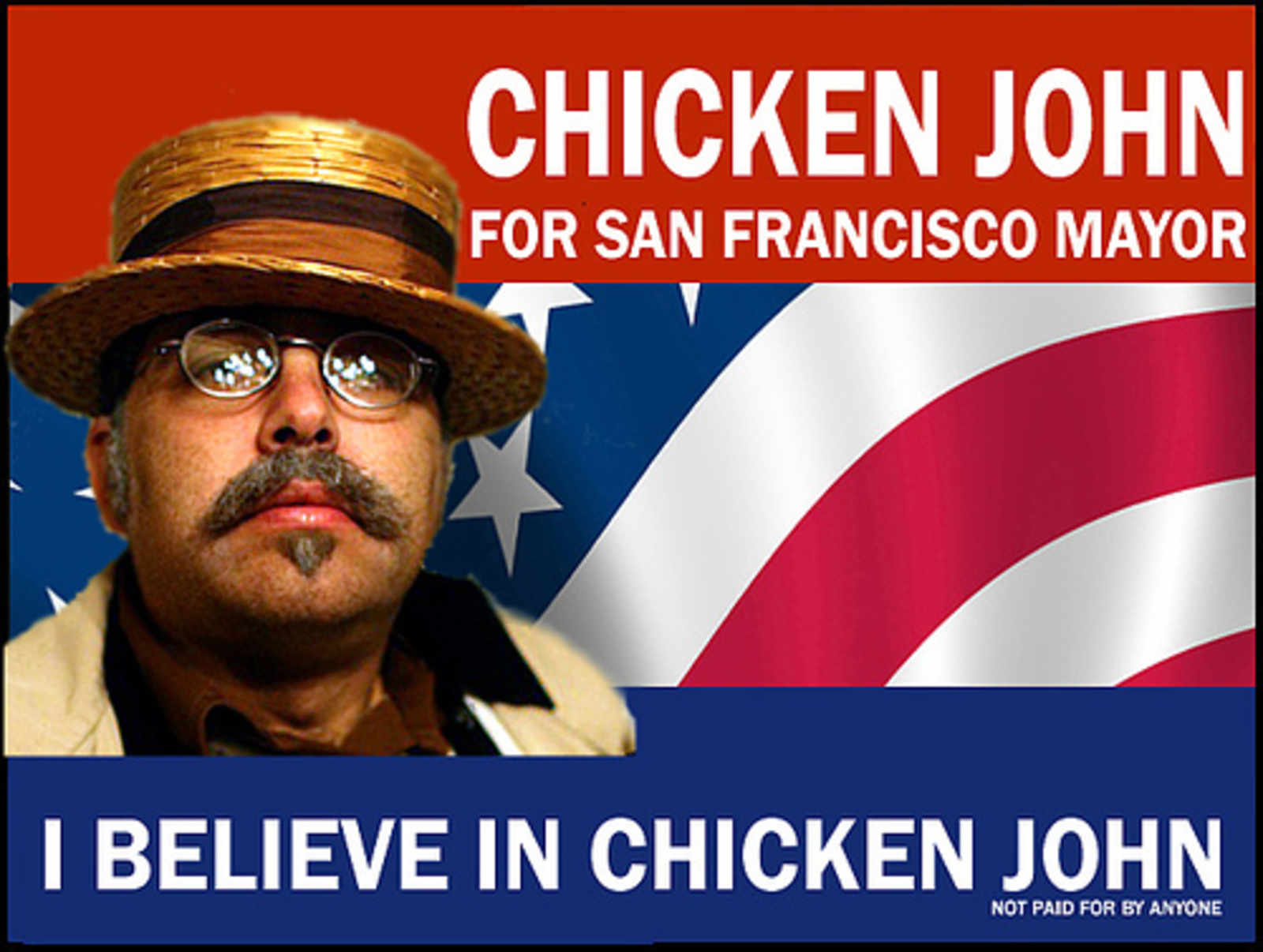 I know half the blogs in San Francisco have already covered this, but I feel it would be inappropriate to not say something about Chicken John's role in all of this.  The Bay Citizen recently broke the news that Blue Bottle is out, with Blue Bottle owner Jason Freeman saying, "I don't need this controversy."  While this should be something to celebrate—afterall, we get to keep out parks limited green space out of the hands of private entities—it's actually quite depressing:
And now, after blog comments about spitting and vague word of tire-slashing, Blue Bottle owner James Freeman said that he has decided not to drive his trailer into the park at all.
What James is referring to is comments left by none other than Chicken John, spokesfowl for the ZOMG SPOT "CORPORATE" AMERICA IN SF crowd.  As Chicken commented in a recent 7x7 post (edited for brevity):
Do we need to be protected? Do we need legislation that would prevent RPD from steamrolling a community park into selling off spots to stores?

I'm sure that this would make excellent dialog. You can guess how I would think. But as for BB, it seems as if they wish to be the company that 'breaks' Dolores Park. Which is going to be messy. And uncomfortable. Very uncomfortable. People are spitting mad. If it is true that they didn't see this comming, which I find impossible, then if I were them I'd run. There are going to be a thousand people there spitting on them on their opening day. Fucking riot cops. [emphasis added]
While Chicken didn't come right out and say he would be spitting on Blue Bottle's workers, he sure did imply that he and his army of Laughing Squid pendejos would be out there assaulting them.  I'm not saying Chicken was on the wrong side of the debate, hell, I was on his side, but threatening people and property is not how normal adults get their way.  That's how racists kept "niggers" out of their schools and neighborhood for generations.  That's how fellow demagogues scared people away for polls for years (and still do in many nations).  More recently, this is the type of behavior exhibited by Tea Party racists.  Chicken: just because you're fighting "the good fight" doesn't mean you get a free pass.
This wasn't the way to win.