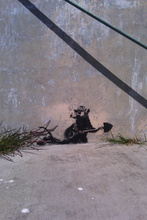 UPDATE: Follow-up with pics.
Why is Generic moving out of his 'sick pad' above 16th Street's Tokyo Go-Go?  Because he hates animals:
"So what was the problem?"

Rats.

"Like, actual rats?"

Actual, non-figurative vermin were in my room and all throughout the building. I could hear and see them. Fun fact: hearing them is worse—especially at night. When they fight, they make a high-pitched squealing noise that makes your skin crawl. The cliche about women jumping up on chairs? I'm not making fun of that anymore. (I didn't say I do it, just that I'm not making fun of it.) Rats generally move too fast to hit with anything, so if you're relying on poison to kill them, getting the hell away strikes me as a pretty sensible choice. (See Plague, Bubonic.)

...

PRO TIP: Don't eat at Tokyo Go-Go. I don't care how good the sushi tastes, there are rats in the building.

">">
He claims he has pictures.  Care to share?