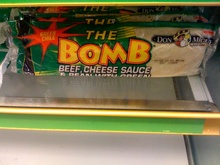 The terrorists just won the war:
A suspicious package containing a burrito disrupted San Francisco Municipal Railway Service in the city's Sunset District early Tuesday and prompted a response by the bomb squad.

…

A witness on the scene reported the package was found to contain a burrito.
I'm worried for our safety.  Are trigger happy BART cops going to 'bust shots' in my chest because I'm hungry for some rice and guac at 2am?  Trick question.
(via Bay City News)