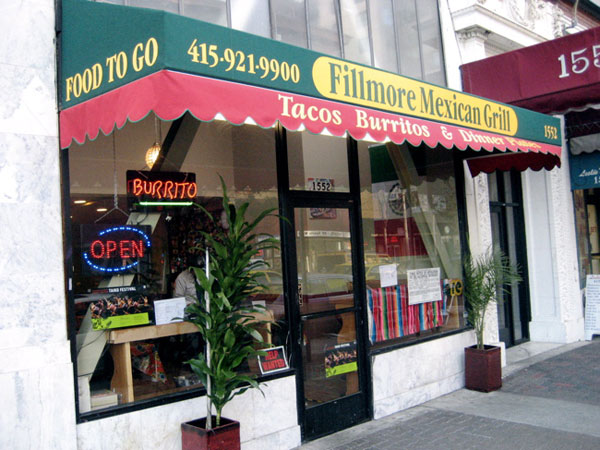 yeah the Fillmore has never had decent mexican food, ever. There use to be Poblano something on golden gate and fillmore that shit was edible at least. Fucking La Salsa shut down, that was like Taco Bell but with 50% less dog food. Some how Fillmore Mexican Grill is still in business. I don't know how the fuck that has happened, motherfuckers got sriracha on the tables. Look I'm down to give other races chances but when the Korean dude running the place can't buy tapatio you know the place is fucked. I don't even know if he's Korean but he's asian and considering the Koreans already own everything down there I'm going roll with that. Besides they already run the sushi spots, why not take over the mexican food too.
Anyways this isn't about the Korean's, it's about their burritos made of cardboard and sludge accompanied by completely clueless awkward service. This combination of sucks naturally means that yelptards give it good reviews for "freshness." Hey assholes, my shits are fresh too but I don't eat them. Fuck this place, I can't even tell you what I've eaten at this place because the fucking gruel they shovel into tortillas is so fucking bland all memory of what I actually ate there escapes me.
In the wake of La Salsa closing down Tacobar is opening this month. They are going with the freshness tag too but I got more faith in these dudes than Fillmore Mexican Grill. I mean fuck, you really can't do any worse than all the other dumbasses who've tried to have taquerias on Fillmore. The closest competition is El Super Burrito on polk and that shit taste like a bucket of rotten dicks. You got Burrito Express on Divis which sometimes gets a edible pass but barely. Tortilla Whites if you want to get your happy hour on with a room full of Becky's and Chad's stuffing their faces with whitebread nachos and bowls of margarita bullshit. I'm really hoping Tacobar can come through, making a decent fucking taco can not be that fucking hard. I can't even get tacos delivered anymore from the tenderloin (yeah it was that bad) since El Patron closed. I don't always want to roll to the mission or make tacos myself. I just want to give someone some fucking money and eat some goddamn tacos. Can't a motherfucker live?
Fuck I need to get out of this neighborhood, it's killing me.