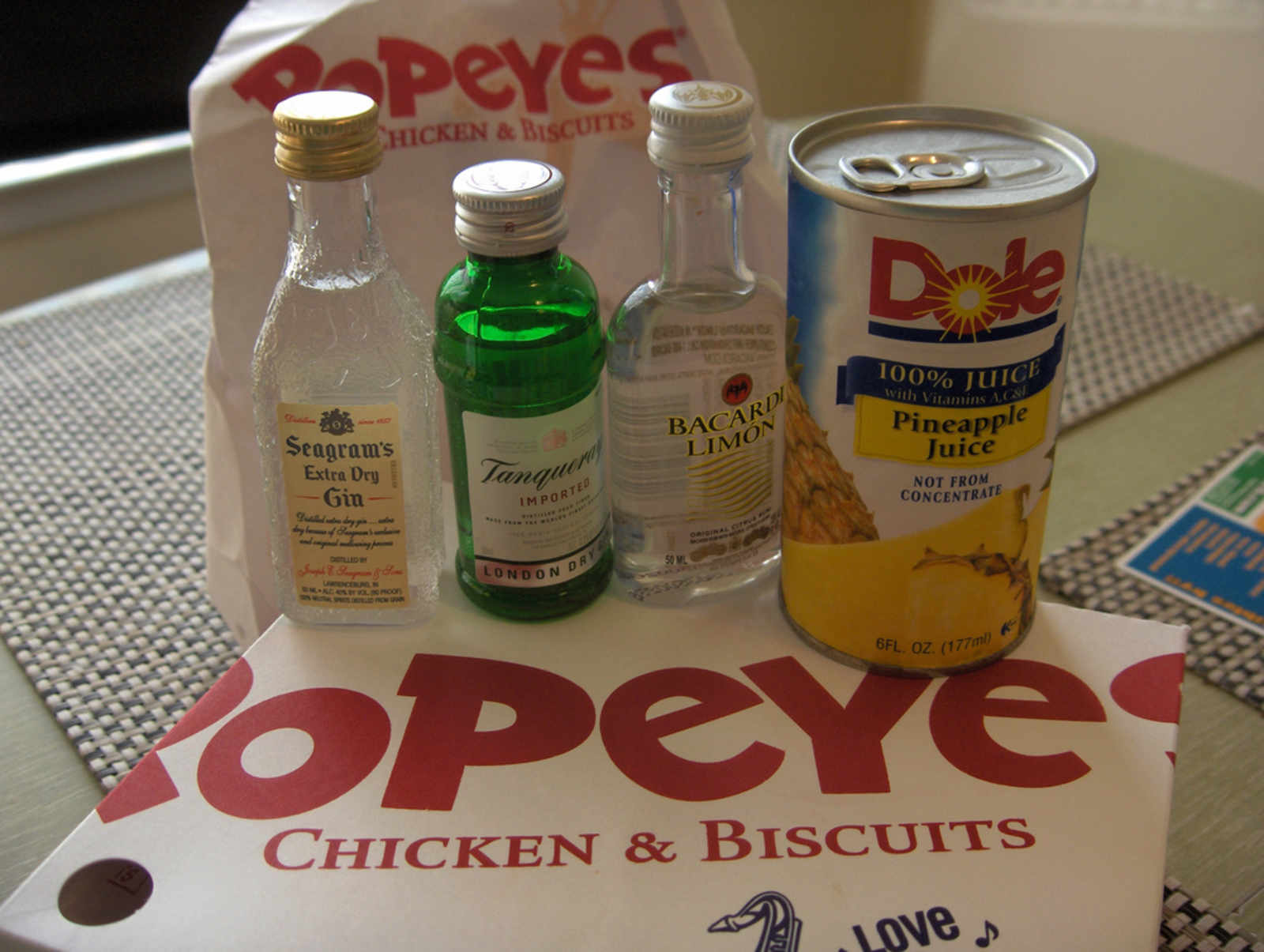 Cutty Bang and Irish Coffee: they're two of San Francisco's better-known contributions to the world of "mixology."  One, the renowned coffee, cream, and whiskey drink that you can pretty much order at any bar you walk into. The other, a bunch of mini bottles of liquor tossed into a shitty cup with some chaser sold out of some of San Francisco's less reputable corner stores.
As you can imagine, quite unlike the ubiquity of the standard-bearer of morning cocktails, Cutty Bang is rather difficult to track down (and has generally required leaving the Mission).  There's Charlie's Pharmacy in The Fillmore, but they stopped selling Cutty Bang in cup-form to avoid harassment from the cops and deter copycats from selling the drink.  The same is true of Bayview Liquors, where the 'cocktail' originated.  As far as the Mission has been concerned, there's a spot on 24th and Folsom, but you often need to assemble the ingredients yourself—a painful process in the wee hours of the morning.
Luckily, it seems that the disappointing hunt associated with Cutty Bang has finally come to an end.  Do Vulcan Tits Defy Logic? found himself in George's Market on 24th and Shotwell last night and by chance discovered they sell a variation of Cutty Bang (pictured above) called "High Speed":
i did an informal interview of the dudes buying the cutty bang last night. it was roughly 1:55am, and it went something like this:

me: holy fuck. is that cutty bang?!
dude buying the cutty bang: fuck yeah. cutty bang.
me: fucking awesome.
dbtcb: you ever had 'high speed'?
me: nah. it's $11 bucks, right? fuck that.
dbtcb: yeah $11. but it's worth $22.
me: hmm…
dbtcb: have some high speed.
me: nah.
dbtcb: have some high speed.
me: nah dude, thanks though.
dbtcb: HAVE SOME FUCKING HIGH SPEED. [and yes, this was slightly threatening]
me: well fucking eh. [proceed to pound high speed] holy shit.
dbtcb: fuck yeah. HIGH SPEED.
And what exactly is High Speed? "A styrofoam cup with ice in it. 4 loko, red bull, vodka, gin, rum, and whateverthefuckelse. awesome."
If for some bizarre reason you're scratching your head as to what is the allure of a 11 buck styrofoam cup with a sugary hangover in it, go read Serg's breakdown of Cutty Bang in SF right now:
Do you like drinking? Do you like getting buck? Do you even know what getting buck entails? Whatever though, the point is that for years San Francisco liquor stores have been satisfying the needs of neighborhoods by combining rap music sensibilities and liquor. As far as I know it all starts with the Cutty Bang, the classic of all these corner store hook ups. What is a cutty bang? Well if you find yourself on 3rd and Newcomb you might realize that there isn't exactly a vast array of night life choices. You've got to find a way to entertain yourself and having a liquor store that sells tiny bottles of alcohol can only lead to brilliance. Well someone took some bottles of Seagrams, Bicardi, Tanqueray, an 8oz can of Dole Pineapple juice, and dumped that shit into a cup. No one seems to know the name of this legendary pioneer in "mixology" but the drink was immortalized by Tay Da Tay and later KNT. 

There are a grip of these drinks; the names and ingredients seem to change according to where you cop. The most consistent drink by far is the Cutty Bang. There are other drinks though like the What It Do, The Big Unk, The Killa Hoe, Getting Hyphy, the Money Maker, Walk It Out, Do You Like It Raw, Tupac, The Obama, Kobe, Casper, Trible B's, Wipe Me Down, and so on. For the most part the formula is simple, take 3 or 4 different kinds of alcohol, throw in some kind of chaser then just give it some kind of rap related name and boom you're fucking done. But as far the drinks go the cutty bang is my drink of choice, that shit might look maney but it's fucking good. [Read on]
[DVTDL?]