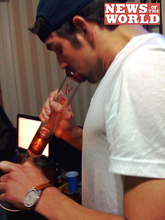 The New York Times Bay Area Blog had something of interest today: weed tasting rooms could be headed to the Bay and beyond following the November ballot initiative.
The price of Mendocino's illicit crop has already dropped because of the legalization of medical marijuana in the state. Pebbles Trippet, a small-time grower, said that many cultivators were "worried that their way of life is going to be taken away from them," according to The Sacramento Bee. Some locals hope that Napa Valley-style tasting rooms for pot tourists will help the local economy.

(link)
I'm not really a pot smoker, but the libertarian in me is arrousted by the idea of being able to sample 10 different kinds of "danke H.C. 420" at a tasting room conveniently located next to an ice cream shop, a McDonalds, a Frito-Lay factory outlet store, and 25 trim kids hitch-hiking their way to Golden Gate Park.