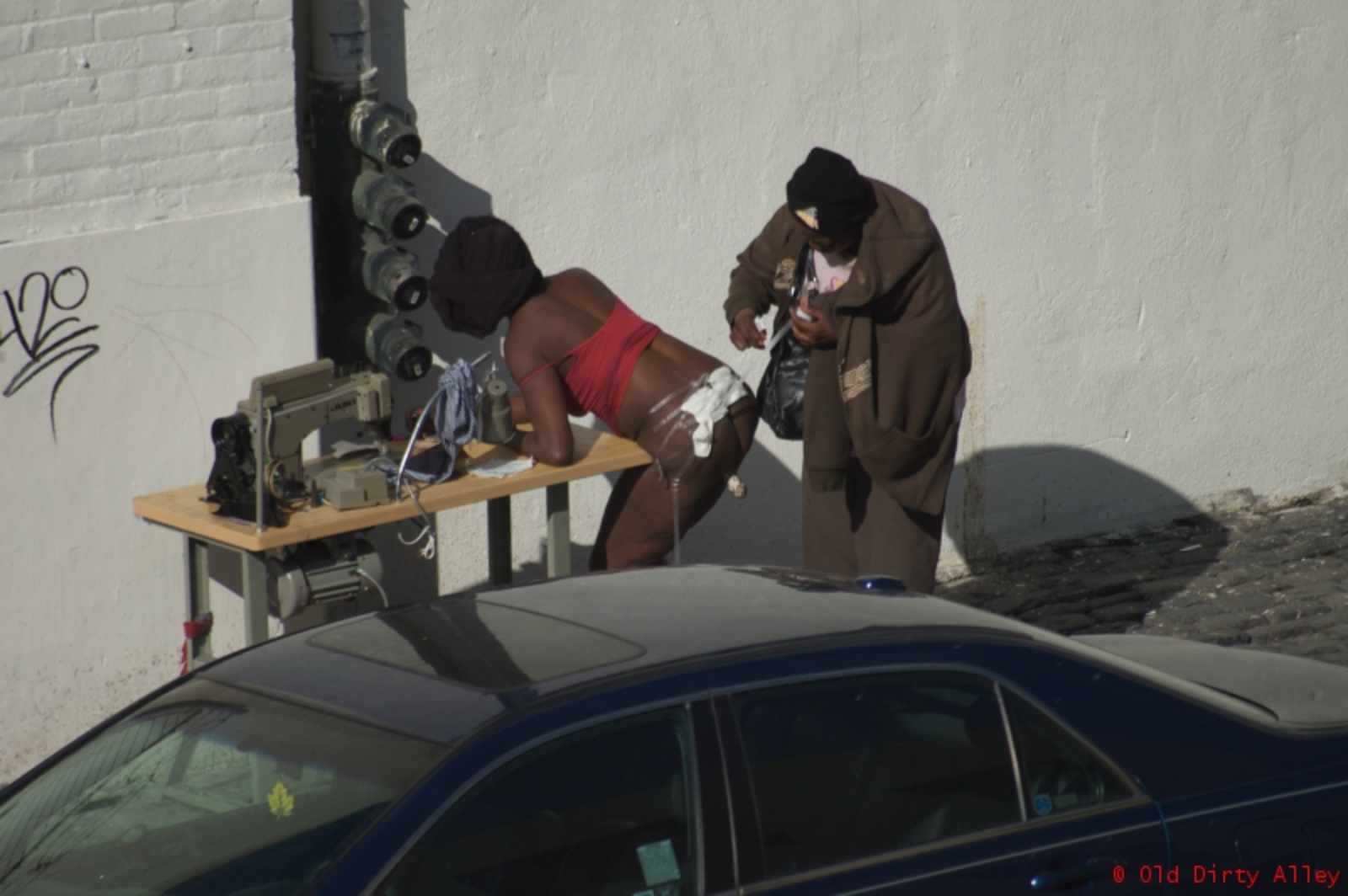 I've developed an unhealthy obsession with reading NIMBY blogs lately.  Not that they are captivating read or anything, but I too will be 40 one day and I'm hoping to get some pointers for how to most effectively waste City Hall's time by having them deal with my petty troubles.
One such blog is Old Dirty Alley, a blog dedicated to a small stretch in SOMA's Minna Street, where every single day is full of shocking monstrosities such as having to call the police on people with their pants around their quads, a completely naked recycler laying in the street with a wine bottle shoved up his ass, pooping on Toyotas, and being forced to scold people for not peeing in a portapottie.  Just awful!
But the photo above shines the brightest.  What could possibly be going on here?  Hemming pants?  Fun with silly string?  ODA has the answer:
weird of the day: a woman getting the bandage on her buttock changed. pants ankle-high. on the street. in public. and not in the most sanitary place in town. said damage was probably caused in the first place by shooting up, or is something meth-related. i did have a moment of guilt where i wasn't going to put up these photos. but that vanished as soon as i saw the lighter in her hand and realized she was high as hell. i know, i know, gross assumptions. but i'll bet dollars to donuts …

420 graffiti, a sewing machine, a buttock wound and a poo stain running down the wall all conspired to create this weird of the day.
Weird indeed!  Almost as weird as posting a 23-picture deep slideshow of the occassion.  But I understand, outraged requires evidence.  A single picture can be misleading, but an entire photoset is damning.  If you're swirling that glass of merlot while scribbling an email to your supervisor, you better be sure to have an incriminating shot that will convince them to clean up the bandage-changing epidemic that is choking the life out of our city.