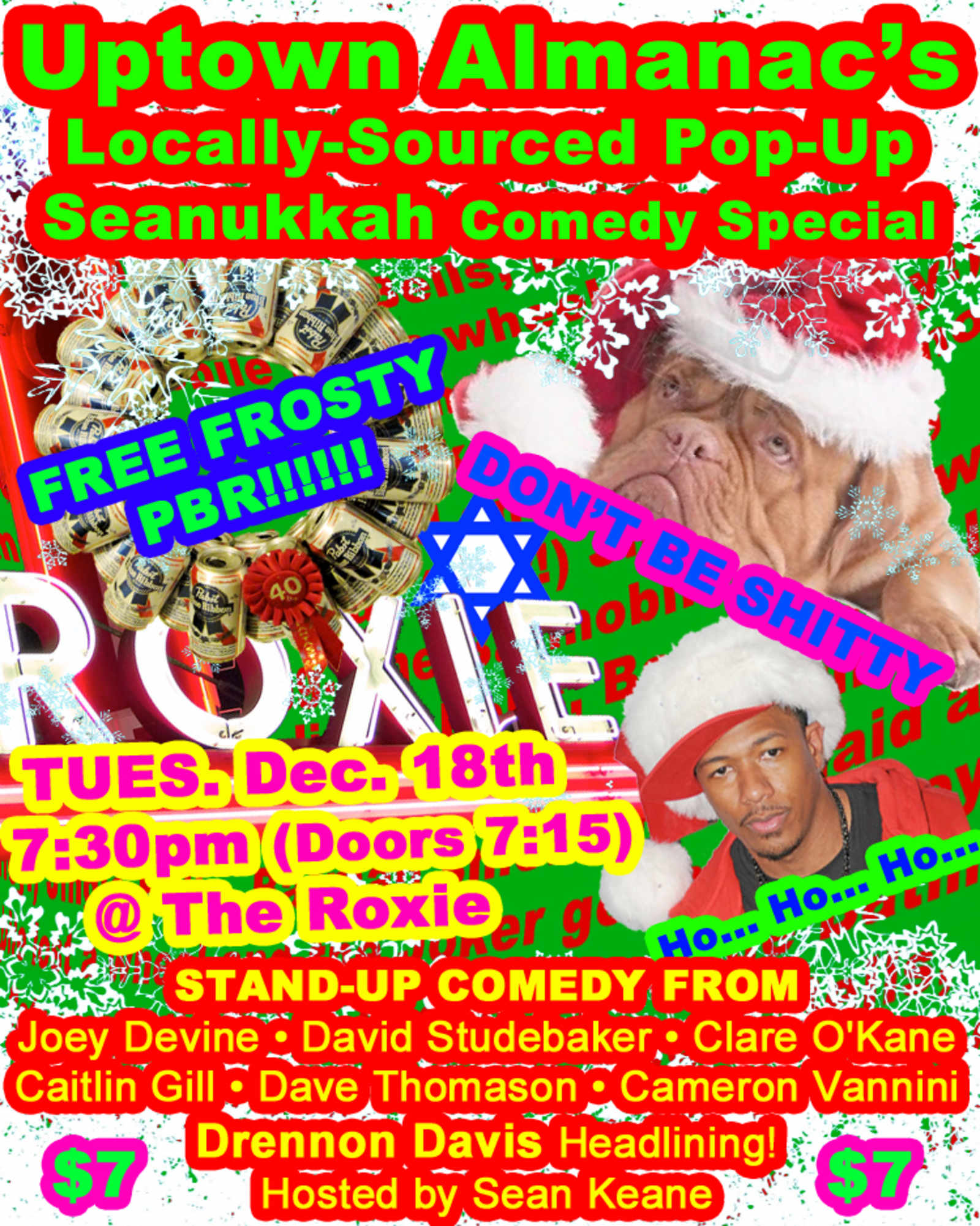 It's that time of year again: the days are getting shorter, the night are cooler, it's snowing somewhere, and everyone gathers around the warm neon glow of their favorite non-profit theater to commence drinking their way through to spring.  So, naturally, we've gotten back with Pabst and The Roxie to throw a Christmas-Seanukkah-holiday clusterfuck of cheap comedy and free beer.  Oh yes.
For $7, you'll get killer and festive stand-up from seven of the Bay's best comics (plus Drennon Davis coming back in town from LA!), all the free PBR you can reasonably drink, Joey Devine in a dreidel costume, and prizes from Santa's stocking (including mouth wash and chocolate!).  What's more? Thanks to an exceptionally generous holiday donation from Pabst, all seven bucks will be donated directly to The Roxie's fundraiser to bring us even more original programming in the years to come, so you'll want to be there.
Here's what you need to know:
It's all happening next Tuesday, Dec. 18th at 7:15 @ The Roxie [3117 16th Street and Valencia]
7200 ounces of beer fluid generously provided by Pabst!
Here's who'll be making you laugh:
Drennon Davis (MTV's Liquid TV, Last Comic Standing, Los Angeles Animation Festival, The Imaginary Radio Program)
Caitlin Gill (The Business, Outside Lands)
Dave Thomason (SF Sketchfest, Bridgetown Comedy Festival, NPR's "Snap Judgment")
Joey Devine (In the dreidel costume)
Cameron Vannini (First episode of SFC Podcast, Cobb's Comedy Club)
Clare O'Kane (Bridgetown Comedy Festival, SF Punch Line)
David Studebaker (SF Punch Line, Young Guns of Comedy, The Big Bris)
And Sean Keane (member of The Business, past contributor to McSweeney's and ESPN the Magazine, columnist for the East Bay Express) is back to host!
So, if you haven't already, get yer tickets now.
[Facebook]