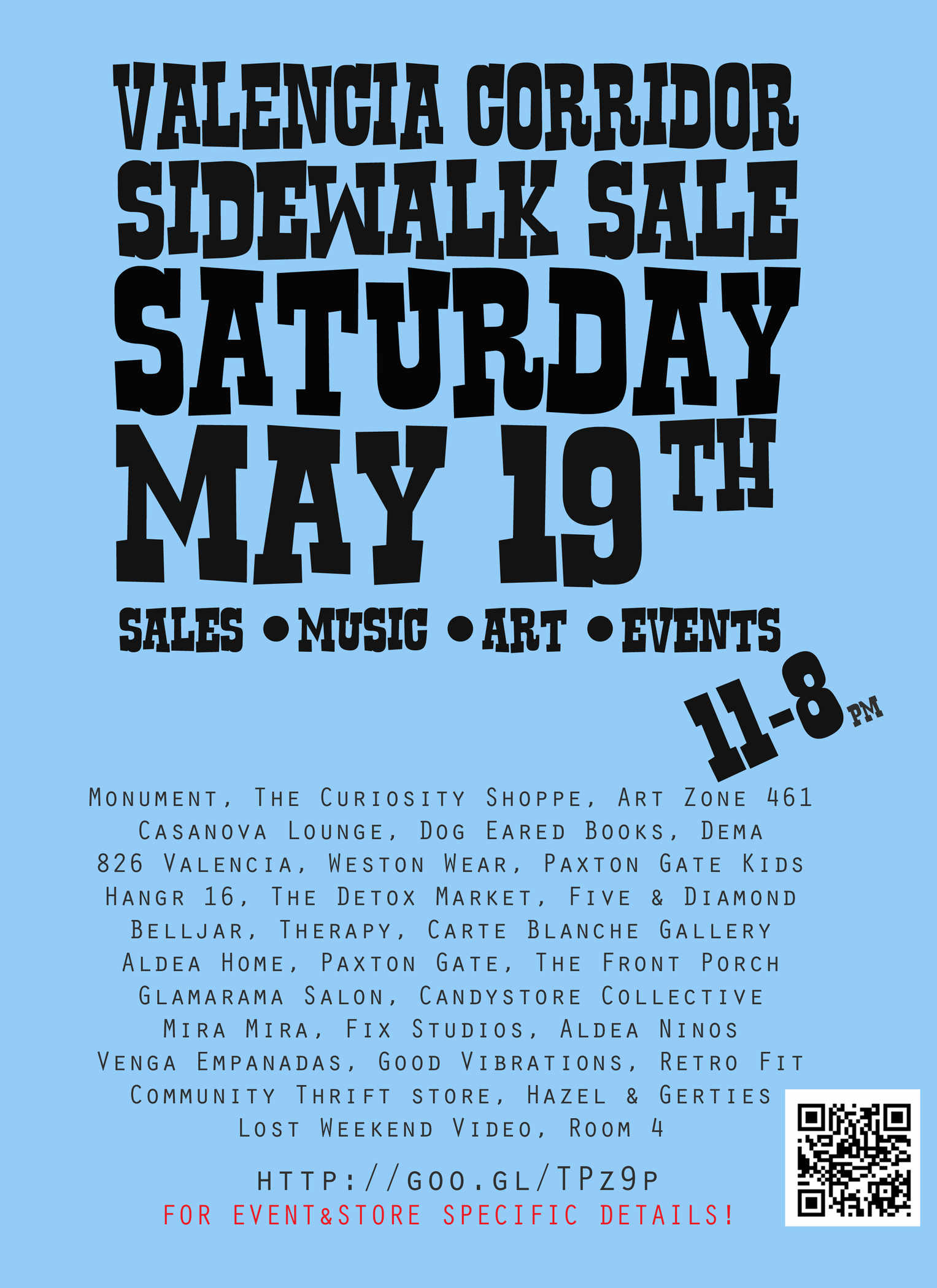 The Valencia Corridor Merchants Association is bringing back their annual sidewalk sale this weekend, promising a hot mess of cheap and free booze and food, music, art openings, discounted goods, and associated shenanigans.  There's even a "pop-up bar" by everyone love-it-or-hate-it bar Dear Mom.
From Weston Wear's Bridget Moore, who is helping put on the event:
We feel this to be a strong and well-received event, despite certain businesses suffering setbacks from the Valencia Street Riots that took place on April 30th. We are going to show everyone we can take a beating and still throw a party.
Okay!  So, everyone go support your local (vandalized) businesses by opening your wallets and getting some rad goods in return.  Below, a list of some of Saturday's highlights:
Room 4: Vintage toy trunk show with bargain prices. Featuring lots of Pee-Wee Herman, Simpsons, and Nightmare Before Christmas. 904 Valencia
Lost Weekend Video: All day sidewalk event featuring $5 DVDs and music. 1034 Valencia
Weston Wear: Inside: Pop-Up Bar hosted by Dear Mom Bartenders Outside: Matt Marcus of The Front Porch and fellow staff serving a bevy of hot sauces, fried chicken and whoopie pie samples outside 4 prize raffle as well as 15% off all of our new summer arrivals. 569 Valencia
Candystore Collective: Vintage Goodies Sidewalk Sale. Big Discounts on a bevy of vintage treasures from the vault. Noon to 5pm, 3153 16th (Btwn Valencia and Guerro)
Dema: Pop-up Vintage from Golden Collective on the sidewalk from noon to 5pm and 15% off the entire store! 1038 Valencia
Hangr 16: Live DJ 11-7pm and Mimosas served up till 2pm. 3128 16th (Btwn Valencia and Albion)
Venga Empanadas: Menu Specials and Food Samples. All day long, 443 Valencia
Good Vibrations: All day sale & giveaway! 603 Valencia [Free dildos???!!!!]
Five & Diamond: Music and all day sidewalk sale event! 510 Valencia
Silver Sprocket Bicycle Club: Sidewalk Event. 1057 Valencia
Curiosity Shoppe: Little Paper Planes book launch party and gallery opening. 855 Valencia
Carte Blanche Gallery: Live music and discount prices on a selection of framed collector prints and photo books. 973 Valencia
Dog Eared Books: Discounted Books and serving up treats from 10a-6pm. 900 Valencia
Casanova Lounge: Opening up early at 3pm! Live DJ set and $1 off drinks till 7pm. 527 Valencia
The Front Porch:  Executive Chef Matt Marcus and staff will be serving up a bevy of award winning hot sauces, new chiptole bbq sauce, fried chicken and whoopie pie samples 12-5 in front of Weston Wear (569 Valencia) Then all night long menu specials at their own spot. 5-11pm, 65A 29th Street
ArtZone 461 Gallery: Ryan M. Reynolds "Continuum" and Paul Morin "Modern Portraits". 12-6pm, 461 Valencia
Community Thrift: 25% off all furniture! 623 Valencia
Belljar: Discount and and drinks all afternoon. 3187 16th (Btwn Valencia and Guerro)
Mira Mira: All day sale, in store event and serving up munchies. Noon to 7pm, 3292 22nd (at Valencia)
Hazel and Gerties: Sale and Adoption Event. 3385 22nd Street (Bwtn Valencia and Guerro) [Puppies!]