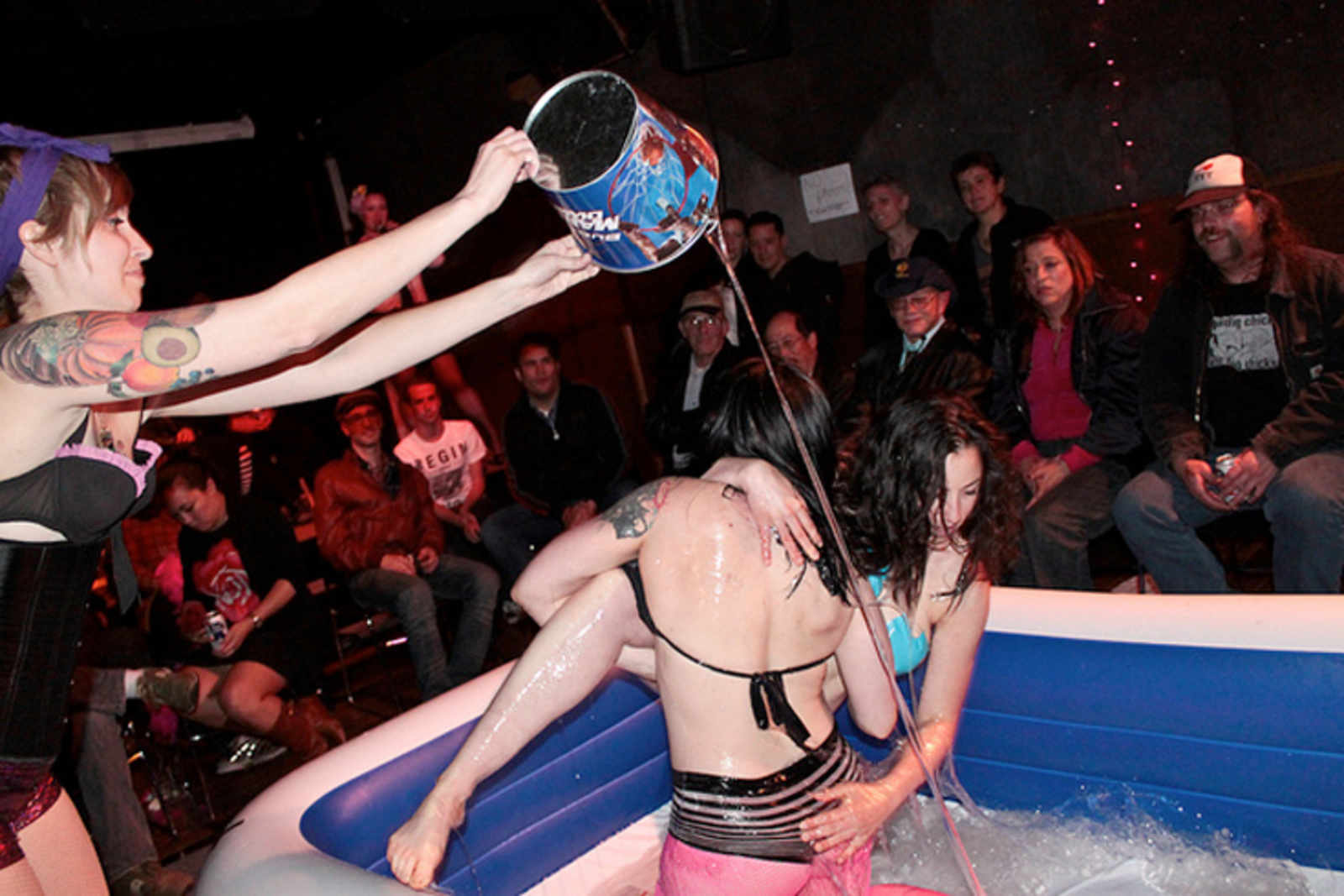 Dearest nerds and pervs, did you know that El Rio has a monthly all-girl lube wrestling competition? No? Okay, well now you do and you should probably put the next one on your calendar.
See, I'm not going to lie guys.  I'd like to offer you a subjective, puritanical review of the evening that's free of sexual charge, but I just cannot do it.  This event ruled for so many reasons: the rockin' DJ, the jokes from the MC, the lubricated thumb-wrestling contest, wrestlers with names like "Hella Kitty"… even the costumes were off the charts.  But, at the end of the day, this lube wrestling match is a must-attend for a reason I'm sure we're all familiar with: titties.  I mean, who doesn't like titties?  Seriously people.  Girls love titties.  Guys definitely love titties.  The internet loves titties.  Titties titties titties.
That's not to say the party was all lube and boobs—quite the contrary.  There were venerable athletes getting into the mix, some of which looked like they could bench press a bus with one arm.  And the looks of horror from the front row as they got whipped in the face with a lube-drenched ponytails was simply priceless.
However, the event was not without its drawbacks; namely, the rows of creepy lurkers in the back (of which I was a part of, naturally).  Sadly, I was not allowed to take a photo to show you what the crowd looked like, and the idea of getting thrown out of a lube wrestling competition in a lesbian bar was a certifiable pervy rock bottom from which my pride and dignity would never recover.  But the back four or five rows were packed with whack dudes in backwards baseball caps grinning like virgins.  And then there was that 40-year-old couple making out a little too hard, which grossed me the fuck out but, from the looks of it, almost caused the guy to my right to pull out his dick right there and give himself a fistful of blisters.
Did I mention titties?
Anyway, if you RSVP with Red Hots Burlesque (who aids in putting on the show) ahead of time, you can reserve yourself a seat in the front, lube-soaked, pervert-free rows.  So do that.
Go Deep! goes down on the first Thursday of every month at 9pm.  $15 cover, but all the money goes to the performers.