Note: According to a direct witness, it seems that I misjudged the situation in haste and the dude, in fact, split laundry detergent everywhere, rather than peed himself.  My sincerest appologizes if that ruined your day.  Below is the original post, which remains unedited despite its incorrect analysis.  Refunds can be collected at the box office.
Rainy days in San Francisco can really be a blessing in disguise.  They force you to switch up your routine.  Wear that $40 North Face rain coat you begrudgingly bought at Sports Basement last time it rained.  Leave your bike in the garage and take public transportation to work.  Whine on Twitter.
I, like many of my friends and neighbors, did all of that yesterday.  Only my iPhone-equiped, North Face jacket-clad BART ride was a little extra special, because I saw this: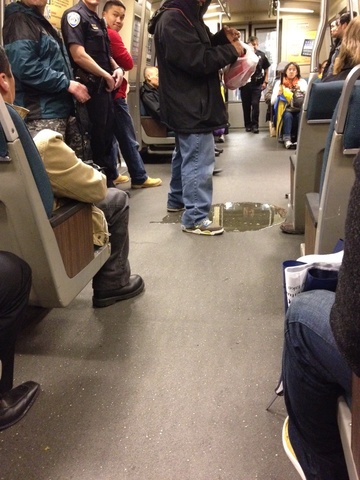 What's that you say?  Well, dearest readers, that's what happens when someone fucking pisses themselves on a rush hour commute BART train.  That's right, it's a pool of fucking urine.
Pee-pee. Jersey discharge. Liquid gold. R. Kelly's Viagra.  The Smello Yellow.  Whatever you call it, it's fucking gross.
And to make matters even more amusing?  This dude let it go down right in front of two cops.
Now, I must be totally clear here, I didn't see this guy whip out his most likely-syphilitic dick and hose down the floor with my own two eyes.  But if the ghastly, PTSD-Vietnam-flashback looks of horrors in everyone's eyes as they fled the train at Civic Center tells any story, there was most definitely a traumatic experience in his pants.
The cops, contrary to one's justifiable expectations, did not freak out and tase the relieved sonuvabitch.  Rather, they got on the radio and serenely called in "clean-up in car 1431," as if they were fired from their minimum wage stocking job at Safeway just last week.  These cops have seen it all, goddamnit, and they weren't about to let some unkinked hose get them suspended.
It was around this time that things started to smell a little off and I bailed off the train myself, but not before noticing the reflection of one man's unadulterated terror in the puddle of piss: