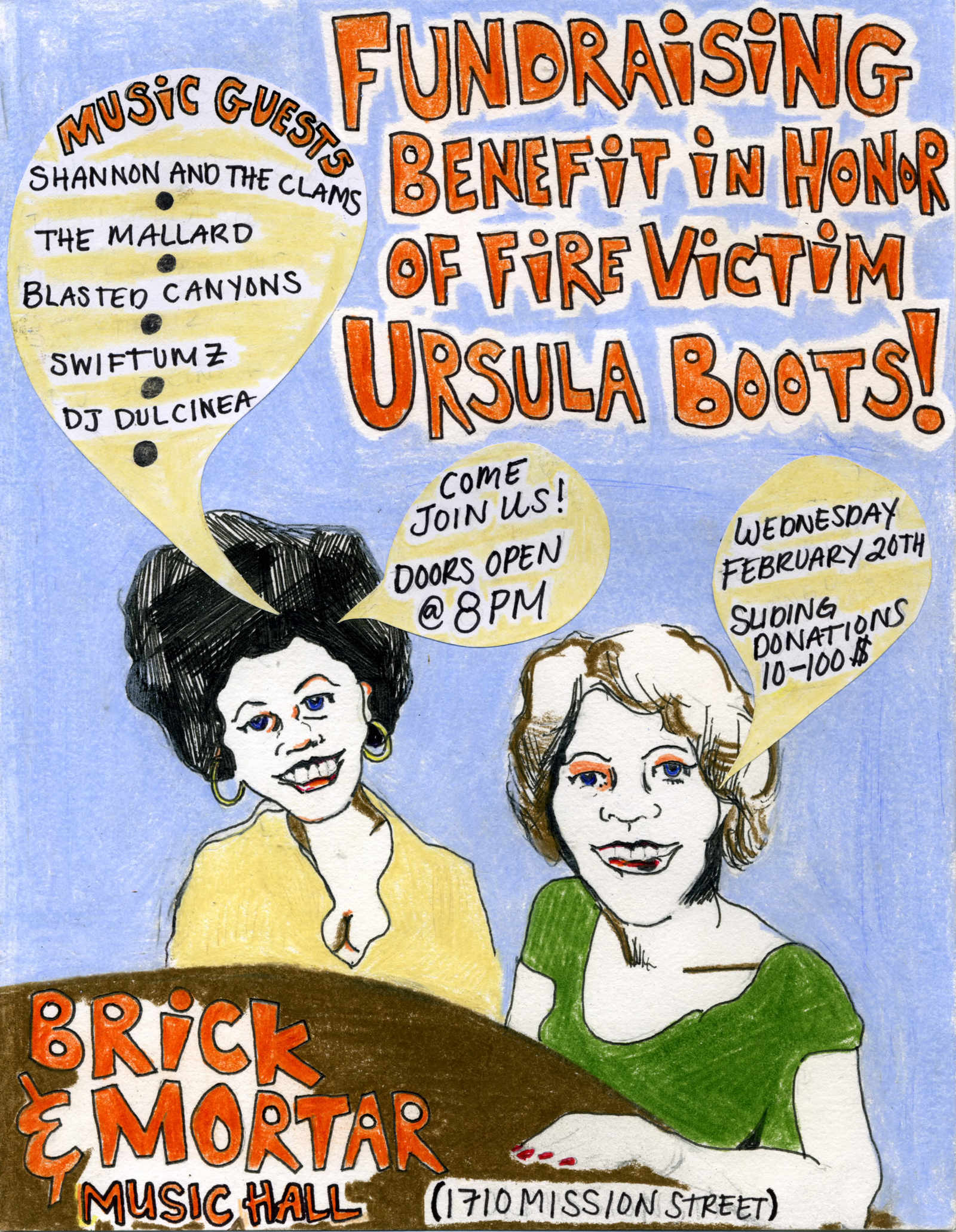 SF music maven and all-around sweetheart Ursula Boots was one of the three dozen people displaced in the December 29th Capp Street Fire.  A benefit concert is being held this Wednesday, February 20th (tomorrow) at Brick and Mortar Music Hall to help offset some of the setbacks the fire caused in this wonderful lady's life. Here's some more info about Ursula's situation: 
Rite Spot bartender (as well as ex Bottom of the Hill, Amoeba Records, SF Bay Guardian employee also former KFJC and KUSF dj) Ursula Boots aka Ursula Rodriguez house burned Dec. 29th in the 23rd and Capp Street fire after a neighbors house caught on fire then unfortunately burned a few of the houses near. A few days later Ursula was given 20 minutes to gather items from her fire and water damaged apartment but unbelievably someone broke into her car and lifted every last one of the few things she had been able to salvage. It's a shitty end to an especially shitty year for Ursula having lost everything in a house she'd lived in for 15 years in San Francisco. Finding a place and moving is tricky these days around here as rents have beyond sky-rocketed over what she was paying in her rent controlled apartment. There are so many long time San Francisco residents getting pushed out by the massive salaried Google, Facebook, Twitter big money accelerated rents beyond control (and reason). Ursula is essential to San Francisco and we need to do everything we can to help her get back on her feet as she tries to rebuild her life and find a home as well as show her that we care and support her in these exceedingly tough times.

Ursula has given so much to San Francisco over her countless years as a resident, in particular to the music community. 

If you cannot attend the event and/or are able to contribute more here please do. Ursula's paypal account is: Ursula Rodriguez at krasabitza2@yahoo.com
There you have it, guys. Sliding-scale tickets available HERE.