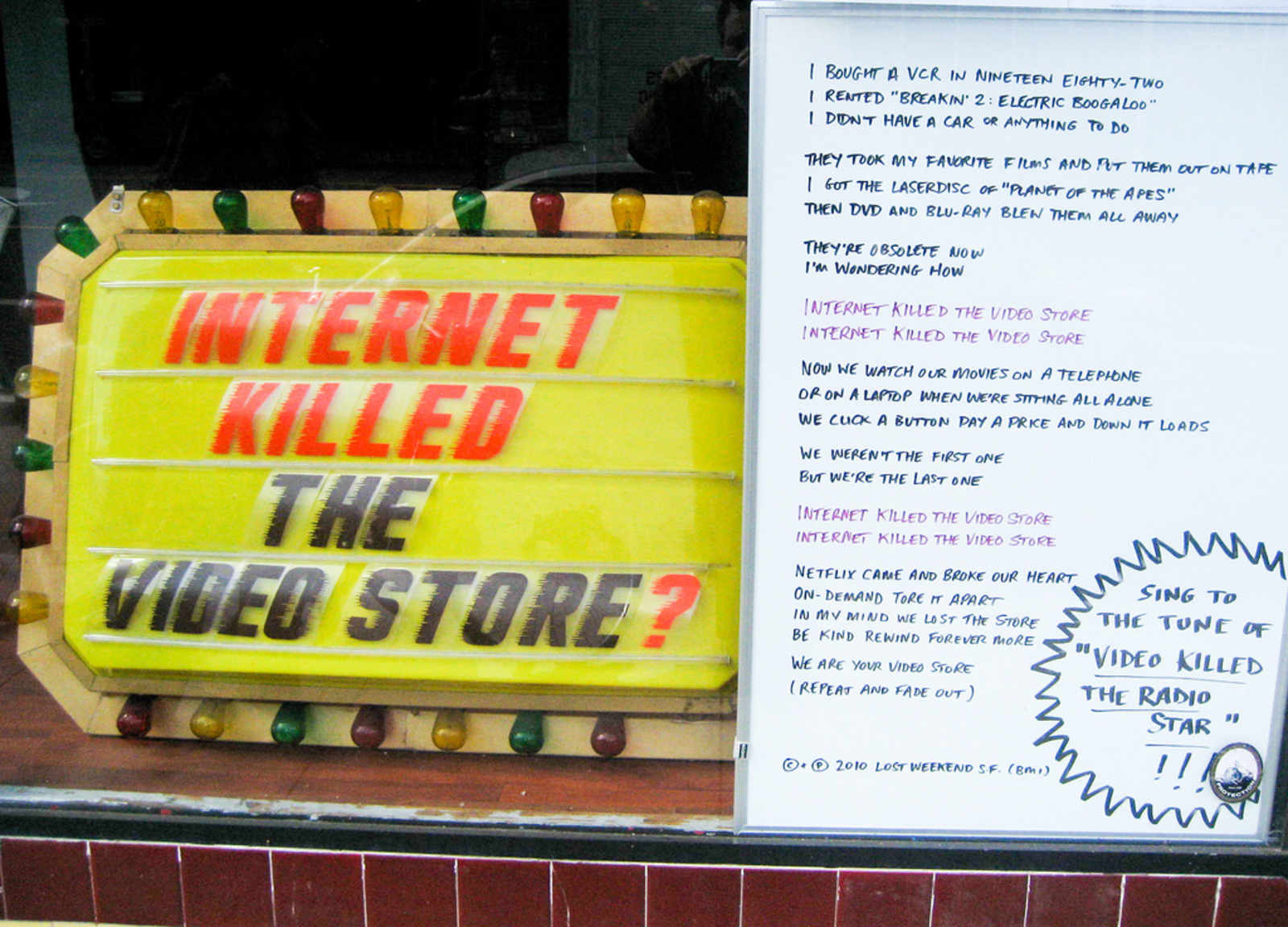 Perhaps old video stores need to die. We all stream our movies on Popcorn Time or Netflix or via your friend's ex-girlfriend's parent's HBO Go password anyway.
But Lost Weekend Video is just shy of their 20th anniversary, and it would be a shame to lose them. Their staff is friendly and knowledgable, they allow some of California's best up-and-coming stand-up comedians to perform in their basement, and they always have that obscure movie Big Streaming's licensing agreements forgot. However their business is plummeting, and now they're fighting for survival.
An open letter being circulated spells out the problem:
Times are tough at Lost Weekend Video! We've seen business suddenly drop by 30% just in the last few months, on top of the 60% hit we've already taken over the last few years. This has thrown us into pretty immediate crisis. We'd been working with an architect & the City to open a larger version of the Cinecave in the back half of the main space upstairs, but have found that it's impossible due to a combination of the layout of the building & Valencia Street business restrictions. That has left us pretty much out of options.

So now we're looking at the Le Video solution to keep us open. If anyone knows anyone with an actual solid business plan interested in sharing the upstairs space with us, please have them contact us via the website. It'd be great to find something that fit in with our old school Valencia vibe & could provide an opportunity for someone who wouldn't be able to afford V St otherwise. Spread the word or if nothing else, rent a movie, see some comedy or come watch the soccer with us & throw a buck or two in the bucket. We're a year away from 20, it'd be nice to see it!
In an interview with the SF Bay Guardian, Lost Weekend co-owner David Hawkins frames their struggle as not strictly about neighborhood video stores, but the future of community spaces in the Mission:
This is not just about video stores. This is about so many different kinds of retail that are going to disappear from all kinds of neighborhoods as this goes on. And if that's the way that everybody wants to go, then that's the way we're gonna go. But if people stop and think about what's cool about having some diversity of retail in your neighborhood — there's something to be said about these kinds of places where you can just go in, browse around, and you don't necessarily have to buy anything. It's place to hang out and meet people, talk to people.
Lost Weekend might be hard to save—modern laptops don't even come with disc drives anymore. But if you want to see them stick around, go see a show in Cynic Cave. Geek out on their Asteroids machine. Or, hell, rent a movie.
[Photo: Todd Lappin | h/t SF Weekly]