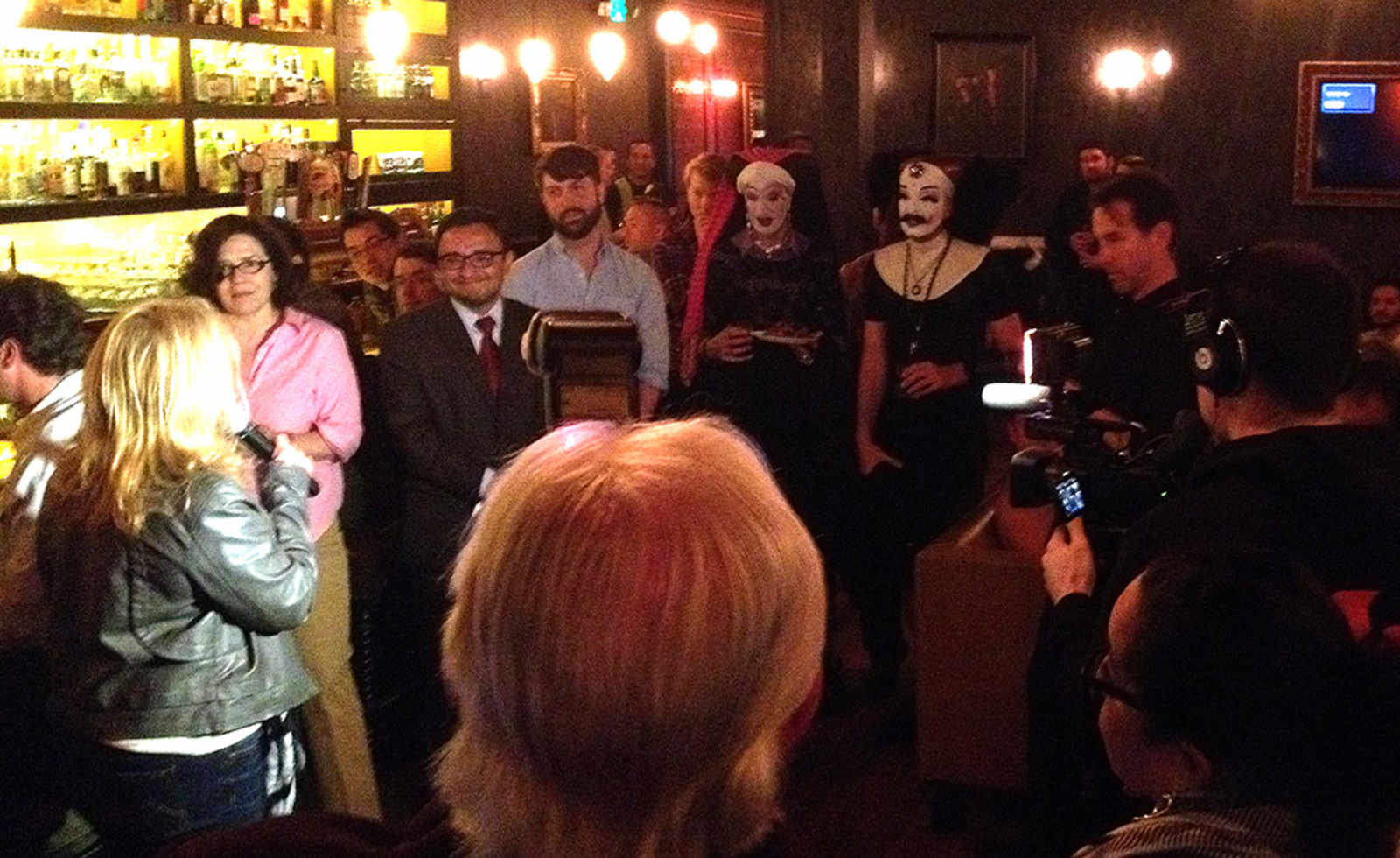 "Mainstreaming" is the process of making something accessible to a wider audience, which inevitably makes it less transgressive.
As anyone in the Mission will tell you, the transformative power of mainstreaming comes with costs, both real and imagined. Kink.com has played a role, both naughty and nice, in the larger transformation of the neighborhood surrounding it, and has been born of and shaped by many of the same power dynamics itself.  Nowhere was that more clear that an otherwise unremarkable campaign fundraiser put on by Kink owner Peter Acworth for State Assembly candidate David Campos at the Armory Club on Monday night.
This was no Jack Davis party: besides some shirtless bros, the fetish art and a speaker's bare feet, there wasn't much skin, so it was all very respectable and therefore pretty boring.  The media can be excused for some sensational coverage—local publications depend on a certain "point and laugh at San Francisco" demographic of prudes around the country for page views—but at this point, there's not much controversy around courting the leather vote, at least not locally. Statewide or national ambitions might be another matter.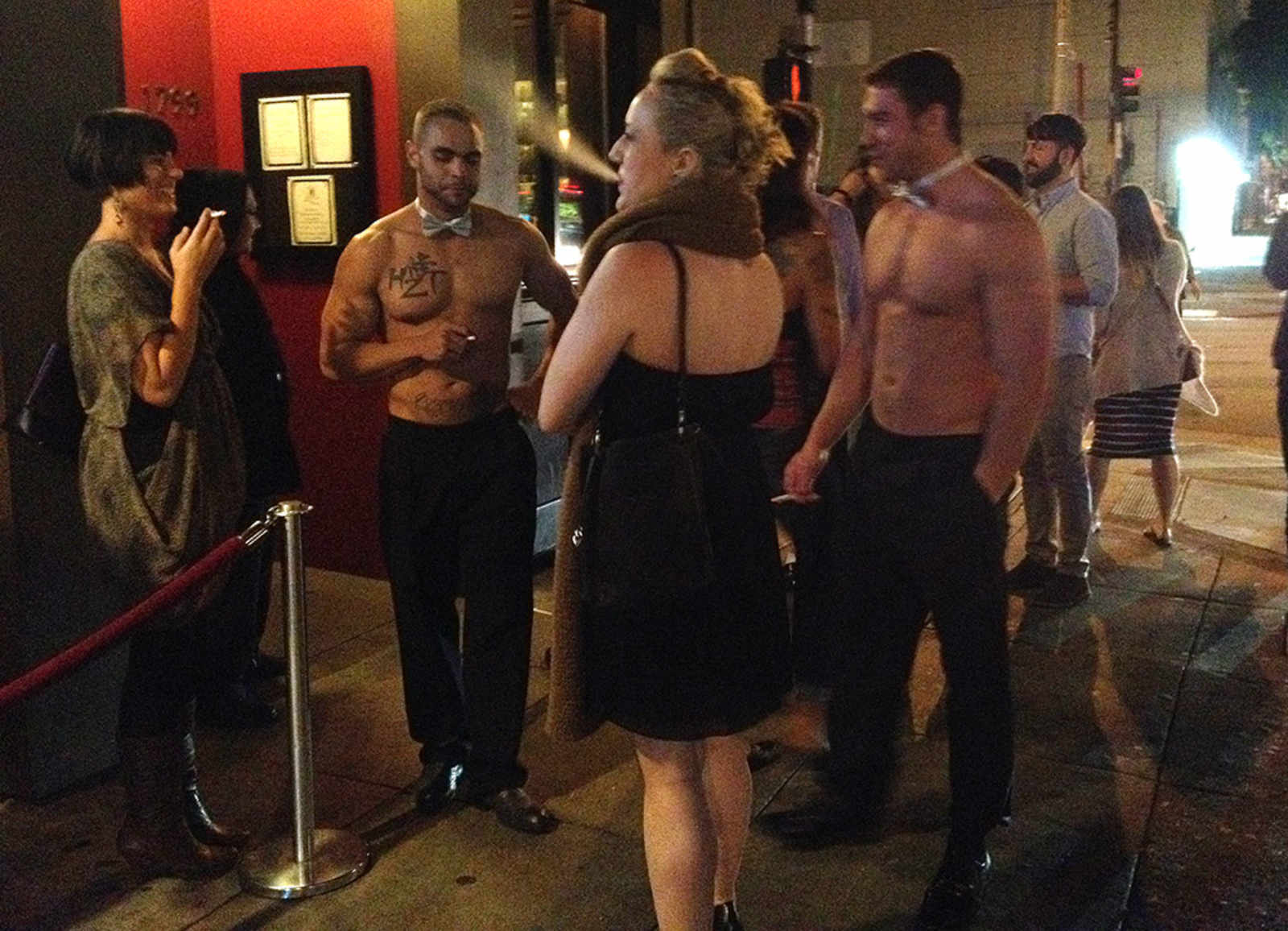 "I tend to want politicians to leave me alone," Acworth joked to the crowded bar after the stumping was underway. "And I leave them alone."  But Acworth could use some friends here and in Sacramento, as Assembly Bill 1576 requiring condoms in adult film production could make it more difficult or expensive to continue doing business in California.  Acworth later acknowledged personally that moving his operation to Las Vegas was a real possibility, meaning he'd want to go ahead with plans to convert the Armory building into office space.
Campos is by no means the first politician Acworth supported, just the most generously supported. By being the first to engage with Acworth "pro-actively," the Campos for Assembly campaign has received donations from the entrepreneur in February and March totaling $1,200.  In the past, Acworth has contributed $125 to Mark Leno for State Senate in 2008; at least $500 to Rebecca Prozan for Supervisor 2010 and Bevan Dufty for Mayor 2011; while John Rizzo Supervisor got $500 from Acworth and Christina Olague got $500 from Cybernet Enterainment, Acworth's company, when both were running for the District 5 Supervisor seat in 2012.
Leno has long been an enthusiastic supporter of the leather community, and at least among other LGBT politicians, stumping at Folsom to whip up the vote is de rigeur.  Interestingly, until 2010 Acworth listed himself as a "Self Employed" "Movie Producer and Distributor" on local election financing forms. But starting in 2011, he's listed as the President, Web Entrepreneur or Owner of Kink.com—because there's being out, and then there's being out on campaign finance disclosure forms!  
Of course, none of these candidates have run for statewide office yet, so it's too early to judge if such transparency might hurt them at the polls.  As 50 Shades of Grey crossed over, both the business of Kink.com and its physical plant were on the frontier between existing organizations catering to the community in SOMA and the influx of monied libertines, many if not most of them heterosexual, looking to have some risqué fun in the Mission.  
In his formal remarks Campos praised the city's nightlife and entertainment industry, which he said was why he, "like so many in the LGBTQ community came to San Francisco," and expressed his "fear that we're going to lose the role that nightlife and entrainment play." He then thanked Acworth and Kink for being "a very responsible partner in this community," citing their safety efforts, fundraising drives and event hosting. "For that I want to thank you, Peter."
But when asked afterward about the statewide condom requirement law backed by the AIDS Healthcare Foundation, Campos assured that his position hasn't changed, he is pro-condom.  When asked about what kind of jobs he wanted to see created by companies like Kink (or the startups that replace it when the Armory is converted to office space), he responded with his own question: "How are we sure these jobs are available to the neighborhood," including "women and people of color?"
Kink certainly employs a lot of women as independent contractors, on commission.  But when SF Weekly columnist Matt Smith revealed to officials that full-time employees of the company were enrolled in a state-funded job training program at the Bay Area Video Coaltion, the funding was cut off.  Campos wasn't familiar with the incident, nor was Acworth, particularly.  Even though it's the very kind of technical training that could help San Franciscans keep up with the demands of the labor market and land those precious startup jobs.
Which suggests that while politicians might be interested in kinky votes and kinky money, it's not clear that they're actually willing to stand up for kink, per se. At least, not once they leave the city.