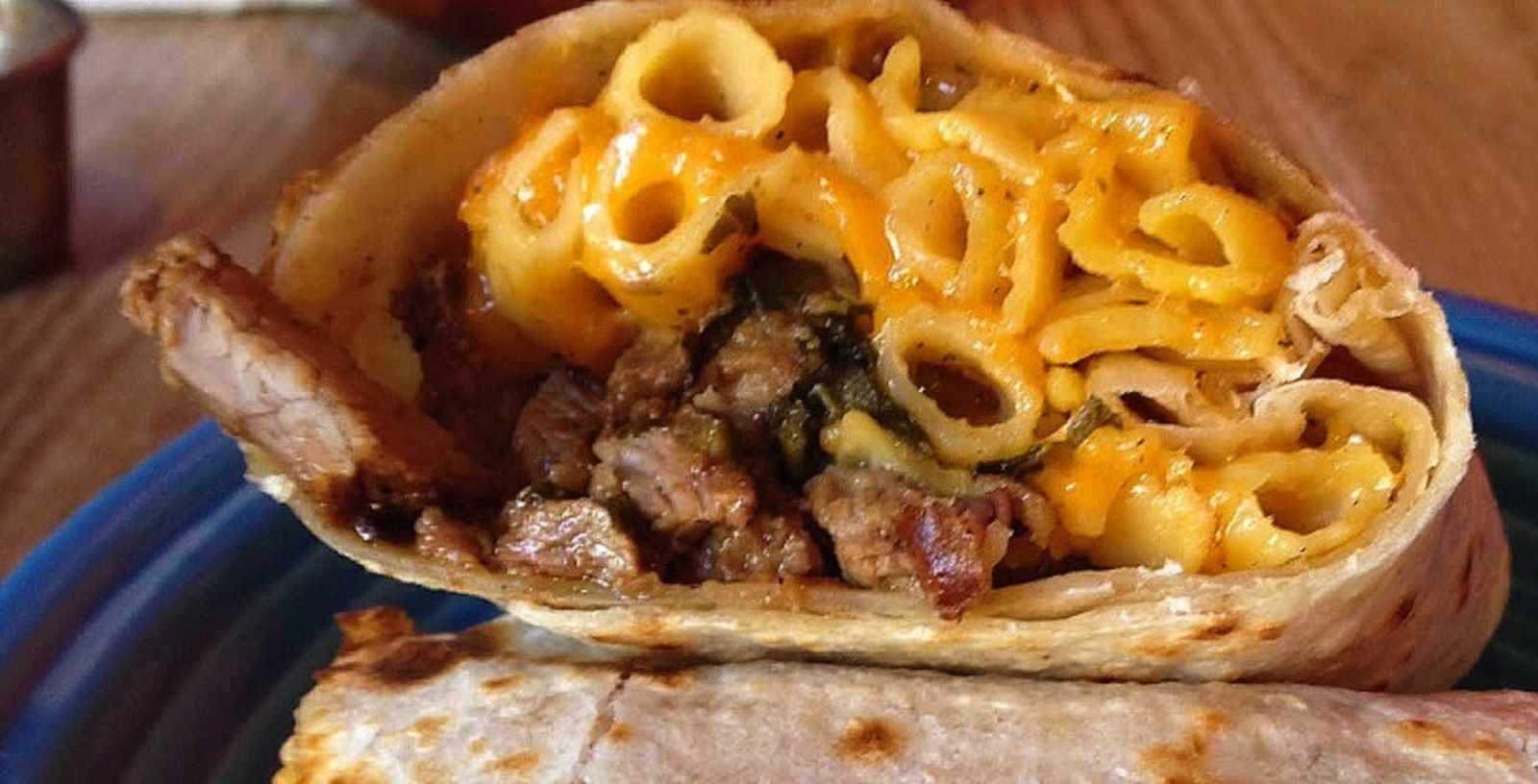 What the goddamn fuck is that?  Well, dearest readers, that is the "Soulrrito," a would-be burrito jammed pack with a revolting medley of unrelated foodstuffs, including "salsa-infused macaroni and cheese, tri tip beef, collard greens, and yams."  It will begin torturing Mission District digestive systems tomorrow.
According to The Bold Italic (who broke the news of this, because of course The Bold Italic broke the news of this):
[The] Soulrrito will be sold for one day only at the 24th Street location of Papalote Mexican Grill. The limited item is a collaboration between owner Miguel Escobedo (aka DJ Mr. E) and Pam the Funkstress, DJ for The Coup, afternoon mixer on KBLX, and owner of Piccadilly Catering and Restaurant in Foster City. […]

The Soulrrito will be available from 11 a.m. until they sell out and are priced at $11.25; Escobedo is also making a vegetarian version with Soyrizo for $9.10.
Our head is reeling with questions.  Why is this $11.25?  Will there be vomit buckets on site?  Will the collard greens be airlifted directly into the Mission from Louisiana much like our famed stock of day-old New York bagels?  Is this just some anti-capitalist prank from Boots Riley?
No matter.  Prank or not, the Sushiritto and the Soulrrito prove burrito hacking is clearly The Next Big Thing.  So be on the lookout for our forthcoming pop-up "Pizzawizritto": a pizza-wrapped burrito covered in cheez-whiz, served on a caviar and bacon-rimmed plate, and delicately seasoned with the tears of the Local's Corner guy.