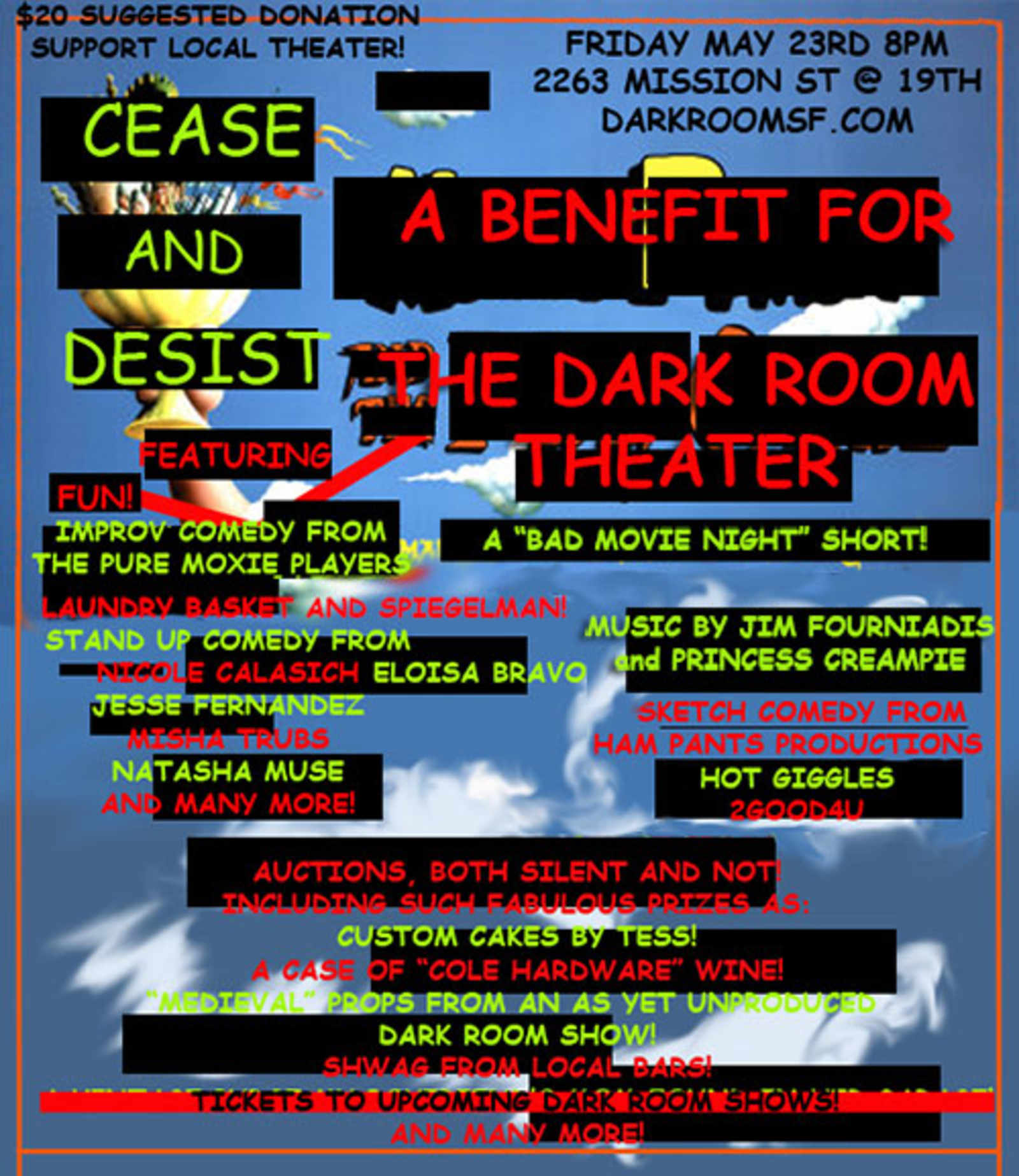 Mission Street's very own Dark Room Theater, long host to killer local comedy and incredibly fun theater productions, hit a bit of setback this month as Monty Python's owners served the small stage a cease and desist and forced a month of shows to be canceled.  This put the space in a bit of a financial situation, so they're throwing a big benefit tonight with one helluva line-up.  The Dark Room writes:
Unfortunately, The Dark Room's planned May show, [REDACTED] has been cancelled, because the people who technically own the property it was loosely based on decided that our show was a threat to their image. Hey, it happens, but what doesn't need to happen is an entire month going by without you coming to our silly little theater and seeing some LIVE PERFORMANCE! So in the grand tradition of artists helping other artists, we're having a benefit night to help keep this theater open long enough to put on an 11th season of that silly summer festival of creepy, Not-Quite-Nighttime Zone original adaptations with original commercials and four individual weeks of exciting theater (coming to The Dark Room in June!)

A list of performers is still coming together, but so far on the bill we've got:

Improvisers The Pure Moxie Players
A short film, riffed by our very own Bad Movie Night!
Sketch from Hot Giggles, 2Good4U and Ham Pants!
Music from Jim Fourniadis and Princess Creampie!
Stand Ups include Laundry Basket and Spiegelman (!), Nicole Calasich, Jesse Fernandez, Misha Trubs, Natasha Muse, Eloisa Bravo and more!
And more acts to come!
As the brilliantly chaotic poster notes, the show kicks off at 8pm.  The suggested donation is $20, but do give what you can.