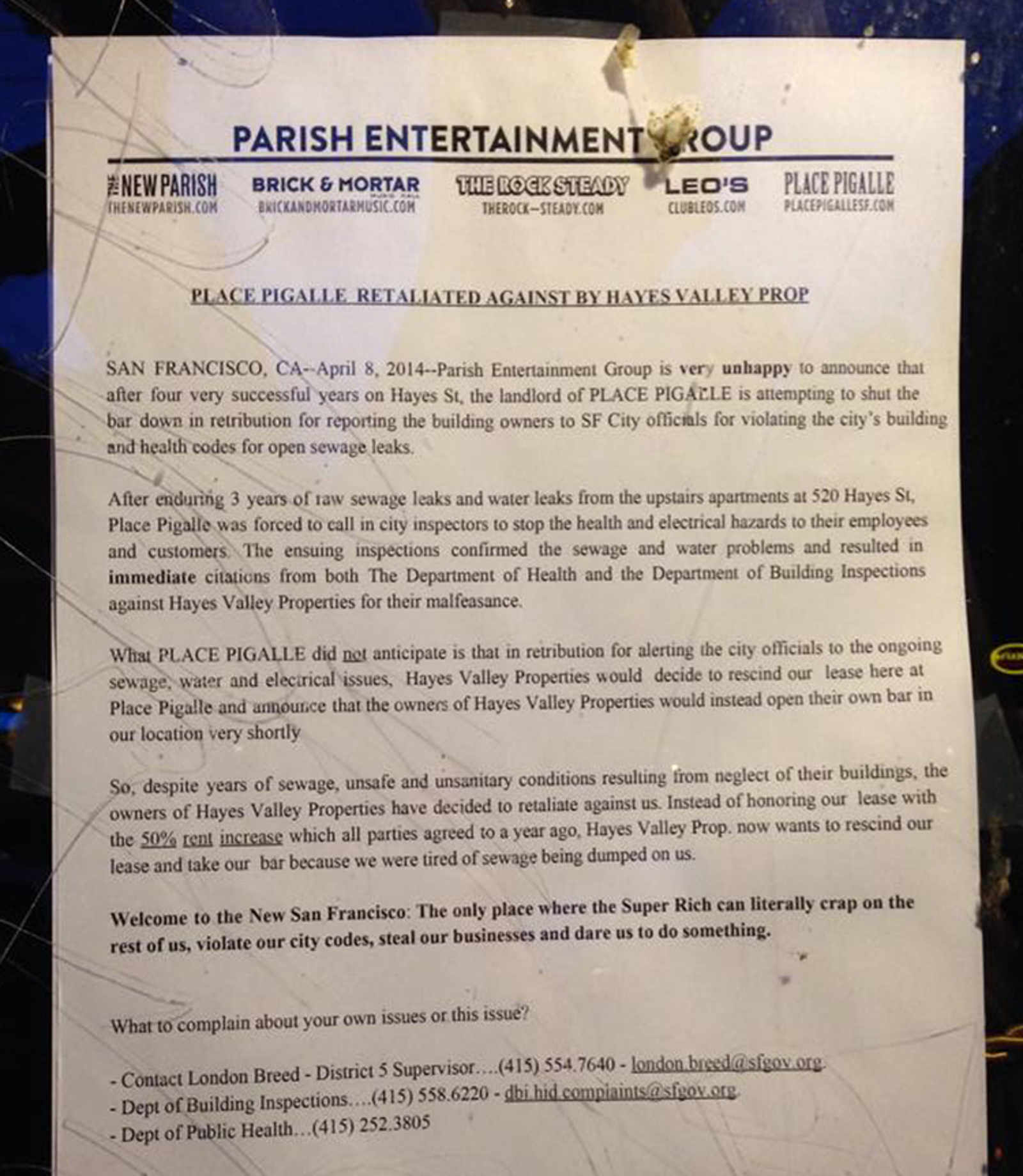 Parish Entertainment Group has been having a real tough go at the bar business lately.  It was less than a year ago that Brick & Mortar Music Hall was hit with "numerous restrictions" thanks to aurally-sensitive neighbors and an allegedly corrupt entertainment commissioner.  Now, according to a sign posted in the etched window of Hayes Valley's Place Pigalle, their dive bar's lease was rescinded by their retaliatory landlord.
"After enduring 3 years of raw sewage leaks and water leaks from the upstairs apartments at 520 Hayes St, Place Pigalle was forced to call in city inspectors to stop the health and electrical hazards to their employees and customers," they write in the letter, noting that inspections lead to "immediate citations."  They continue:
What Place Pigalle did not anticipate is that in retribution for alerting the city officials to the ongoing sewage, water and electrical issues, Hayes Valley Properties would decide to rescind our lease here at Place Pigalle and announce that the owners of Hayes Valley Properties would instead open their own bar in our location very shortly.
A business puts serious work into making a spot successful, decides they are over having the pipes drop ones and twos on their heads, and the landlord decides it'd be easier to run the business themselves than stop the shit shower.  Sounds like the type of people you'd want to buy a beer from!
The money graph lands at the end:
Welcome to the New San Francisco. The only place where the Super Rich can literally crap on the rest of us, violate city codes, steal our businesses and dare us to do something.
[h/t Patrick Connors]