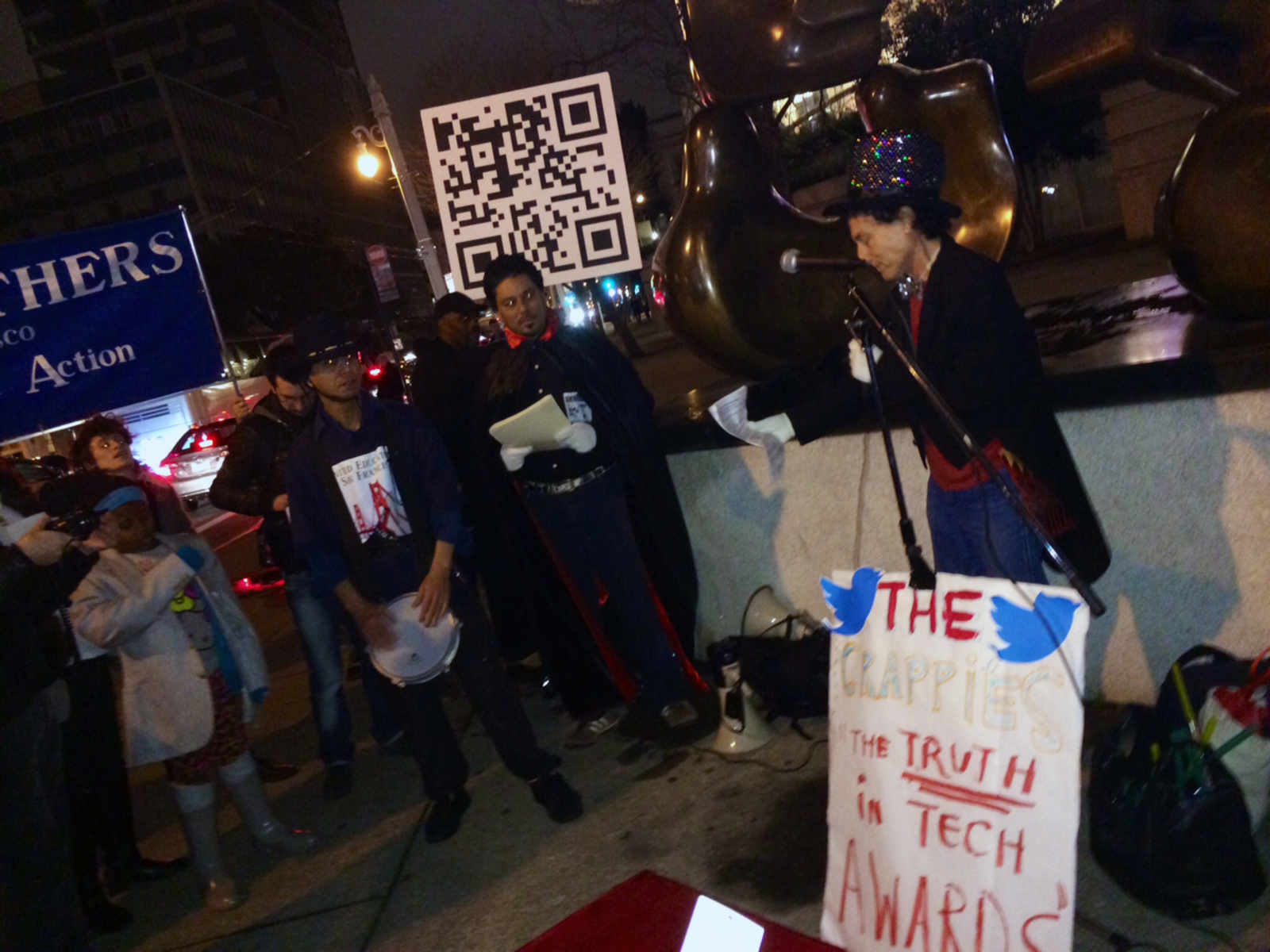 On a patch of sidewalk sandwiched between City Hall and The Crunchies, the tech industry's masturbatory answer to the Grammy's, about three dozen protesters held their own award ceremony.
Christened "The Crappies," protesters handed out the prized Toilet Brush Trophy for categories ranging from the "Tax Evader Award" (Twitter) to the "Peter Shih Diarrhea of the Mouth Award" (Tom Perkins).  Entertainment included an audience sing-a-long to 2pac's Gangsta Party, with the updated lyrics "Ain't nothing like a tax-free party / Ain't nothing like a tech-bus party."
It was amusing street theater, but it was mostly for the cameras—by the time the Crappies began flushing, the long line of Crunchie attendees that could have provided meat for confrontation had long been let into the Davies Symphony Hall.
And that was exactly the point for Wardrobe.me.
As TV crews shined the spotlight on a Dick Costolo impersonator, two low-rent TaskRabbits waved QR codes linking to the start-up's website behind the ceremony.  In total, the company sent five people to the protest to promote it—two $25 TaskRabbits, two employees, and one photographer to document their stunt.
During the protest, they waved their signs around without much trouble.  But as the Crappies came to a close, word started going around they were promoting a "Pinterest for clothing," and they retreated slightly towards the guarded entrance.  So after identifying myself as a reporter for the SF Weekly, they let down their guard and started talking.
"Why are you promoting a fashion start-up here?"
"Because we think they should dress better!," shouted one of the self-identified employees, pointing in the direction a protester dressed as a vampire.
Before saying anything truly stupid, another more savvy employee jumped in.
"We're here because the cameras are here."
"But why here?," suggesting there are cameras in a lot of different places.
"We saw their protest on Facebook, and it's funny they're using the tools of tech and protesting tech."
And that's it in a nutshell.  Just another media op, and an opportunity to say fuck you under the guise of chastising hypocrisy.