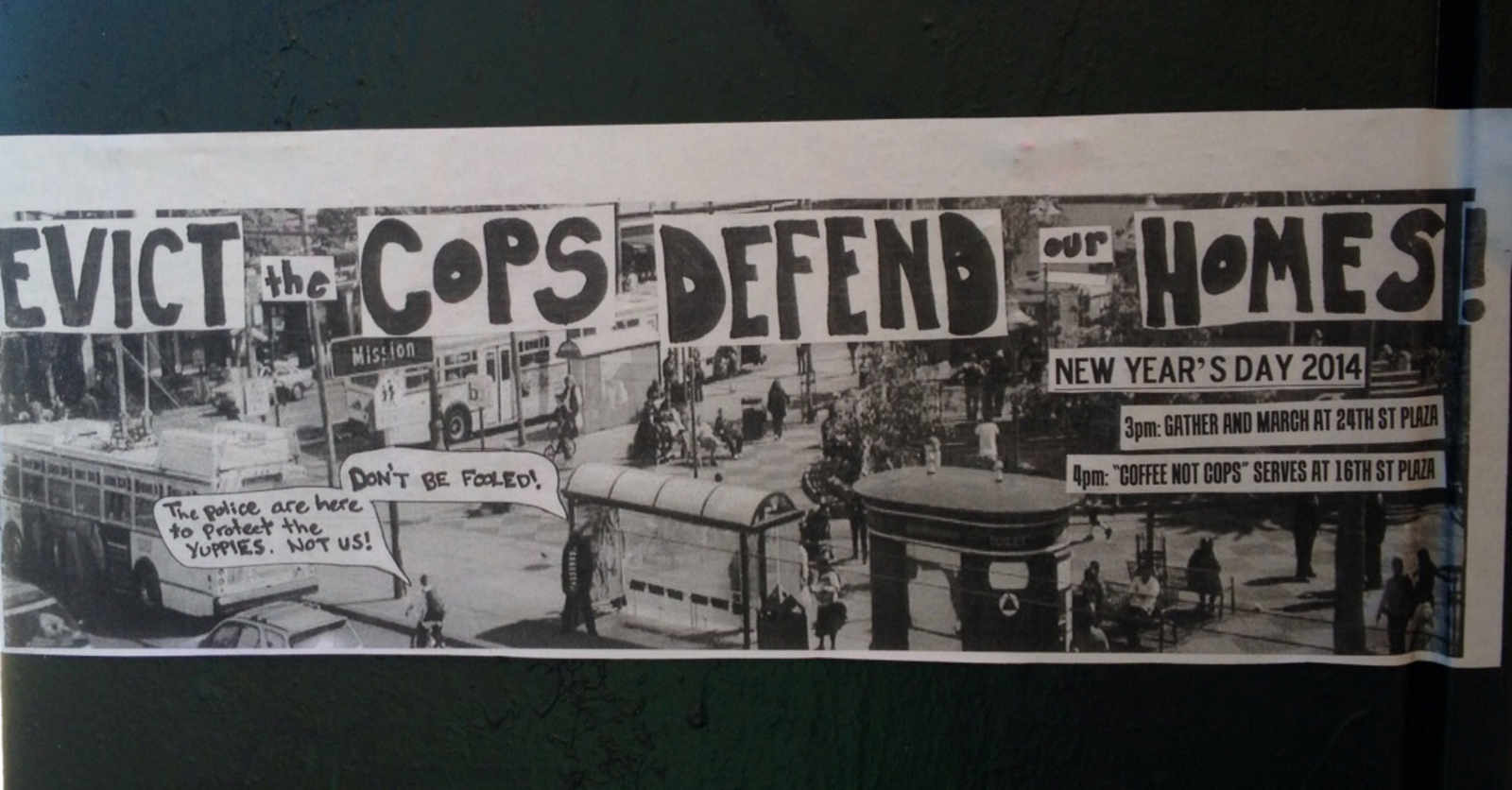 Despite its faults, I think we all agree that tech bus shutdowns are a pretty effective way to protest gentrification.  No matter.  Some off-message neighborhood activists are gathering at 24th and Mission at 3pm New Year's Day to "Evict The Cops," as posters plastered up-and-down Mission Street say.
Mission residents and agitators want to ring in the New Year with a big "fuck you!" to the San Francisco Police Department. The elevated pig presence in the neighborhood is unavoidable and many have already felt its effects. In November, four Valencia Gardens residents were attacked and then arrested by SFPD officers. And the expansion of police surveillance at the 16th street BART plaza has lead to increased harassment of young people of color, homeless folks, and sex workers.

These efforts only aid in the gentrification of the Mission District as policing and surveillance are integral to the process of sterilizing a neighborhood for new, well-to-do, bougie assholes. Time and again the police have proven their loyalties to new developers and shitty landlords.

It's the cops who are there to make sure we leave on the day of our evictions, who throw us out of our squats when we have no place to go, and who continually harass us because we're not white yuppies. We're fucking sick of it and so our resolution for 2014 is to make the SFPD's life hell at any opportunity that presents itself.
I like a good pre-Law & Order Ice-T track as much as the next guy, and certainly SFPD has done some objectionable things this year.  But considering teachers and other city employees are already being pushed out of the city, I'm sure police officers will soon too be finding themselves outside city limits.
Whatever.  Happy New Year!