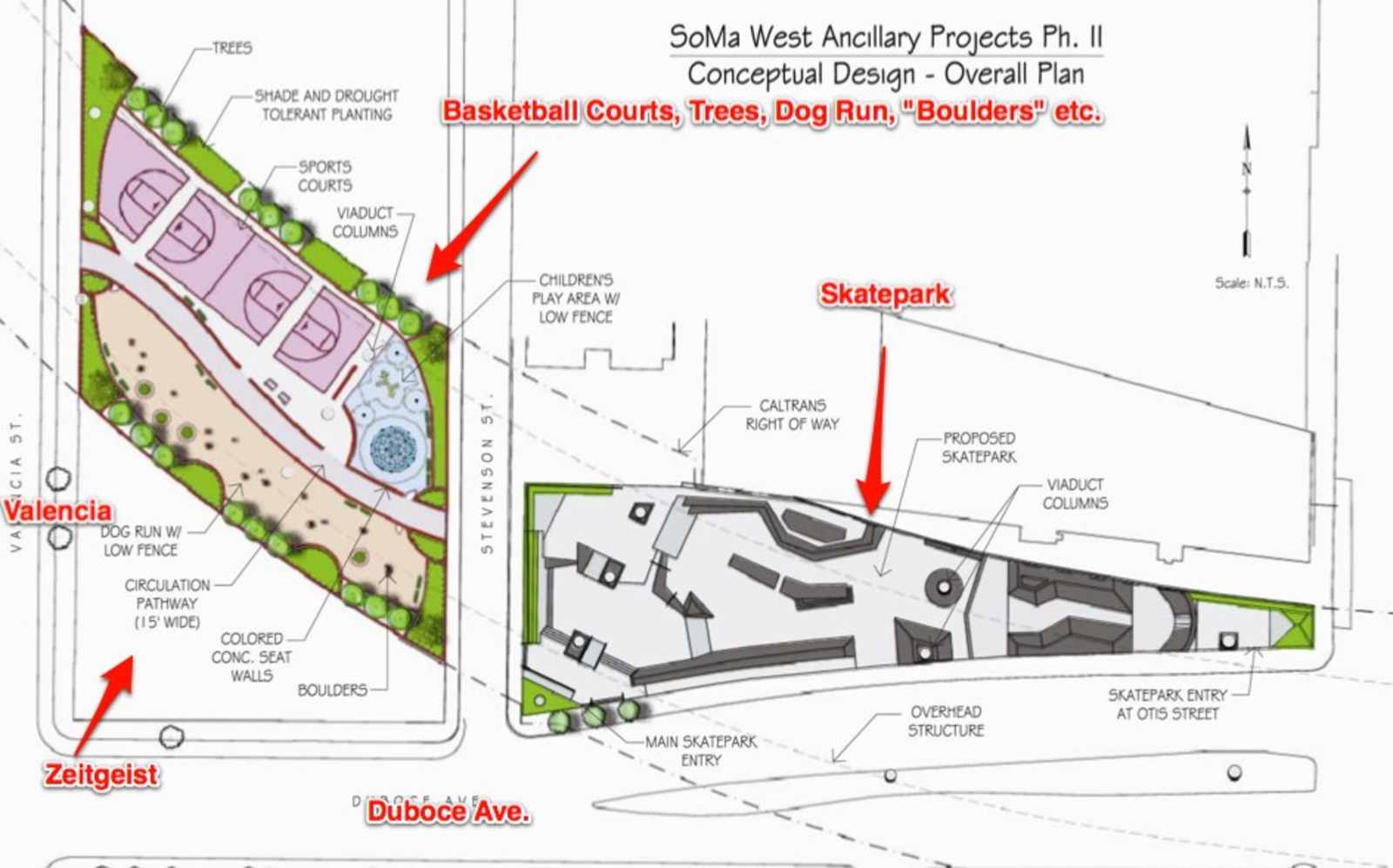 After years of delays, the Department of Public Works finally broke ground on the meh-ly named "SoMa West Skate and Dog Park" a couple weeks back.  It's being built below the Central Freeway behind Zeitgeist and we're only going to have to wait until May for it to open.
From the Department of Public Works announcement:
The dog park will feature play areas for large and small dogs, water fountains for the canines and their human companions, synthetic turf, an automatic irrigation system, seating and landscaping. Additionally, there will be lighting improvements and a path that runs through the park from Stevenson Street to Valencia Street.

New Line Skateparks, one of the world's leading design and construction firms specializing in skateparks, designed the SoMa West skatepark. The plan reflects iconic San Francisco skate spots, with a special nod to Justin Herman Plaza. The Arts Commission commissioned San Francisco artist Jovi Schnell to paint a mural at the site. The artwork is inspired by the long-ago shuttered Woodward Gardens amusement park, which was located nearby.

The skate park and dog play area are part of a larger package of SoMa West improvements. The first project focused extensively on making the residential alleyways in the area safer and more beautiful. Plans also are in the works to revitalize McCoppin Hub Plaza, located at McCoppin and Valencia streets.
Of course, anyone who has even watched a dog shit itself in terror at the sight of a skater knows this setup will make for some real interesting "user conflicts."  (But still, this is a huge upgrade from an underused parking lot.)
You can see more plans of the park in our previous coverage.