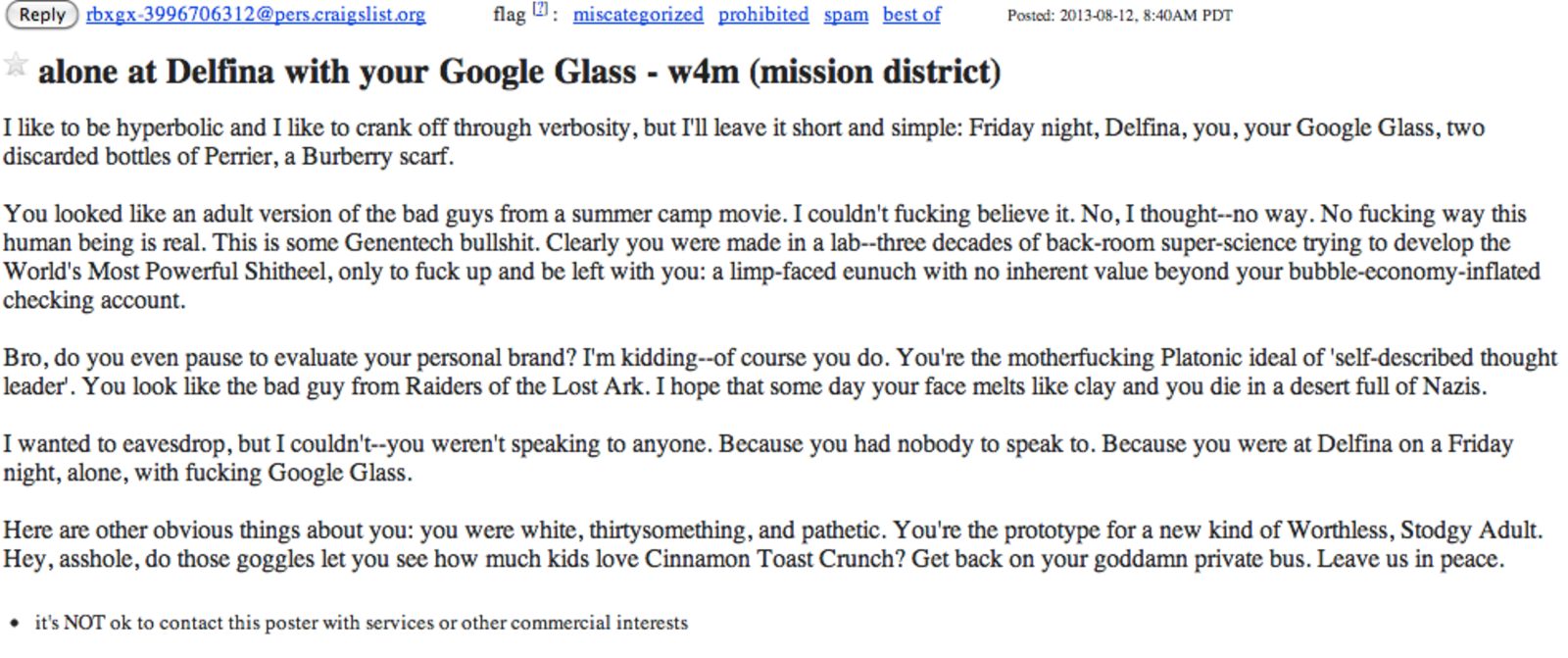 "Ollie," the local hero who takes to Craigslist to shame breastfeeding Google Glass owners about doing "bad, dumb things," opened up to SFist in a wide-ranging interview about his thoughts on SF, tech gentrification, the San Bruno Mountains, and, of course, Google Glass:
SFist: Why have you taken to Craigslist to voice your displeasure about all this? What does that platform afford you? It's a pretty old-school approach.

Ollie: I don't know if I've ever thought about any of that. It's a place you can write things. It is a medium designed for anonymity, public access, and hyper-temporality. It is low-commitment, non-self-aggrandizing, and lends itself well to writing shit while throwed. All of these things are good.

SFist: What do you think of the current tech/gentrification conversation that's going on in S.F. right now? Where are we headed with that?

Ollie: At Valencia and 15th there's a complex opening up that costs $2000/head. Two fucking thousand dollars a head. Kitty-corner away at Mission and 16th you've got the city capitol for stabcrimes. The rate of violent crime in the Mission has only increased over the past six years—I think that's how long SFPD has put crime reports online—and that's when rents have really started to take off.

I don't have an answer. I'm a smart person, kind of, but I understand I lack the context and foresight to offer an answer of any actionable value. In a certain meaning of the word, though, I am content to say "here is a tower where wealthy-ass boring motherfuckers eat $50 pizzas and here is a corner where folks get stabbed, and this optical contrast is fucked up." We should feel bad about this. There's a certain virulent strain of Aspiring Rich Person who treats this process as acceptable, or as some kind of necessary tradeoff for "development"—which has taken on a role in the vernacular as a widely misused bullshit-word for when you need to run coverage on some real heinous shit—and that's some borderline sociopathy.

SFist: What do you love and hate about this city?

Ollie: I love the important things. Dore Alley was a couple weeks ago. I was biking through the Mission and I saw a guy walking his kid on a leash. The guy's shirt said "WHORE FUCKER." Three blocks away I threw a thumbs-up at a guy casually stroking off in a crosswalk.