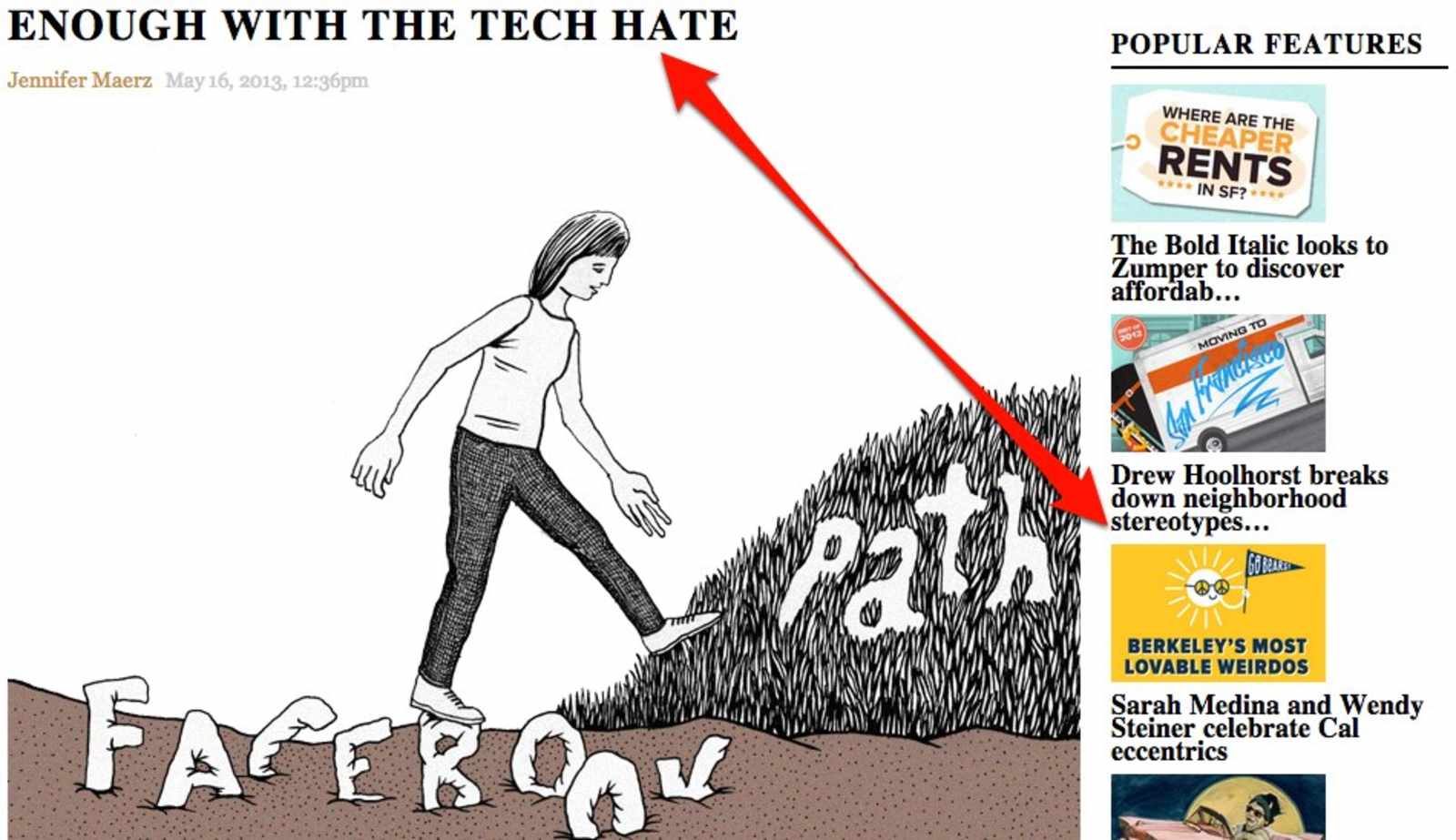 The Bold Italic has built an empire lost their parent company Gannett Company, Inc. millions of dollars by pushing borderline racist listicles and backstories exploring our city's most tired stereotypes.  Now, their completely oblivious editor "producer" Jennifer Maerz has had it up to here with commonfolk stereotyping poor techies, goshdarnit!
According to Maerz, techies The Bold Italic's primary customers aren't making assault weapons (true!, kinda) and not every techie is a yuppie satan-spawn that would have been a Manhattanite financier if born a generation ago (true!, obviously), so let's cut them some slack and save our stereotypin' energy for Chinese people and everyone else in the city, okay?
She explains why you should get with the brogram:
I don't blame an entire industry (and every single person who works within it) for a city growing expensive, and I'm getting tired of hearing complaints from friends and strangers who make mass generalizations about people they likely have never met or worked with. I know we've done our own stereotyping on TBI of tech folks too, but our writers have approached the topic as parodies. It's hard watching the very serious hatred for people who have tech jobs grow stronger in posts and forums. It's not like these folks are making assault weapons for a living. Most of my friends who work in startups are helping build information systems that benefit universities, organize and label your iTunes music collections, and help get the bands you want to see to your city. You can't lump all tech work, or people using the medium to push out new ideas, as evil.
We completely agree.  Wholesale dismissal of people based on what employee badge they carry is a real poor idea.  And we know plenty of people who ride the shuttles and are perfectly bearable humans.  But the idea that the industry's occasional nobleness and lack of complete sameness makes it somehow off-limits to criticize its rampant racism, gender inequality and sexism, insularity and cronyism—never mind the widening inequality and and Republican tax policies it promotes—is completely baffling.
(Besides, should we not criticize bankers despite the fact their industry is by and large corrupt?)
Anyway, if the brogrammer apologists at The Bold Italic really want to stop techie stereotyping, maybe they should start with themselves?