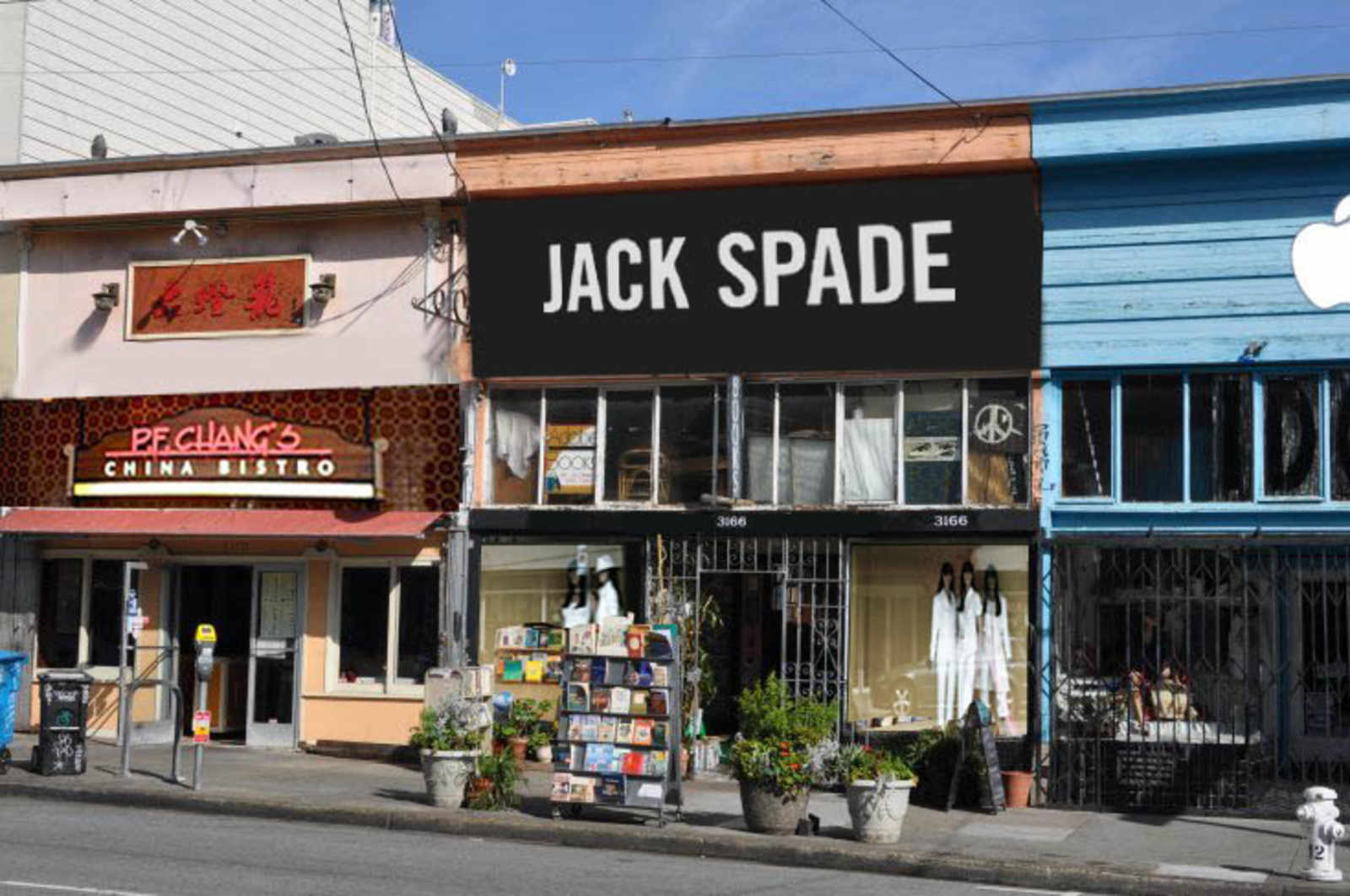 Look guys. It's known Adobe Books has been threatened by a number of factors lately, including dramatically increased rent and landlords flat out ignoring large scale citizen activist protests to keep a local institution in place. I know that you think that preserving centrally-located community-based bookstores is somehow important to the continuation of our culture, and that getting rid of bookstores for mass-market retail outlets will erode our neighborhood into a blackness of bumbling, shop-a-holic moronicism.
But I'm just saying, think about it… we could have a Liz Claiborne store here!
When you really think about it, it makes sense. Bookstores are just a novelty of looming obsolescence; a facet of our parent's foregone generation, like newspapers and jazz and Social Security. Our dads went to bookstores, but we stimulate our intellects with ebrochures and tumblogs, and the new Jack Spade shoppe will sell excellent designer handbags to hold all of our Kindles, Kindle Fire, and HD Nook tablets just fine.
I know it seemed that our chance of happiness was ruined, years ago, when some unruly citizens took to the streets and drove American Apparel out of the space next to ATA. And then when that Levi's pop-up store disappeared, I know a lot of us just thought about packing it up and moving to Russian Hill, towards some real cultural landmarks like the Google Bus Stop and the house where they shot The Real World: San Francisco. But this is our opportunity to usher in a new generation to the Mission. We can make a world where our kids can go to school with artisan leather handbags instead of, you know, "books."
I'm just saying all we have to do is roll over and one of our obsolete, oversized spacial occupants, Adobe Books, can be replaced by a renowned, internationally-certified gender-neutral leather handbag haberdashery.
This is America. This is what we were promised. Gone will be the days when San Francisco residents have to go all the way to the airport and buy the cheapest ticket to anywhere just to get through security to shop for Liz Claiborne at Terminal 3, near the Tommy Bahama and the World News candy stand. If this deal goes through, none of us will have to tell another TSA agent that "I just decided not to go to Dallas/Ft. Worth today."
So don't get outraged, don't don't write letters, don't protest, and don't petition. With the replacement of culture with large-chain retail, we can finally start what we've all been after this entire time: turning the Mission into a small, downtown Walnut Creek. We can finally replace Arinell Pizza with a California Pizza Kitchen and turn Dear Mom into an even better Dear Mom.
It's going to be great. I'll see you guys there.