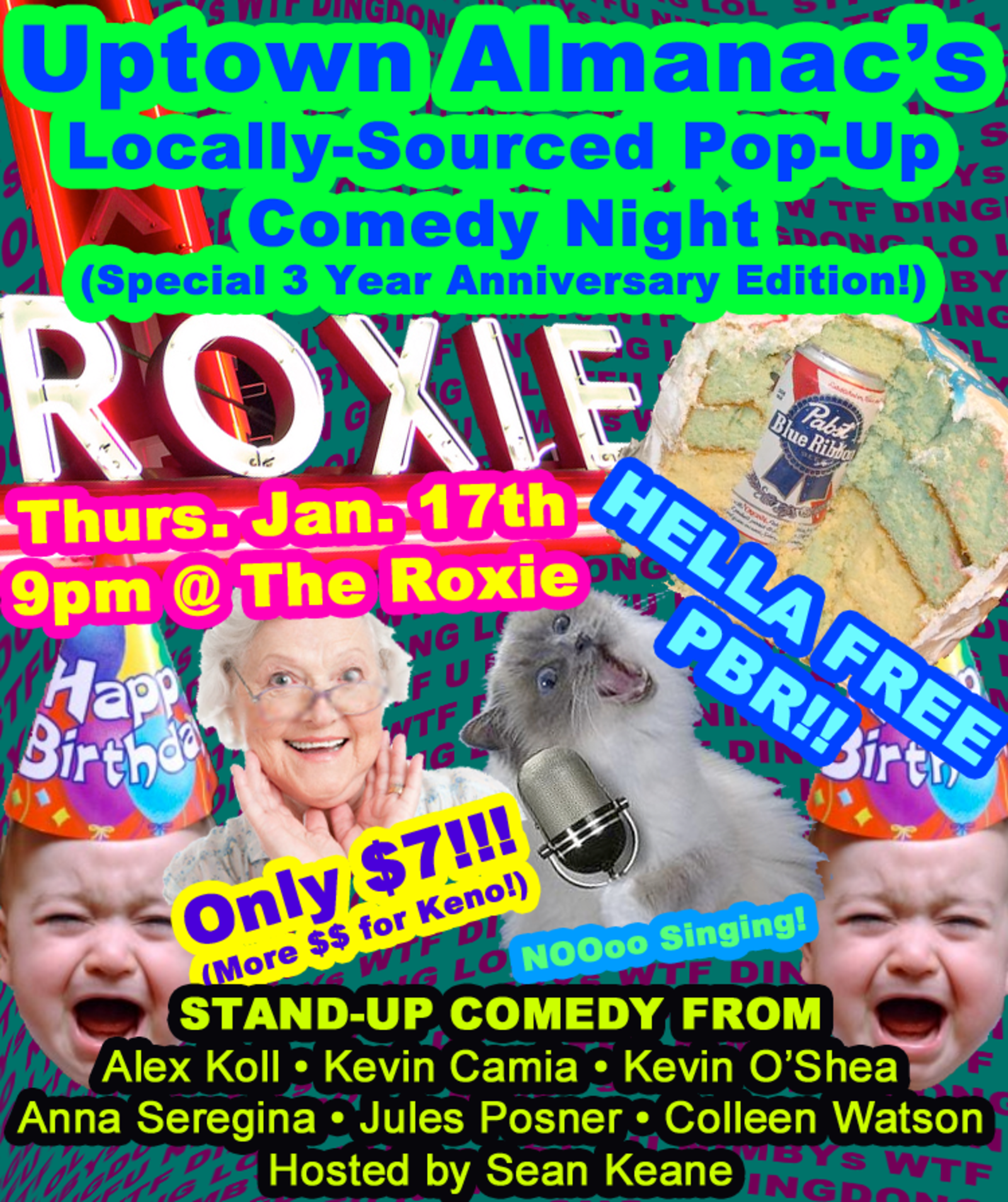 Argh, we're turning 3 this week.  Three big years.  In blog years, that's practically 21, so we're about to enter a dark period of semi-functional alcoholism, self-loathing, (further) unemployment, multiple unfulfilling relationships that begin with "sup" texts, and a few career changes.
Yay!
Typically blog birthdays go by without notice (because recognizing blog birthdays is the worst).  But, we love comedy.  And we definitely love drinking beer.  So why not celebrate by taking over the Roxie with some of our favorite comics and too many cans of PBR to count?
Here's the deal: this Thursday (the 17th!) at 9pm, we'll be throwing another one of our locally-sourced pop-up comedy nights.  And to make this one blog birthdayrific (aarrgghh), we're bringing back some of our very favorite comics from past shows (with some fresh blood for good measure).  Check the line-up:
Alex Koll (UA's 1st show, Comedy Central's "Live At Gotham", Bridgetown Comedy Festival, SF SketchFest, Host of "ROFL" on Revision3)
Kevin Camia (UA's 2nd show, Comedy Central's "Live At Gotham", voted "Best Up and Coming Comic" at Rooftop Aspen Comedy Festival)
Kevin O'Shea (UA's 2nd show, SF SketchFest, Bridgetown Comedy Festival)
Anna Seregina (SXSW, SF SketchFest, SF Comedy & Burrito Fest)
Jules Posner (UA's 3rd show, Jokes.com's No Drink Minimum, SF SketchFest)
Colleen Watson (5 Funny Females tour, SF Punchline)
And Sean Keane will be hosting!
You can get your tickets online now (or wait and get 'em at the door).  As always, the show is $7 and bottomless PBR is included in the ticket price.  See you Thursday!
[Facebook (complete with further performer bios)]