SFMOMA's blog has a cool weekly feature on historic exhibition mailers and this week takes a look at Wally Hedrick's SF 10th Anniversary show at New Mission Gallery on Valencia Street: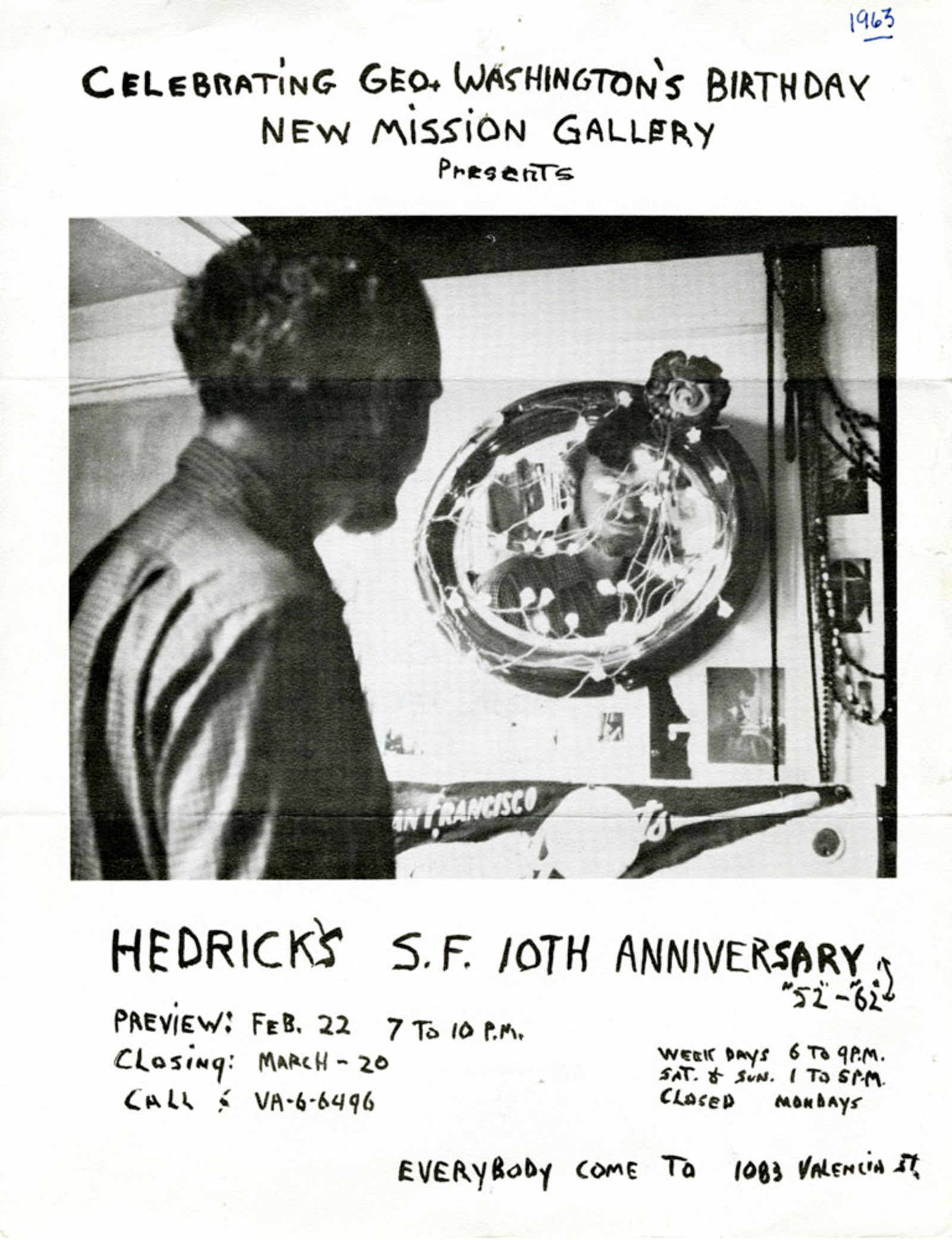 Wally, of course ("of course"), was a self-proclaimed part of the "real beat generation", helped Jerry Garcia find himself and discover Kerouac, and had a real bummer gig in North Beach (according to liberal smear rag wikipedia, at least):
In fact, as "a genuine beatnik" Hedrick was employed at a 'beatnik' bohemian sitting at the bar at Vesuvio Cafe, a famous hangout in San Francisco's North Beach. Vesuvio Cafe employed Hedrick to sit in the window dressed in full beard, turtleneck, and sandals and create improvisational drawings and paintings. Hedrick's figure, therefore, helped ushered in the Beat lifestyle which ballooned in the later 1950s; by 1958 tourists to San Francisco could take bus tours to view the North Beach Beat scene.
Why aren't we still doing that shit today?  Seems to me that Pop's has an ample-sized front window that could employ a dude dressed in a full beard, flannel, and some sort of shoe-like doohickey and sign his name on stickers while closely monitoring his Instagram feed.
Anyway, New Mission Gallery is now that weird Lotus non-medical marijuana healing center between Boogaloo's and Valencia Cyclery.
(Oh, and if you haven't explored SFMOMA's feature yet, do check out a poster for a mechanical mini-golf-playing egg beater that was on display in Potrereo Hill.)