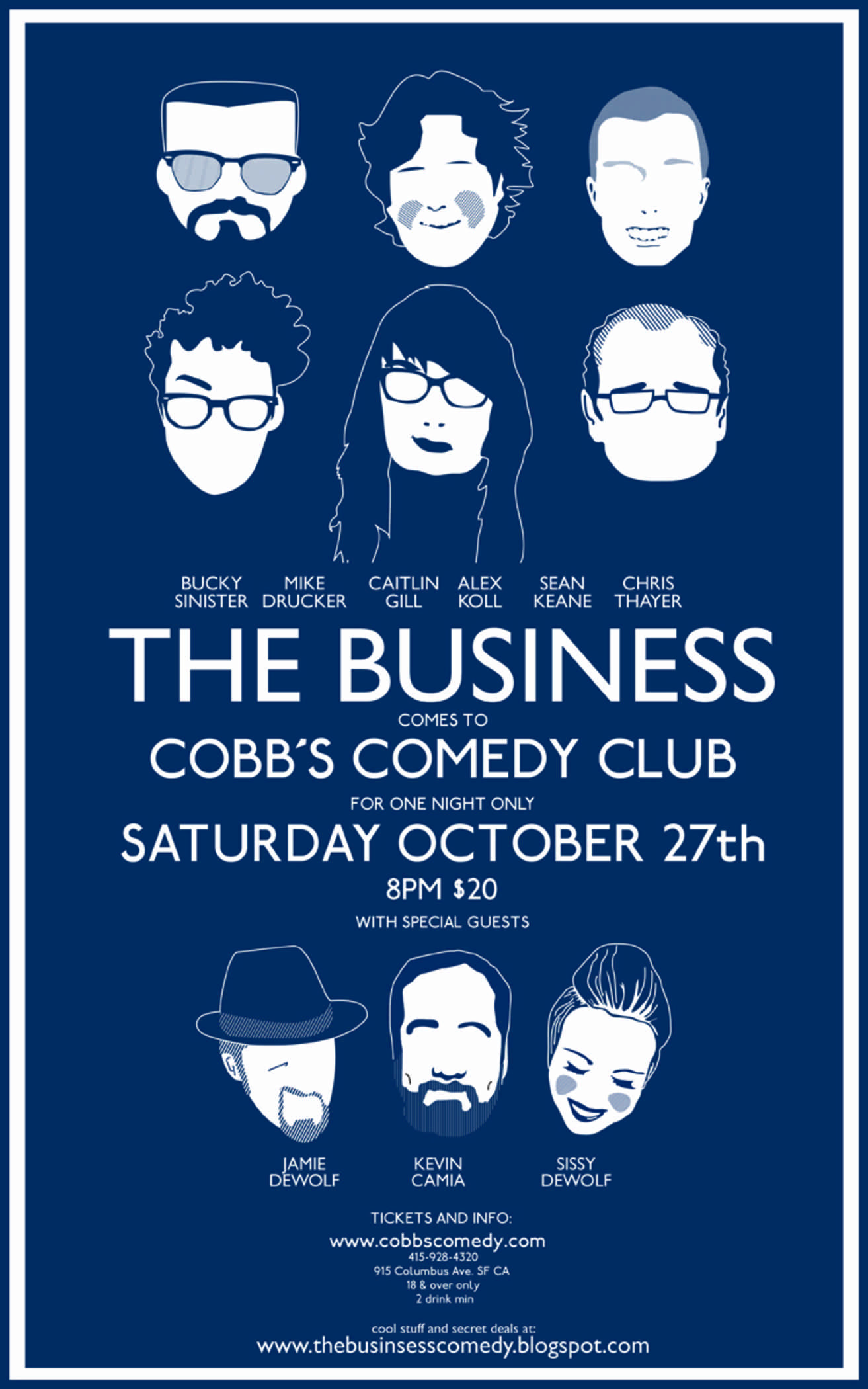 Hey, look, there's a lot going on Saturday.  There's Game 3 of the World Series, which you'll most certainly be watching.  Then your sorta/kinda friend Jim is hosting that Halloween party in his remarkably poorly-ventilated apartment.
But, let's be honest, you're weren't planning on showing up to the party until 11:30 anyway, and you're probably just going to sit around getting shitty until then.  So why not just drink in a comedy club instead?
Our friends at The Business—most certainly our favorite weekly comedy show in the city—are celebrating five big years showcasing some of the city's (and nation's) best up-and-coming comics.  How?  By taking over Cobb's Saturday night after The Game for one big-ass show.
Sean fills us in:
The Business likes things big. That's why we are bringing big guests to a big theatre to have a big ol birthday party!!!!! Big!

This show is TOO BIG to hold at our home office at the Dark Room. Come join your Business regulars Alex Koll, Sean Keane, Bucky Sinister, Chris Thayer, Caitlin Gill and Mike Drucker at Cobb's Comedy Club, which should be ALMOST big enough for this show. Chris Garcia can't make it, but will be represented by friend of the Business Kevin Camia.

Plus, our special guests for the night know all about being big. Jamie and Sis DeWolf produce Tourettes Without Regrets, a showcase of the best cutting edge underground talent with the longest running freestyle battle and the largest slam on the West Coast. The fight club of underground art, SF Guardian named Tourettes the "Best in the Bay" in 2012.

Jamie and Sis are both guests we've wanted on The Business for some time, but when we heard that their birthdays are just days apart and fast approaching, we knew what had to be done. BIG BIRTHDAY SHOW.

Show is at 8pm sharp, and we'll have you out in time to enjoy any spooky late night plans you might have.
You can get your tickets right now, but if you read to the end of The Business's show preview, they have some secret magic words that can save you some big bucks.