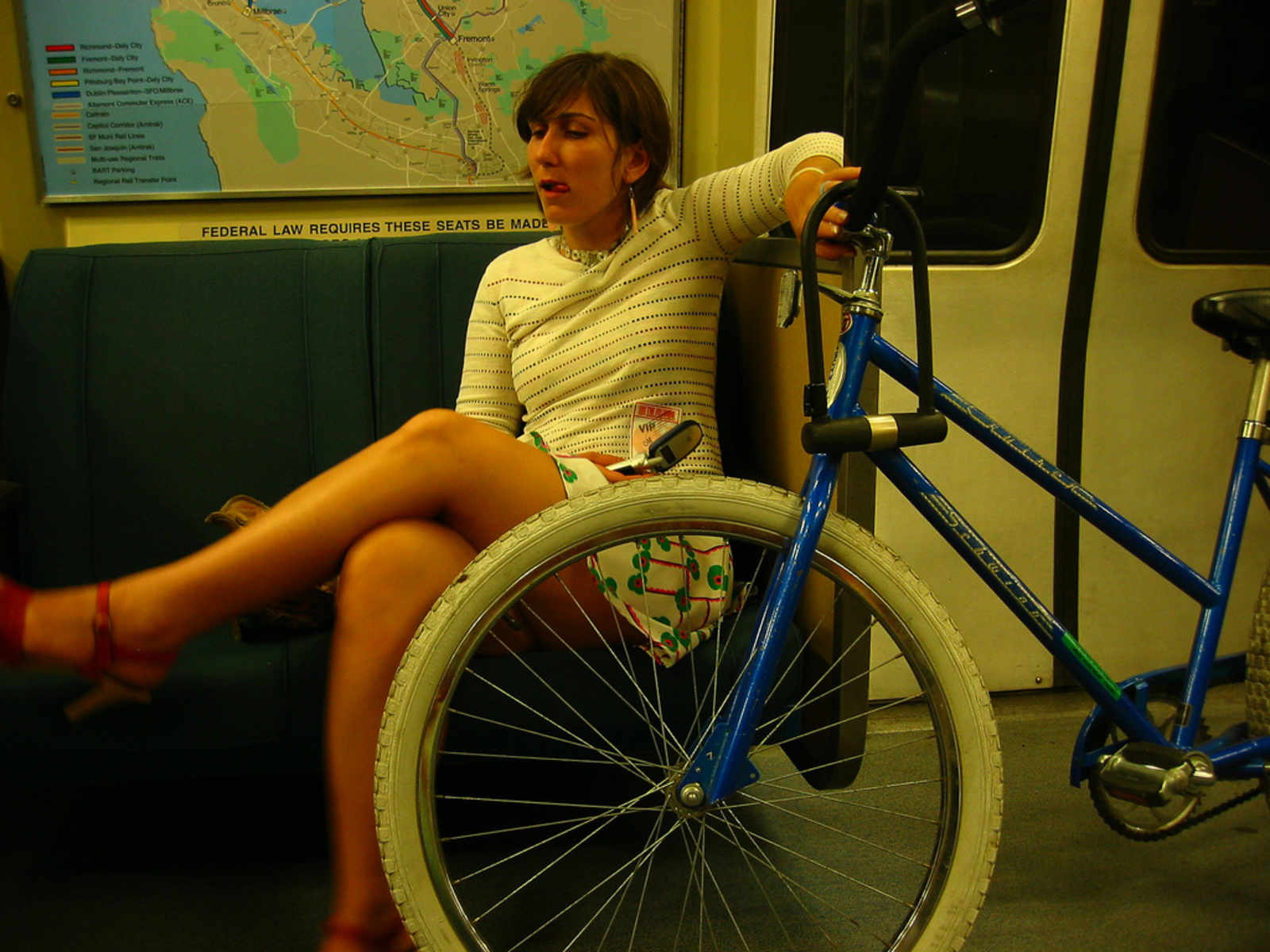 BART's rush hour ban on bikes has always been a real pain in the ass for us spry folk wanting to do things in Oakland—a silly pain in the ass, at that.  It always seemed to me that given bikes are such an integral part of the way so many San Franciscans get around, why not dedicate at least one bike car at rush hour?  Just cram all the bikes in the last car of BART (much like Caltrain handles it), leaving the non-cyclists to get all sweaty and asphyxiated by squeezing into the other 8 or 9 cars like they ordinarily do.
But such an idea has not been without its notable detractors within BART itself, which has always dashed our hopes of all-hours bike access on BART.
However, much to our surprise, BART changed their tune and has decided to test the feasibility of allowing bikes on BART during rush hour.  And not just on the last car, but on all available cars:
BART will launch a pilot program to allow bicycles on board trains all day long on Fridays in August. The idea is to see how allowing bikes on trains all day, including rush hour, will affect passengers and train operations. This pilot program does not change bicycle rules for Monday through Thursday, or BART's prohibition of riders boarding with bikes in the first car or crowded trains remain in place.
Of course, it isn't a given that this will become permanent, as BART will be interviewing people to make sure cyclists aren't being dicks on crowded trains or slowing everything down:
Evaluation of "Bike Fridays" will occur on each Friday. The evaluation will help determine if the pilot is extended or if BART continues to restrict bikes during peak periods. The evaluation will include feedback from riders, both cyclists and non-cyclists, and an analysis of operational issues, such as the amount of time a train remains at each station to accommodate bicycle boarding.  Any suggested changes to BART's bike rules will go to the BART Board for discussion.
Finally, the SF Bike Coalition also gives us some advice as how to make this permanent:
The success of this pilot is contingent in large part on bike riders being courteous and respectful to all BART riders on these pilot Fridays.  Here are a few reminders to help us convince BART to make this pilot permanent (also good advice for every time you ride BART):

If the car is full wait for another train, and do not try to wedge a bike into a crowded car.
Refrain from holding doors to get your bike inside, as this delays the train.
Be mindful of your fellow riders and make your are leaving other people adequate  space.
When possible use the designated "bike space" on the cars that have it.
Yield to pregnant, disabled and elderly passengers.
A complete list of bikes on BART rules are here.