Today a co-worker handed me a poster he discovered in the lobby of a local ping pong/art venue: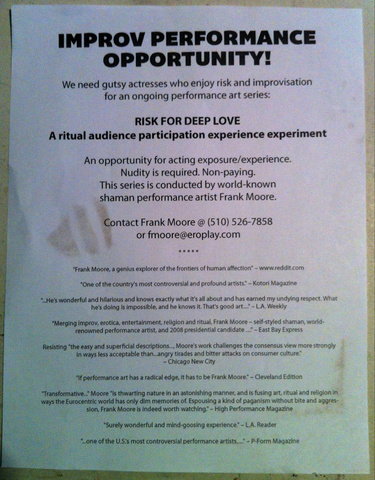 This poster raises a number of concerning questions, such as:
I'm can't help but to think this is all a front for some new age cult who needs virgins to "sacrifice" in a drug fuelled psycho-sexual ritual.  But then again, I've read too many Robert Anton Wilson books.
In all seriousness, what does shamanism have to do with improv?  Does one risk ridicule by using Reddit comments as endorsements?  And don't performers normally, you know, get paid?  Perhaps these questions will be answered if you attend the show, assuming said show exists.
But the most troubling aspect of this poster is meta-contextual: has my approach to dating up until this point been completely wrong?  Should I be printing flyers asking women to show up my house naked for an "improv performance"?  Part of me is tempted to cross out the guy's name and number and scratch in my own, then put the poster back and see what happens. 
That's the kind of "Risk for Deep Love" I'm willing to take.