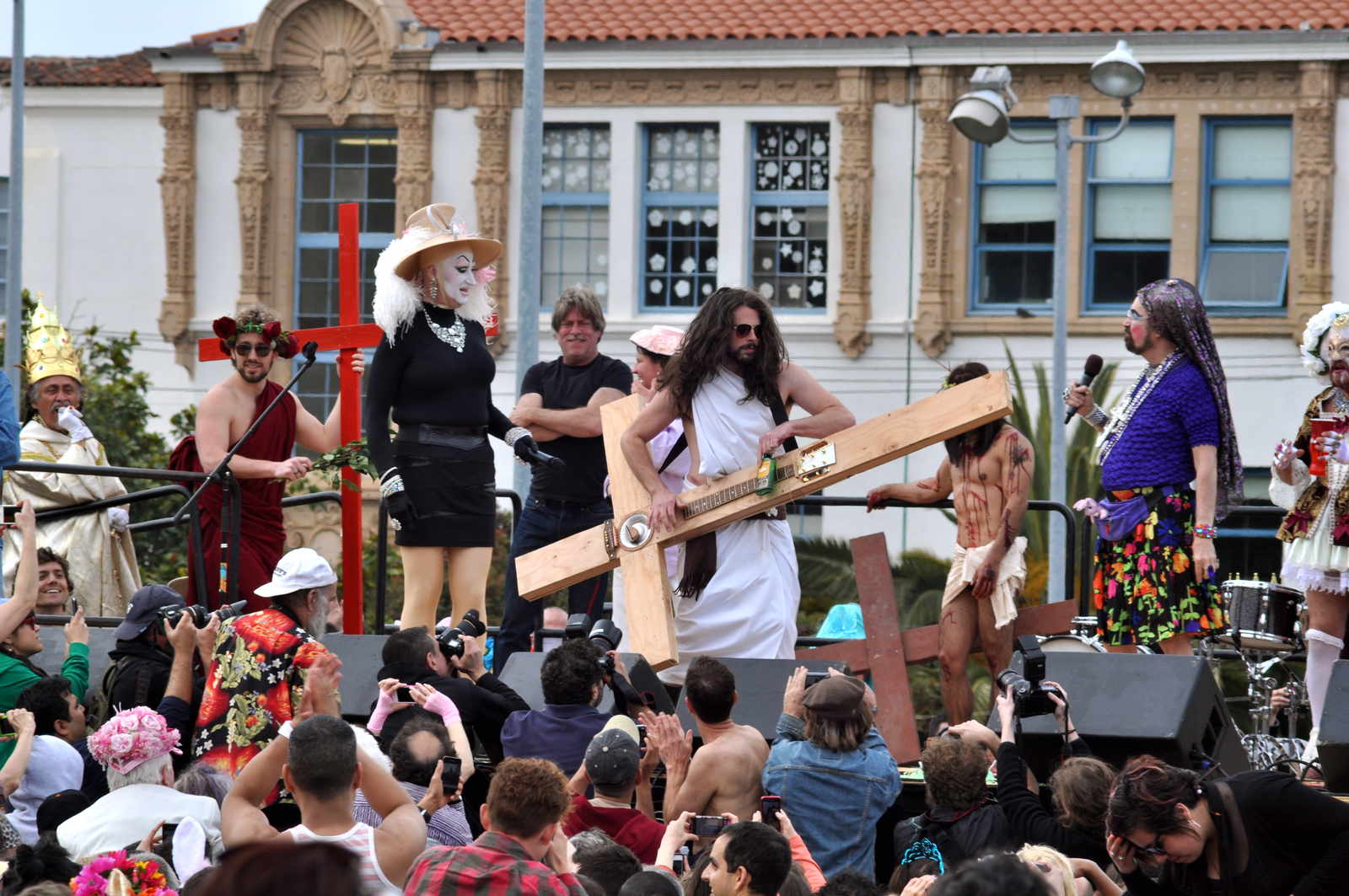 UA reader Doug hips to the fact Jesus just sold the fuck out and is selling the famed cross guitar that won this year's Hunky Jesus Competition.  From the Craigslist ad:
Handmade one-of-a-kind squareneck resonator crucifix guitar, hand-crafted and played by Funky Jesus, winner of the 2012 Hunky Jesus competition in Dolores Park. Own a piece of San Francisco history with this rare collectible and fully functional musical instrument.

Standing at an imposing 6'6" tall and about 4 feet wide, this guitar features a string-thru mahogany tailpiece, inlaid rosewood neck with 22 frets, gold tuners, and a 5.5'' spun steel resonator cone with redwood biscuit bridge. There's even a piezo pickup mounted at the apex of the cone, with a 1/4" female output on the back, so you can plug it into your amp.

The perfect addition to your next evangelical gathering, church choir practice, death metal show, or any religious/sacrilegious event.

Make offer. Trades for motorcycles & tube amps will be considered.
Uhhhhhh, Jesus?  I know we haven't talked in a while, but I have to ask you: what's more badass?  Motorcycle?  Or GIANT 6'6" FUCKING CRUCIFIX GUITAR?!  HELLO.
I'm listening to Appetite for Destruction right now dreaming of how ridiculous it'd be to be Slash with a GIANT CROSS.  Yeah, I'm picturing a Tartine-line-down-the-block line of chicks queuing up to get banged by you.  And you're trading it for what? A 1958 James Dean/Hell's Angels throwback to badassery?  Weak.  Weak dude.
Anyway, that's my bout of unchecked envy for the week.  Sorry you had to witness that.  And, Jesus, I'm kinda broke right now, but I have a pound and a half of uncooked basmati rice and a N64 with four working controllers if you wanna trade.  Call me!