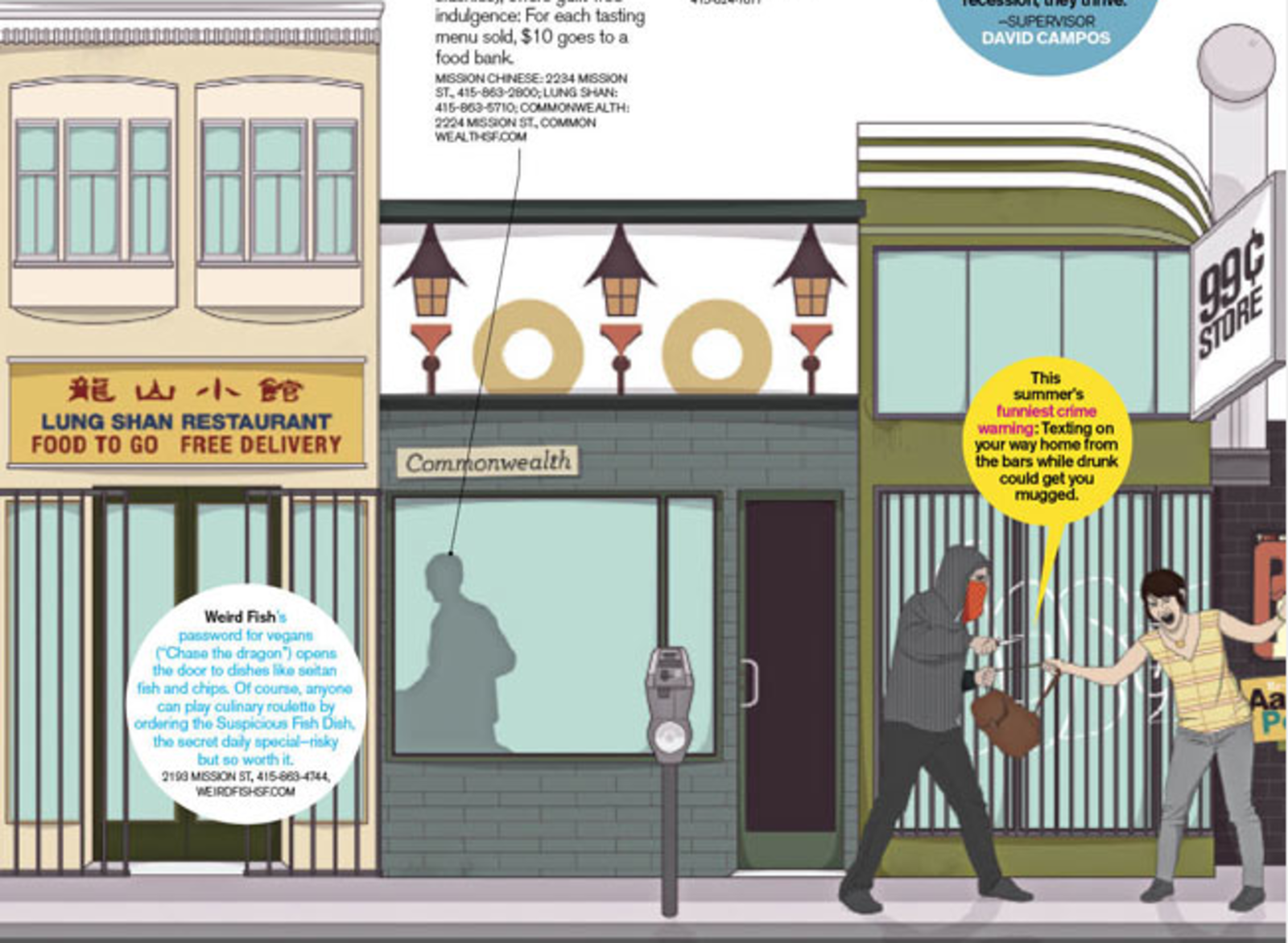 Despite this piece about the Mission in San Francisco Magazine being riddled with inaccuracies, such as saying Mission Loc@l is a "more fun" New York Times, it still has to be one of the more balanced pieces of Mission gentrification I've read:
The last time the Mission was booming, things were very different. "The dot-com era felt like living in a Latin Amer ican country, with things changing so quickly," says Lydia Chávez, a 13-year resident who oversees Mission Local, the university-funded bilingual news site that kicks the San Francisco Chronicle's ass. Tea recalls, "I was throwing eggs out my window at people attending web parties across the street. There was an insane, frantic, greedy energy, where one day, you had your neighborhood, and the next, it was full of speculators." Back then, the idea of people working together in any way, or even just trading composting tips while wolfing down pupusas at the farmers market, seemed not only ridiculous but wrong, like giving up or selling out or consorting with the enemy. But that's the difference between a boom in a bubble and a boom in a bust.

"Maybe they had a lot of money and kicked you out of your rent-control unit—now they are baristas and struggling to make it as well," says Eric Quezada, a self-described "housing justice advocate" who is now the executive director of Dolores Street Community Services. "Instead of anger, folks want to find ways of building alliances that weren't as obvious in the past."
The article goes on to present the yuppie tech worker gentrification of the hood as a positive thing, despite rising rents, "The people who aren't artists can be curators or patrons. Every artist needs a benefactor, as does every food cart, tutoring center, and cultural experiment."
Perhaps dragging all the venture capital money to the city and spending it on food carts, burritos, PBR and expensive jeans is a good thing. A rising tide lifts all boats.  But the segregated dot-com money-fest is still here.  The Summit is the most obvious example; a cafe whose lavishness even makes it inaccessible to most Missionites.  And unlike most of Valencia, where businesses feel welcoming to all walks of life, The Summit yells that it caters to a very limited, affluent clientele.
So even with all the wonderful things money brings—farmer's markets, sidewalk curry, art galleries and a wallet with $83 in it I found on 19th—is this boom for the best?  The article concludes with a hopeful tone.  To paraphrase, "The economic change is here, and everyone is doing their part to make the best of it."  But, at the end of the day, it comes down to the cost of living.  As commenter Andrew O.  Dugas said, "People have been talking about the gentrification of the Mission since the 1980s (earlier?) but done is done. Now it's too expensive for the hipsters who made it cool. Where are they all moving? Why, to the new Mission, of course, aka The Tenderloin. See you at Cafe Royale!"
(link)