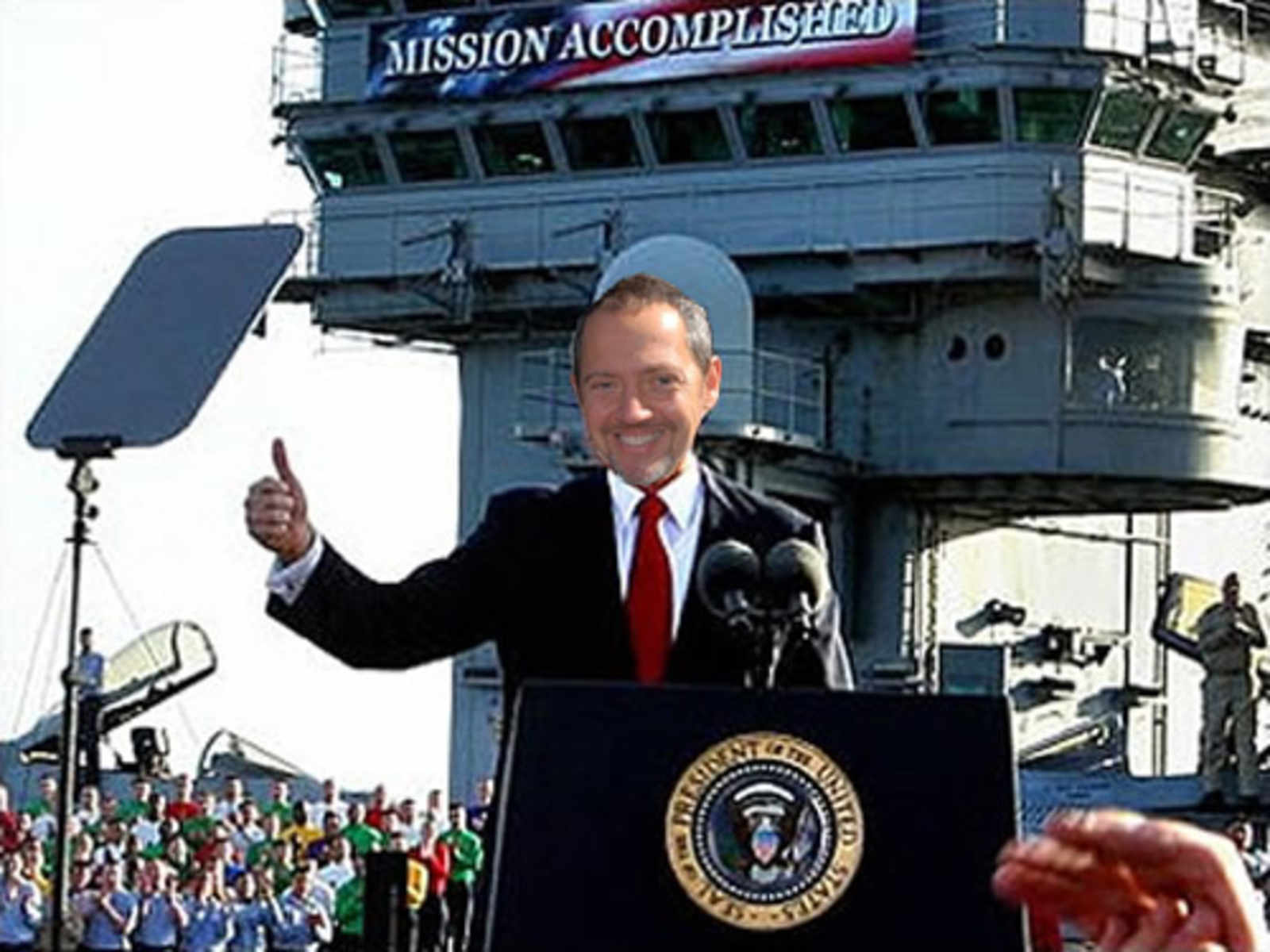 Noe Valley SF reports that the Noe Street Plaza has been shot down in favor of the small parklets that have been going up around the city.  Even though this isn't entirely Dufty's fault and he's clearly going to receive the majority of the blame, the whole escapade demonstrates his inability to lead.  During a recent community meeting on the subject, Dufty could not control the floor and let screaming neighbors run the show.  The net effect of this failure was the "compromise" that was just reached in Noe Valley:
We are excited to report that of all the different ideas talked about over the past few months, Parklets on 24th Street have gained the most support in Noe Valley (a survey at the June 30th workshop, for example, demonstrated 3 to 1 support for this proposal). Parklets do not affect traffic circulation and instead use two parking spaces to build out a deck for landscaping, tables and chairs, and other pedestrian elements (see sfpavementtoparks.sfplanning.org for images of Parklets in other parts of town). If all goes to plan, we would like to add two Parklets along 24th Street this Fall. We will be working with the merchant community to identify the most suitable locations but it is important to note that these spaces will be open and free to use by anyone. As in all Pavement to Parks projects, these Parklets will be trial and closely monitored for success. If they do not work out, they will be removed.
So basically a bunch of whiny car drivers derailed what would have been a positive addition to Noe Valley.  Instead, we'll get a place were people briefly hang out then move along (given my experience with the parklet on 22nd, it is not a comfortable space to spend any more time than it takes to eat a slice of pizza).  Oh, and it will probably be removed when people complain about losing parking spaces.
This is the second massive failure we're seen in the past 6 months from the Supervisor's office.  He largely punted the Dolores Park renovation outrage and presided over another joke of a public meeting on that subject.  Worst of all, he promised there would be a followup meeting in June to discuss planning for the Dolores Park renovations.  That meeting never occurred.
A man who cannot control crowds and show leadership on important, divisive issues does not deserve to be our mayor.  The fact he even considers himself qualified is shocking.
I applaud your self-esteem Bevan, but why don't you sit this one out so we don't have to endure another 4 years of incompetence.