So my friend Kahla and I just happened upon the SF Weekly Readers' Poll winners of 2010. We've been embroiled in a heated discussion over Facebook Chat for the past hour, and all I can say is, wow, most of these are pure WTF. You can find the winners here.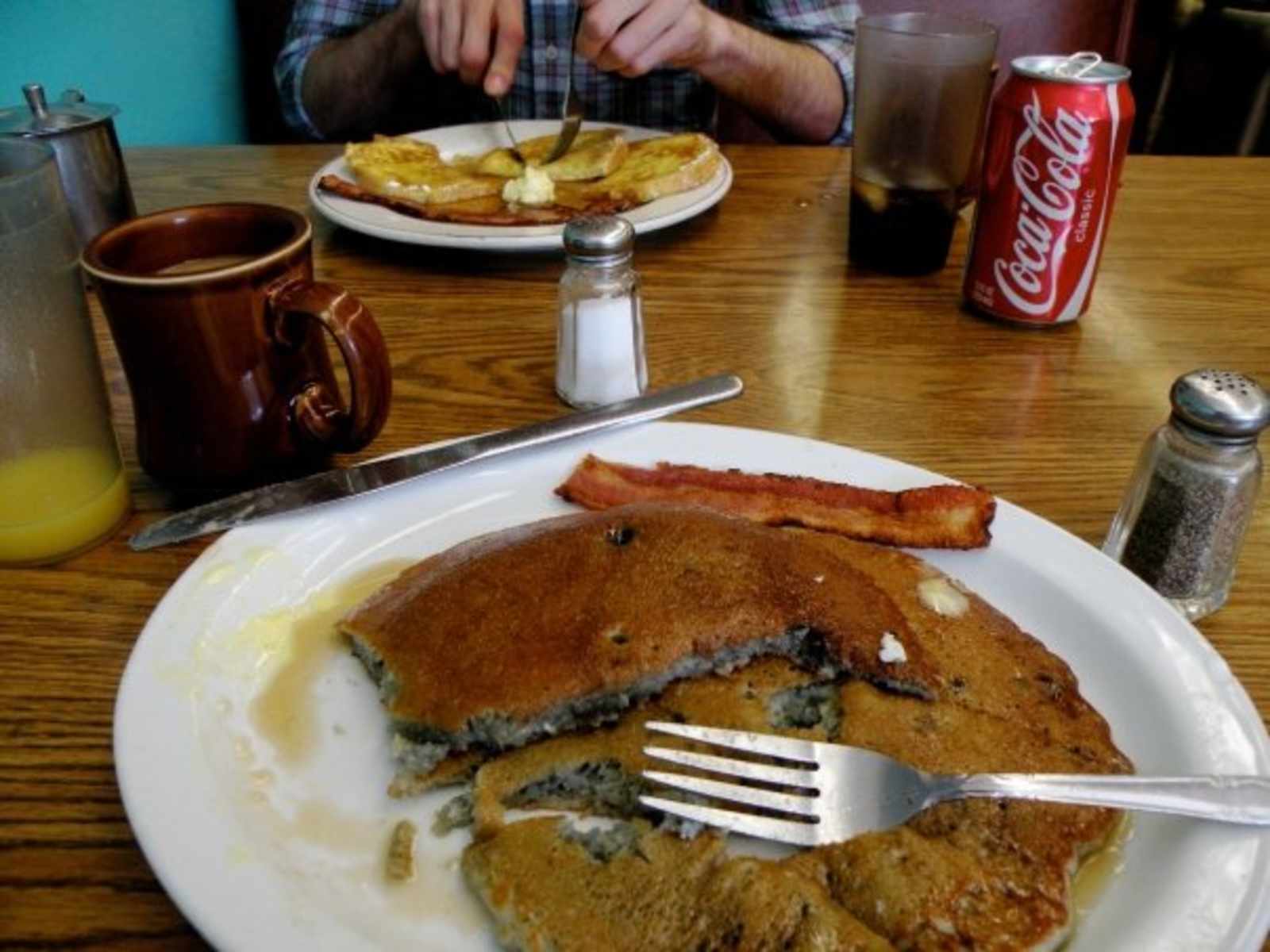 (New Village Cafe; THIS is what a delicious greasy spoon breakfast looks like!)
First of all, what is up with some of the categories? It seems as though many of them were created with a specific business in mind. As much as I love Kozy Kar minus all the Marina-ness, it doesn't make sense to vote a place "Best Place to Get Drunk on a Waterbed" when, as far as I know, it's the only bar with waterbeds, which most of the time are unusable anyway since all the Marina people throw their coats on them. As for "Best Club Night to Wear Flannel," let's be honest, most people who go to Debaser probably wear flannel every other night they go out. Overall I think the nightlife ones are the worst. For one thing, we aren't exactly sure how Supperclub is a Bizarre Nightlife Experience, other than that it's, as Kahla eloquently puts it, "full of tacky people with no style." If we wanted to see that, we'd skip the $70 dinner, roll to some happy hour bar in the Financial District and maybe have the added bonus of finding me a rich, absentee husband. If the category were "Best Cocaine-Fueled Shithole" instead of "Best Hipster Bar," I can see how Delirium would be a shoo-in, but I'm not hating. Clearly those elusive hipsters they speak of didn't vote in this poll, but hey, least the SF Weekly hasn't blown up a bar that I actually like.

I could quibble with the Food & Drink winners for hours, and I recognize that much of it is just a matter of taste — evidently, I have better taste than most people who vote in SF Weekly reader polls — but I really couldn't live with myself if I didn't address "Best Greasy Spoon." The Pork Store? Really? Having a lot of cholesterol in your food does not a greasy spoon make. Readers, do yourselves a favor and take your broke, hungover asses to one or more of the following: Golden Coffee on Sutter & Leavenworth, New Village on Polk & California or Mission's Kitchen on Mission & 23rd … unless, of course, you're one of the people who voted for The Pork Store and you like overpaying to clog your arteries. Seriously though. Golden Coffee. Order the pancake sandwich. Greasy enough to block alcohol from further absorbing into the lining of your stomach, but not so greasy to necessitate a Tums pregame. If that's not perfection, I don't know what is.

Anyway, did this incite violent anger in anyone else but me? Which winners did you agree or disagree with, and who deserved the award?