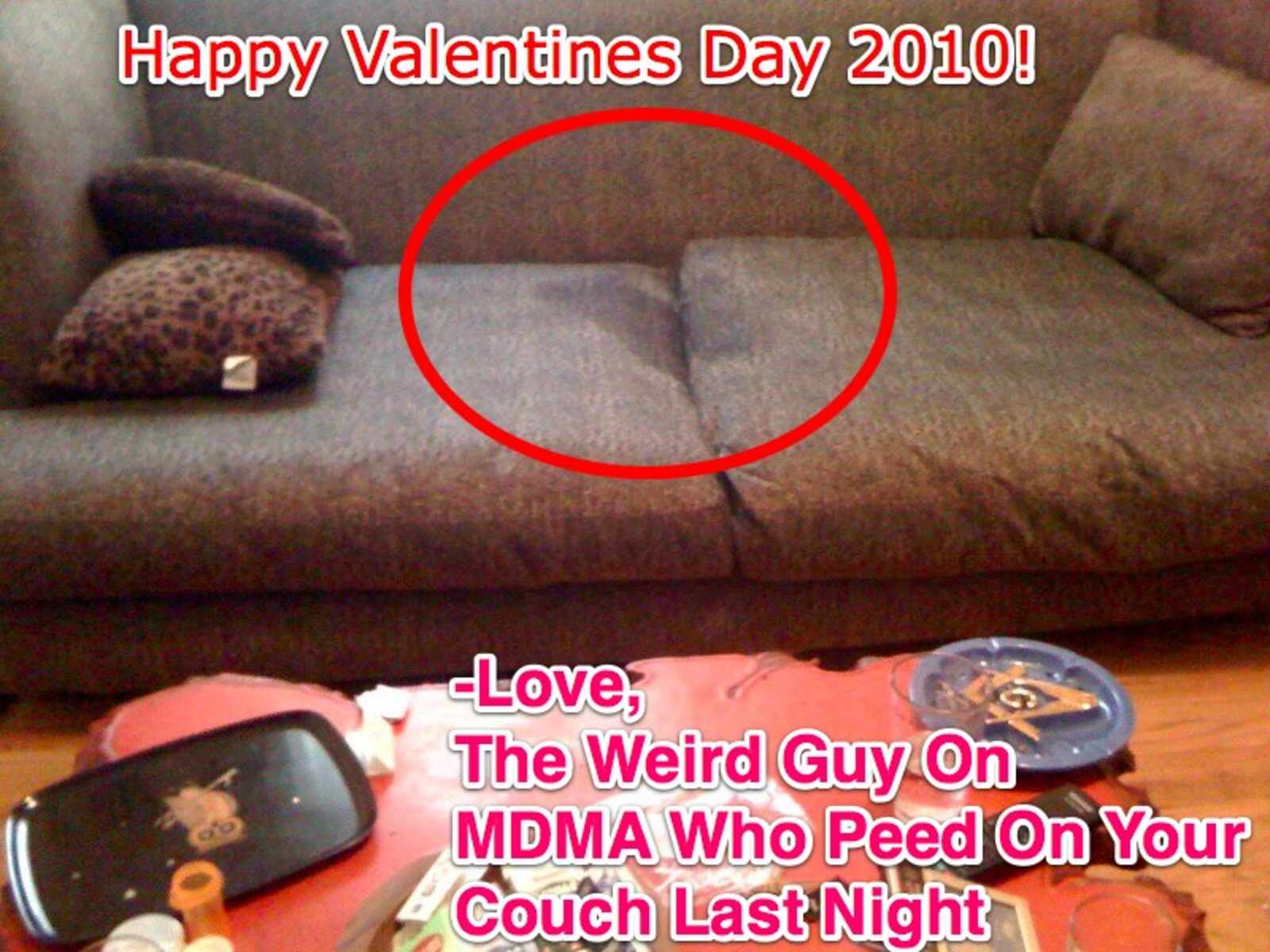 I got urine. We let some creeper status sleep on the couch after we got back around 6am from the "Black Valentine Masquerade" at Mighty last night/morning. It wasn't a Masquerade really so much as a bunch of burners on shitty drugs trying to find any sort of underlying rhythm to dance to within the constant wave of maxed out bass in between taking cigarette breaks every fifteen minutes to grind their teeth and talk about how to get more shitty drugs. Anyways, the lame club party isn't the point of this post.
Someone PEED ON MY COUCH. Like slept on the motherfucker and released the contents of his bladder. We think we know the culprit and we want you to know, if you're out there, we're coming for you.
As soon as it is confirmed, I will be posting pictures and information on the individual who pissed on my sofa. I would like to propose that everyone in the Mission (and maybe Northern California) engage in a good old fashioned shunning of this whiz-kid for the forseeable future. We can put flyers up:
"HAVE YOU SEEN THIS GUY? KEEP HIM AWAY FROM ANYTHING YOU LOVE, HE WILL FALL ASLEEP AND PEE ON IT"
The amount of rage I felt as I stepped out of my bedroom into my living room to do a typical sunday morning damage report and saw that my couch was soggy made me feel like going to WalMart and breaking 20+ LCD TVS . As my coffee steeped in the french press, I turned my back to the stain. I turn around and the stain is still there. It seems that this tainted furniture is a reality of my life for now.
Mission, we must band together, this day. We must create a pariah. Do it for my couch, your couch, your children's children's hovercouches.